Dear Neighbor,
It's official - SB 129, the legislation that reflects the majority of the 2021-22 state budget agreement has been signed by Governor Newsom. Now legislators are voting on further budget implementation bills, including a huge broadband investment bill that passed the Senate Floor yesterday, SB 156 which will compliment my bill SB 4, "The Broadband for All Act", to help close the digital divide! Non-budget bills with fiscal impact will be up in Appropriations Committee in the following weeks, so keep an eye out for updates as my 2021-22 legislative bill package advances! I have so much more to share with you from the past couple weeks, continue reading to learn about recent bills I've voted on, the latest on rent relief, direct stimulus payments and COVID-19 resources for SD33!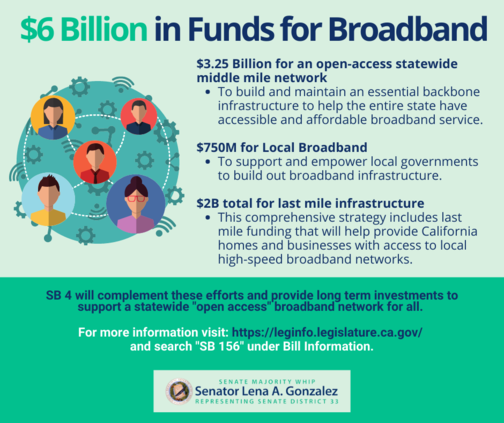 $6 Billion in Funds for Broadband!
On Monday July 12th, a $6 billion broadband budget bill agreement was announced that will help expand the state's broadband fiber infrastructure and increase internet connectivity for families and businesses. The bill allocates $3.5 billion to help build and maintain the essential backbone infrastructure that our state needs to be able to provide accessible and affordable broadband and $750 million to support local governments building their own infrastructure. This unprecedented broadband investment was approved yesterday by the Legislature and is now headed to the Governor's desk to be signed. It will greatly compliment my bill SB 4, "The Broadband for All Act" to help close the digital divide and provide more opportunities for all. Read my full statement on AB/SB 156 here.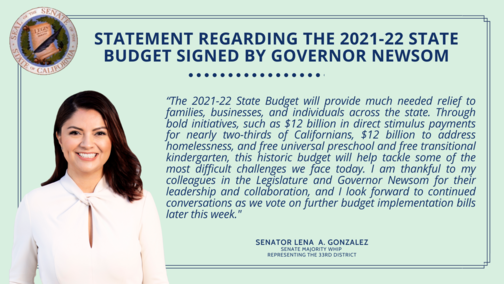 My Statement Regarding the 2021-22 State Budget Signed by Governor Newsom
After many productive discussions on the details of the 2021-22 state budget, Governor Newsom and Legislative Leaders announced the signing of SB 129, which provides the overall architecture of the budget agreement. I was very pleased to see such great investments for our California families, businesses and individuals included in this fiscal year's budget, read my full statement above, and on my website here.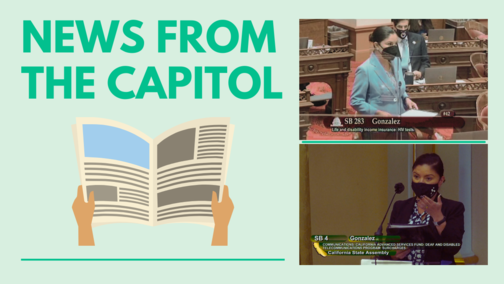 Check out Legislation I've Been Working on At the Capitol!
Last Thursday, I took up SB 283 Strengthening the Equal Insurance HIV Act on the Senate Floor and it passed 39-0, making it the first bill in my 2021 legislative package to be approved by the Legislature and to be headed to the Governor's desk!
On Wednesday July 7th, 2021 I presented my two broadband bills in the Assembly Communications and Conveyance Committee and both bills were approved! SB 4 The Broadband for All Act passed with an 8-3-1 vote, and SB 378 Broadband Deployment Best Practices passed 12-0!
As a member of the Senate Judiciary Committee, I recently voted in support of AB 945, legislation that will establish a task force to hear the testimony of Californians denied the right to wear tribal regalia or recognized objects of religious or cultural significance at high school graduations. I also voted in support of AB 1126, legislation that will establish a Commission on the State of Hate and that would provide resources to state agencies and the public to inform them on the state of hate and to advise on policy recommendations to promote intersocial education designed to foster mutual respect and understanding among California's diverse population.
As a member of the Senate Health Committee, I voted in support of AB 342, a bill that would require health care service plan contracts or health insurance policies to provide coverage for colorectal cancer screening examinations and laboratory tests.
Yesterday, I voted in support of AB 61, a bill that will deliver relief to small businesses and restaurants impacted by COVID-19 by empowering local jurisdictions to provide and extend regulatory flexibility. I am a proud co-author of this bill.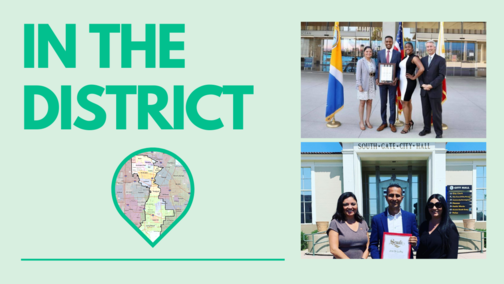 In the District
On Thursday July 1st, 2021, I had the wonderful honor of swearing in one of Long Beach's newest prosecutors. Jericho Williams grew up in Central Long Beach and went to Poly High School, then Western State for his law degree, then finally he passed the California State Bar! Congratulations Jericho!
Last Friday, I had the honor of swearing in our newest appointed board member Jose De La Paz on the State Pharmacy Board! He was appointed by Speaker Rendon, and I had the honor of swearing him in next to his wonderful wife in front of South Gate City Hall. He is going to be a great addition to this board, and I look forward to his leadership representing our region for health equity. He's a longtime South Gate resident and active community leader, congratulations Jose!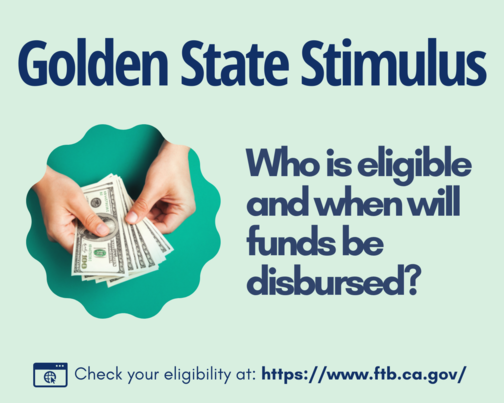 Two Thirds of Californians Will Get Golden State Stimulus Checks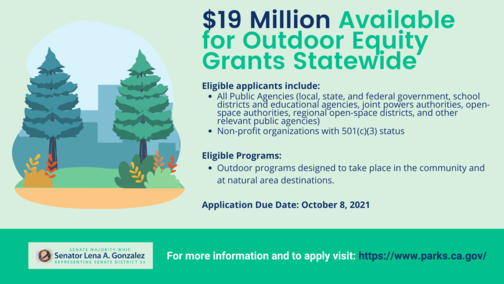 Outdoor Equity Grants Available
CA State Parks recently announced a new outdoor equity grant program to help expand outdoor access for all. $19 million in funding will help cover costs that traditionally present barriers for historically underserved urban & rural communities.
More information can be found at the California Department of Parks and Recreation Website.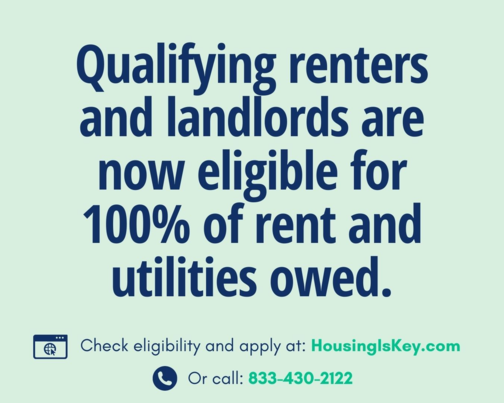 California Is Offering the Largest Renter Assistance Package of Any State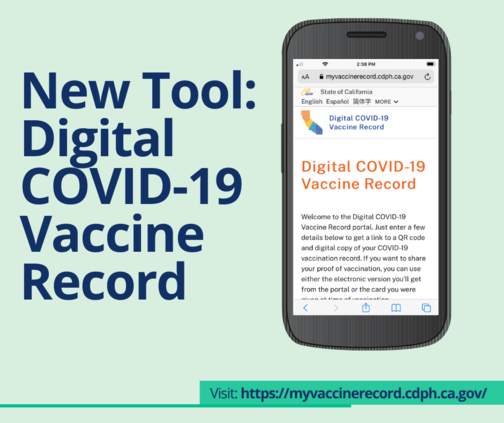 Have you checked out California's Digital Vaccine Records Tool?
Californians can access their COVID-19 vaccine records online. All you have to do is enter a few details to get a link to a QR code and digital copy of your COVID-19 vaccination record. It takes less than a minute to complete the request and your record is sent by email or text within seconds. Visit https://myvaccinerecord.cdph.ca.gov/ to learn more.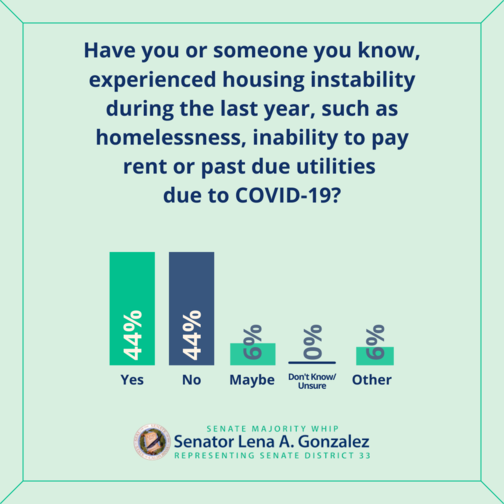 Last Edition's Poll Results
In our previous newsletter, we asked about the economic impacts COVID-19 has had on our local communities, specifically, how the pandemic has affected the ability of families and individuals in our district to pay rent, utilities or have housing stability. These were the results.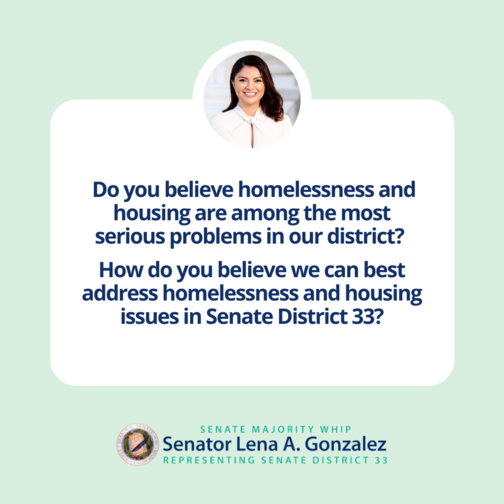 This Edition's Poll Question
For this edition's poll, I'd like to hear some of your thoughts on the topics of homelessness and housing. Do you believe these are among the most serious issues in our district? How do you believe we can best solve these problems in Senate District 33? Please provide your input and insights by taking our next poll here.
It has been a busy couple of weeks, and I will keep working hard to keep you informed as more budget implementation bills move through the legislative process, and to ensure successful passage of our SD33 2021-22 bill package. As always, if you are in need of any assistance or have questions regarding any state or local resources, please contact my office at (562) 256-7921 or send us a message here.
Sincerely,

Lena Gonzalez
33rd State Senate District