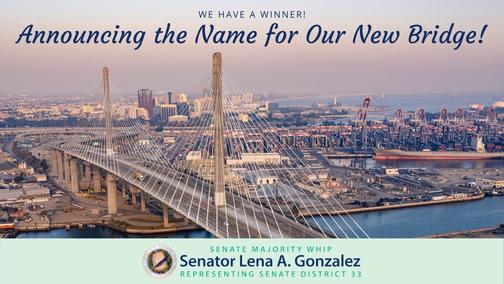 The Results Are In!
A couple of weeks ago, Assemblymember Patrick O'Donnell and I partnered on outreach efforts to ask our local community for input to name Long Beach's newest bridge. Now, we are happy to announce the winner...Long Beach International Gateway!
This name received the most votes in the community survey and based on the survey results, Assemblymember O'Donnell and I have introduced Assembly Concurrent Resolution 88 to designate the state highway route 710 where the bridge is located as the Long Beach International Gateway Bridge. If adopted by the State Legislature, nonstate funds must be identified for the construction of a sign.
I am very thankful for all the input we received from our community along this process. This iconic state landmark will connect us to the rest of the world for decades to come, and I am honored by the opportunity to help present and formalize this emblematic new name.
Thank you!

Lena Gonzalez
33rd State Senate District