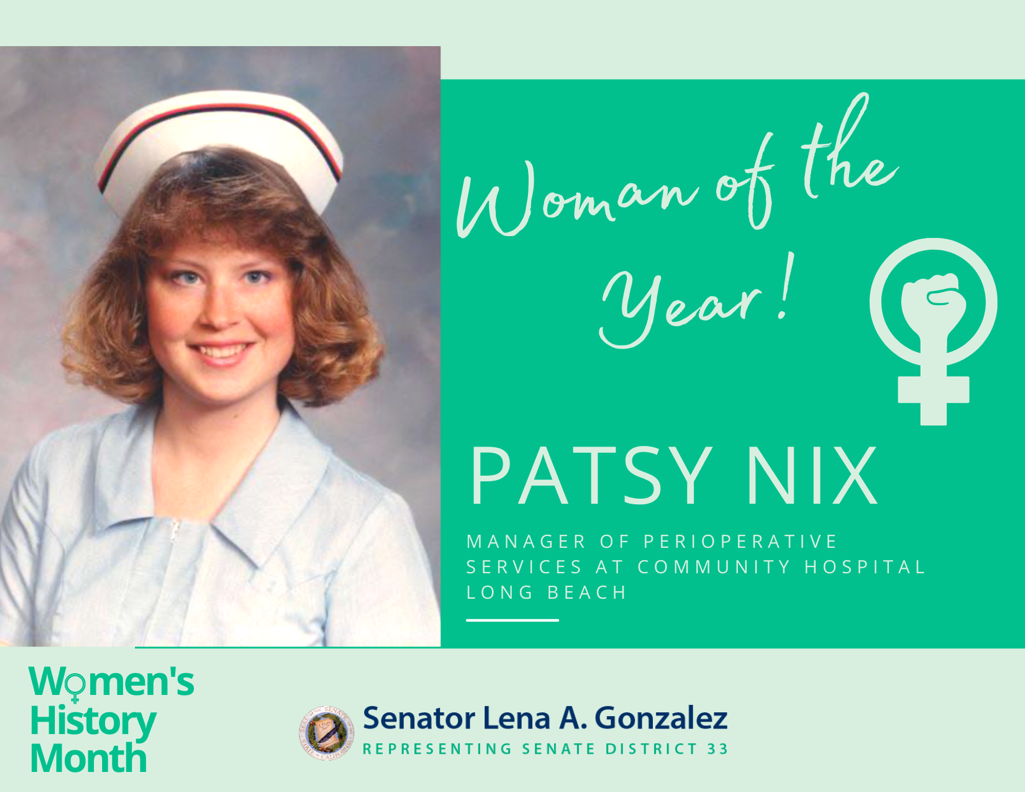 Dear neighbor,
Each year, in honor of Women's History Month, the California Legislative Women's Caucus hosts a "Woman of the Year" celebration to celebrate outstanding women in our communities. Due to the COVID-19 pandemic, this year, we are announcing our Woman of the Year winner virtually, and it is a great honor and pleasure to name Patsy Nix, Manager of Perioperative Services at Community Hospital Long Beach, as my honoree for 2021!
Patsy's passion for healthcare began as a volunteer and blossomed during her nurses training at Long Beach City College. Community Hospital Long Beach became her first career opportunity with an offer to start in their operating room right out of nursing school; now she manages five departments at the hospital.
Through nearly 33 years of dedicated work in surgical services, she has yet to find a challenge she will not attempt.  When Community Hospital needed someone to help with returning the hospital to a functioning acute care facility after its closure in July 2018, she did not hesitate. The hospital reopened in January of this year and although it is has been a long, and sometimes difficult road preparing to once again serve the community, she is finally doing the work she loves at the hospital she loves. Patsy continues to mentor new nurses in surgical services and received an award for Preceptor of the Year in 2018. 
When Patsy is not practicing nursing, she is spending time at home in Long Beach with her husband and three children and enjoys cooking for family and friends, attending book club meetings, and volunteering at her church, St. Luke's Lutheran. 
Thank you Patsy for your unwavering dedication to your community! Your extraordinary achievements are truly an inspiration for all of us and we are grateful for all your support for our community through these difficult times of the COVID-19 pandemic.
I'd like to also say thank you to all the women in Senate District 33 who are making a difference every day as moms, teachers, healthcare workers and more. Let's continue to celebrate and recognize the women in our lives every day for all they do to make our communities stronger and better! Lastly and as always, if you have any questions, please reach out to my office at (562) 256-7921 or send us a message here.
In community,

Lena Gonzalez
33rd State Senate District