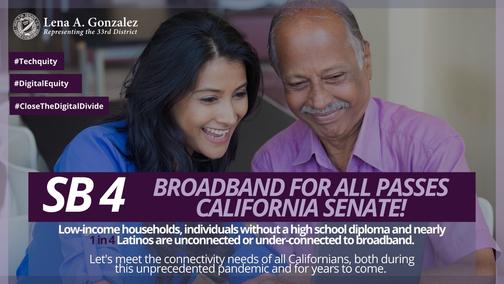 Dear Neighbor,
Senate Floor votes for 2021-22 legislation took place this week and we have much to celebrate! Many bills in my legislative packet passed the Senate successfully, including SB 4, the Broadband for All Act! Now, my team and I will work on moving these bills forward as they head to the Assembly. Another important development to keep in mind is the State Budget that will be announced later this month. I am happy to share that thus far, much needed investments to benefit Senate District 33 and all Californians were proposed in the Governor's May Revise, including $7 billion for broadband, $1.5 Billion for highway clean-up, and $454 million for the Exide Cleanup in our SELA community. More updates on the budget will be coming soon. Meanwhile, for the latest updates on my 2021 legislation, COVID-19 related announcements, community vaccine events, and other district news, please keep reading below!
Bills Passed in the California Senate
Broadband for All can Revive the Post-Pandemic Economy
One of my biggest policy passions is Digital Equity. That is why for years, even before I became a Senator, I championed to expand diversity and inclusion in the tech sector and to promote programs for underserved communities, such as supports for young girls of color in STEM. Now, I am fighting for Broadband for All, so that students, patients, businesses, and workers can have reliable, high-speed internet access for school, telehealth services, job searching and other everyday needs. I believe that closing the digital divide can help address economic disparities for our communities. In this exclusive commentary piece I wrote to CalMatters, I explain how California can make digital equity a reality and help individuals and businesses recover as the economy re-opens post pandemic. It's time to stop talking about the digital divide and start taking action through legislation. Let's seize the moment with efforts to ensure Broadband for All!
COVID-19 and Unemployment, Answers to Frequently Asked Questions
My office has been diligently working to find the latest updates on unemployment benefits and helping hundreds of constituents in SD33 resolve issues with their claims. We know it can be a difficult process, but we are here to help! Below please see some of the top FAQs for EDD unemployment benefits:
Metro Approves Motion to Halt the Work on the I-710 South Corridor Project
Our community in SELA is already heavily burdened by air pollution and this project did not meet the air quality laws that have been set forth to protect the health of our communities and to help improve air quality. The unanimous decision by the Metro Board on May 27th, 2021 successfully put a pause on the project. The expansion would have widened approximately 19 miles of the I-710 by adding two more traffic lanes. I am thankful to the Federal Environmental Protection Agency (EPA), Caltrans and all community and environmental organizations that advocated against the project to ensure that any new infrastructure developments are environmentally just and responsible.
Upcoming COVID-19 Vaccine Events in SD 33
We are making huge progress in the fight against COVID-19 with 52% of Californians and over 9.6 million Los Angeles County residents vaccinated. Let's get to full immunity to help our communities thrive and stay healthy. If you or someone you know needs to get vaccinated, below are some local COVID-19 vaccine events coming up near you in SD33!
COVID-19 Testing is Still Important
If you've been exposed to COVID-19 or feel sick, you can still get tested. Testing is free regardless of immigration or insurance status. Call 211 or visit covidhelpla.org 
Beyond the Blueprint Update for June 15 Reopening
Need Internet Access? The FCC Can Help.
The Federal Communications Commission (FCC) has launched a temporary program to help families and households struggling to afford Internet service during the COVID-19 pandemic. The Emergency Broadband Benefit provides a discount of up to $50 per month toward broadband service for eligible households and up to $75 per month for households on qualifying Tribal lands. Eligible households can also receive a one-time discount of up to $100 to purchase a laptop, desktop computer, or tablet from participating providers.
Eligible households can enroll through a participating broadband provider or directly using an online or mail in application.
Learn more about the benefit, including eligibility and enrollment information, by visiting www.fcc.gov/broadbandbenefit, or by calling 833-511-0311   
DMV Extends Expiring Commercial Driver's Licenses Through August
Following updated federal guidance, the DMV is extending all commercial driver's licenses, learner's permits and endorsements that expire between March 2020 and August 31, 2021. A previous extension had been set to expire at the end of May. The DMV has alerted California law enforcement of the new extensions. While the extensions are automatic, eligible commercial drivers will not receive a new card or an extension in the mail.
The DMV continues to expand its online services for California's commercial drivers including commercial driver's license renewals, for more information visit DMV.ca.gov.
We are halfway through the legislative session and starting off a great summer with the lowest rates of COVID-19 cases since the pandemic began. I am excited for the work ahead and want to remind you that if you need any assistance with unemployment benefits or have questions about resources or the legislative process, please feel free to reach out to my office at (562) 256-7921 or send us a message here.
Sincerely,

Lena Gonzalez
33rd State Senate District