Dear Neighbor,
Last week I visited Maywood's Riverfront Park and Central Long Beach's MacArthur Park to celebrate the allocation of funds from the 2021-22 state budget that will help improve our parks, provide upward mobility and economic opportunities for individuals and more access to health services in our district.
This week, many students have returned to school in person, and I know there is still much concern about the Delta variant with the current surge in cases. As such, I have an invitation for you and your family to join local health expert, Dr. Anissa Davis and myself to discuss any questions you may have.
Recently, a third dose of COVID-19 vaccines was approved for certain individuals, the Long Beach rent relief program was re-opened, and the federal eviction moratorium was extended. Get all these updates by reading below and remember to participate in our poll!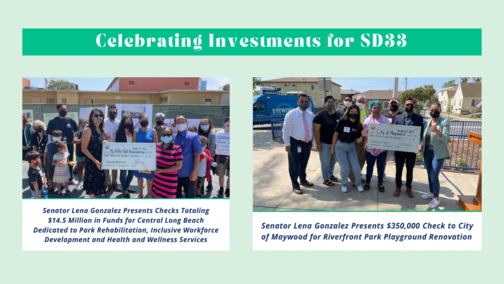 Celebrating Over $14 Million in Funds for SD33
On August 12, I was very happy to present a check to the City of Maywood to help fund the renovation of Maywood Riverfront Park, including ADA accessible playground features and more shaded areas. The park offers vital recreational opportunities and community resources to promote public health and improve the quality of life for local children and families. Maywood is one of the most densely populated areas in our entire state and is home to more than 26,000 residents in just over one square mile of land. Parks like these provide much needed open space that will benefit families for generations to come. Congratulations Maywood and all the amazing residents and community groups like Communities for a Better Environment and the Los Angeles Neighborhood Land Trust who advocated for these funds!
On August 13, I presented checks to the City of Long Beach, Centro CHA Inc. and TCC Family Health totaling $14.5 million in funds dedicated to park rehabilitation, inclusive workforce development and health and wellness services in Central Long Beach. More people in our diverse community will have access to recreational activities and the outdoors, start businesses, develop job skills, and receive essential medical services. These resources are critical to a healthy and vibrant future for local families, and I am extremely proud to support these incredible efforts. Congratulations Central Long Beach and thank you to all the great community leaders and groups that helped advocate for these funds!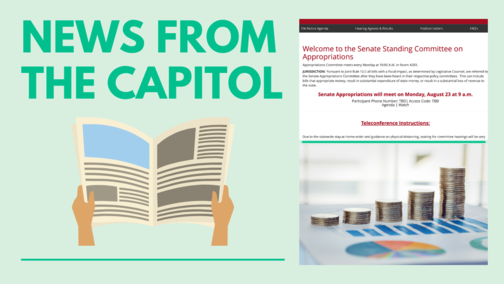 Appropriations Committee and End of the 2021-22 Legislative Session Approaching!
Right now, bills that have a fiscal impact are being considered in the Appropriations Committee. If a bill has a fiscal impact or a state cost, it will be heard in either the Senate or Assembly Appropriations Committee. At this point, constituents have the opportunity to inform the Members of the committee why they support or oppose a bill based on a fiscal argument.
To see the staff analysis that has been done on a bill by the policy committee, you can visit the California Legislative Information website and/or the Department of Finance website. Members of the fiscal committees read these analyses before they vote.
After the bill passes the fiscal committee, it is read for the second time on the Floor.
Want to learn more about what is coming up next in the California Senate Legislative Process? Visit the California Senate Website here.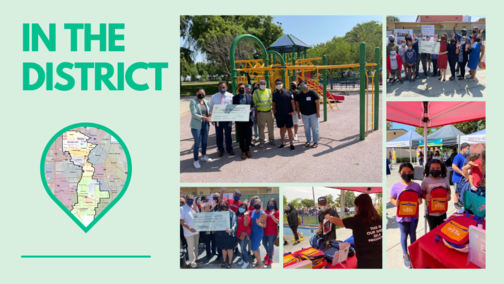 In the District
In addition to the celebrations we had in Maywood and Central Long Beach, we also visited Bell Gardens at Veterans Park for a Backpack Giveaway and Community Resource Fair. Students and families received free school supplies, PPE and were able to benefit from great services such as vision screenings and COVID-19 vaccines. Thank you to the City of Bell Gardens and all the community partners who helped organize this event and the volunteers who helped make this a great day for the community to enjoy!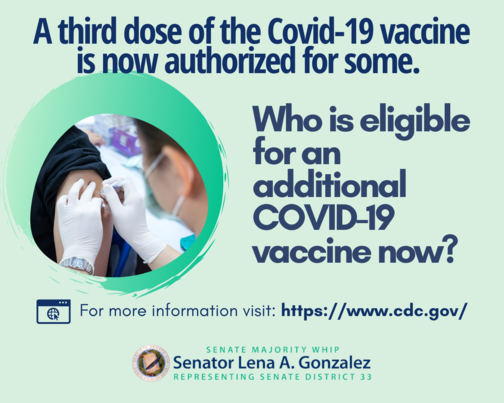 A Third Dose of the COVID-19 Vaccine is Authorized for Immunocompromised People
Currently, the CDC is recommending that moderately to severely immunocompromised people receive an additional dose of the COVID-19 vaccine. This includes people who have:

Been receiving active cancer treatment for tumors or cancers of the blood
Received an organ transplant and are taking medicine to suppress the immune system
Received a stem cell transplant within the last 2 years or are taking medicine to suppress the immune system
Moderate or severe primary immunodeficiency (such as DiGeorge syndrome, Wiskott-Aldrich syndrome)
Advanced or untreated HIV infection
Active treatment with high-dose corticosteroids or other drugs that may suppress your immune response

People should talk to their healthcare provider about their medical condition, and whether getting an additional dose is appropriate for them. For more information visit: https://www.cdc.gov/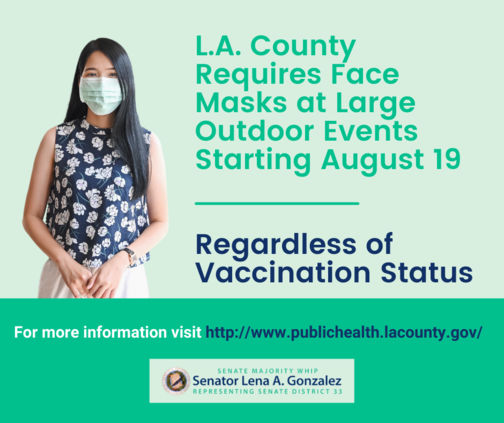 LA County Now requires Face Masks at Large Outdoor Events
Starting August 19, LA County requires face masks at large outdoor events such as music festivals, car shows, parades and sporting events with over 10,000 people.
Masks are required at all times except when actively eating or driking.
The order clarifies that "actively eating or drinking" is the limited time during which the mask can be removed briefly to eat or drink, and that is must be immediately put back on afterward.
For more COVID-19 updates visit http://www.publichealth.lacounty.gov/ and to read the full Health Officer Order click here.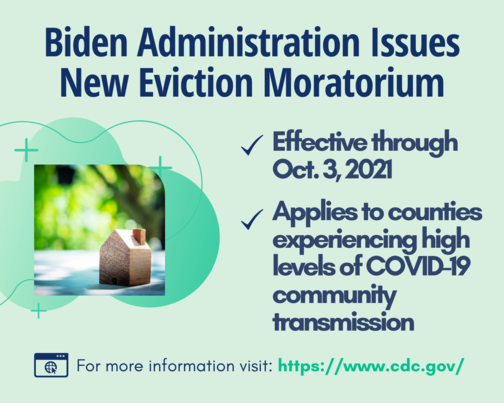 Biden Administration Extends Eviction Moratorium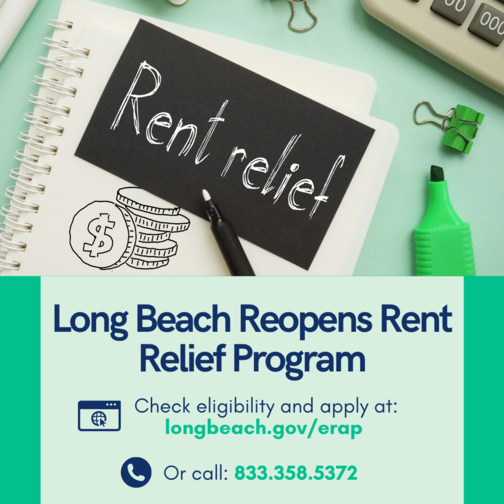 Long Beach Residents Have More Time to Submit an Application for Rent Relief 
The Long Beach rent relief program application period has been reopened because the City has recently received and secured additional state and federal funding. The application period will remain open until all funding is exhausted.
You can apply or complete an application through the city's rental assistance portal at longbeach.gov/erap  
For questions, call 833-358-5372, Monday through Friday from 8 a.m. to 6 p.m. The program will remain open until funds are exhausted.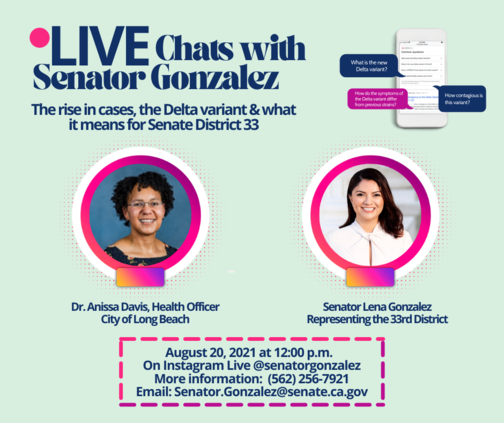 Get Your Questions Answered About COVID-19 & the Delta Variant
We've been through a lot this year. I'm excited to do a virtual live event with Dr. Anissa Davis, Health Officer for the City of Long Beach to discuss the Delta variant and how we can continue to keep safe in SD33!
When? Friday, August 20, 2021, 12:00 p.m. PDT
This event will be held using Instagram LIVE. To submit your questions before the event please email Senator.Gonzalez@senate.ca.gov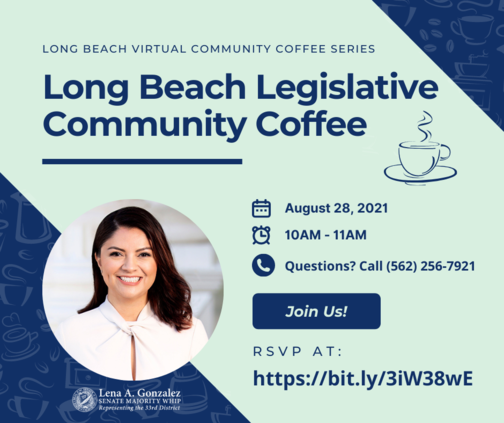 Long Beach Legislative Community Coffee Coming Up!
We are continuing our Long Beach Virtual Community Coffee Series, with our next one coming up next Saturday! Grab a cup of your favorite coffee and join me at 10:00 a.m. PDT on August 28, 2021 to get the latest legislative updates for SD33.
You can RSVP now and submit questions in advance at: https://bit.ly/3iW38wE
For questions about this event call (562) 256-7921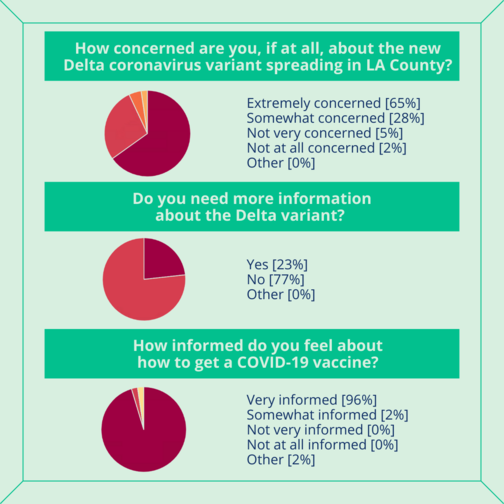 Last Edition's Poll Results
In our previous newsletter, we asked how concerned and informed residents in Senate District 33 felt about the Delta variant, and how informed people felt about where to get a COVID-19 vaccine. These were the results.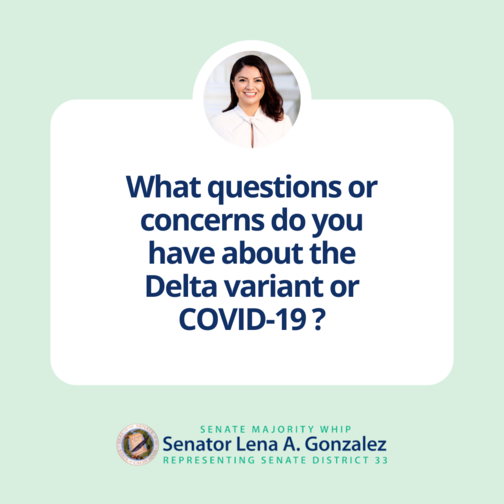 This Edition's Poll Questions
I know we have been through a lot lately, and there is much concern in our community about the Delta variant, so I would like to take this opportunity to help answer some of the questions you may have. Please take a moment to submit your comments and questions by completing our next poll here.
Top social media posts
Check out my top social media posts below! Remember to follow me @SenGonzalez33 on FB and Twitter for legislative updates, resources, events and much more!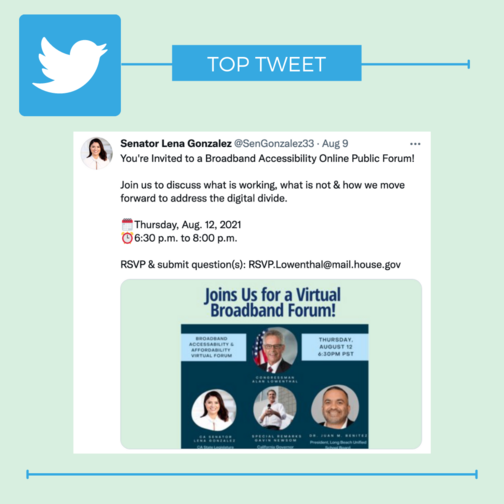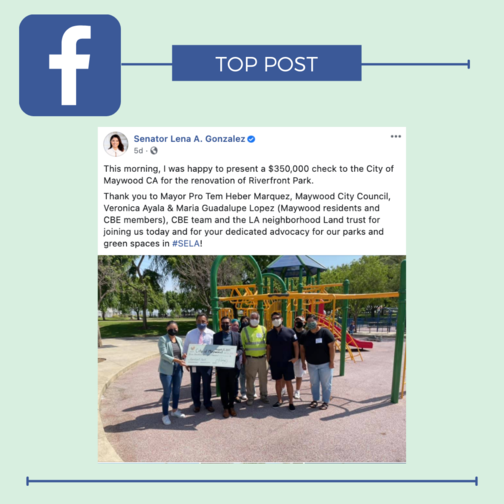 As always, if you need any other information or resources that can help you or someone you know, please contact my office at (562) 256-7921 or send us a message here.
Sincerely,

Lena Gonzalez
33rd State Senate District