Dear Neighbor,
I am back from Glasgow, Scotland after participating in several daylong policy talks at the United Nation's 26th annual Conference of the Parties (COP 26) to address climate change. I am very excited to share with you about California's new commitments and the world's collaborative efforts to save our planet.
In the district, Team Gonzalez had a great time celebrating Veteran's Day, participating in Lynwood's community clean up, discussing early childhood education and childcare issues, and I visited the Ports of Los Angeles and Long Beach to share updates on state actions to address the supply chain crisis.
At a national level and as Chair of the Senate Transportation Committee, I am excited to see that President Joe Biden signed into law a $1 trillion infrastructure bill. The measure is designed to create jobs across the country by dispersing billions of dollars to state and local governments to fix crumbling bridges and roads and by expanding broadband internet access to millions of Americans.
Finally, I have updates and resource information you do not want to miss! LA County has grants available to provide rent relief to small businesses; eligible homeowners can receive grants of up to $3,000 from the state to help offset the cost of seismic retrofits and the DMV has nearly doubled its capacity for commercial driving tests to support efficient ports movement.
Remember to take our poll at the end of the newsletter. As we head into the new legislative session, I want to hear your ideas for 2022 priorities and legislation!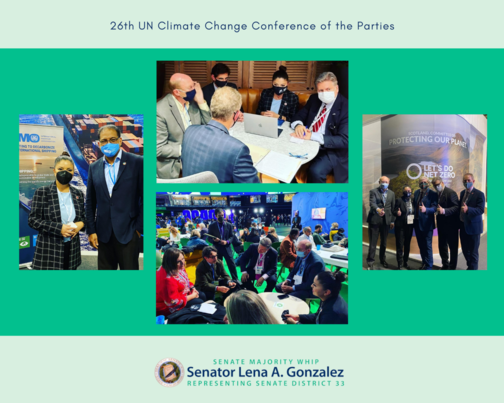 My Participation in the 26th UN Climate Change Conference of the Parties (COP 26)
Earlier this month, I travelled to Glasgow, Scotland to participate in COP 26, an international conference on combating climate change worldwide. The climate crisis globally is a crisis we cannot ignore, at all levels of government and now is a pivotal time to act aggressively and boldly. The spirit of collaboration was front and center at the conference and it was very exciting to see the success of other states and countries in their efforts to reduce pollution and stop global warming.  
During the conference, there were several notable achievements, including:

California has joined the Beyond Oil & Gas Alliance (BOGA) launched at COP26, bringing together national and subnational governments committed to advancing a just transition away from oil and gas production.
California signed on to a global agreement, the COP26 Declaration on Zero-Emission Cars and Vans, bringing together nations, states and regions, vehicle manufacturers, businesses, investors and other partners dedicated to rapidly accelerating the transition to zero emission vehicles. The declaration aims to achieve 100% zero emission vehicle sales by 2035 in leading markets, and no later than 2040 globally.

I can also say that many other states and countries around the world are looking to California as a global leader in fighting climate change. This makes it so much more important for our state to take this opportunity to lead and make a real difference for the future of not only Californians, but also all people. California has set the pace by:
Other key takeaways from the conference were:

Equity must continue to be a strong pillar in the fight for climate change so that all countries and communities around the world have the support they need to achieve climate goals and a healthier future.
The workforce needs to be a part of the conversation if we are going to responsibly and expeditiously transition. The Scottish Parliament shared with me their work on a "skills passport" framework, implemented through public and private partnerships and academic institutions to help transfer union workers' skills to the renewable sector, coupled with a training fund to support training for workers for new green jobs.
A deeper focus on the full supply chain carbon footprint is needed to learn about how manufacturing electric batteries, wind turbines, etc. contribute to our carbon footprint to determine how to lessen that impact.
Corporate responsibility is critical to the success of climate goals around the world. Various industries were present at the conference and discussed the need to set their own internal aggressive climate goals beyond what is required by government. 
California's partnership on climate action with Mexico can grow to work more closely on environmental justice for indigenous communities and water policy, and further support goals in the 2030 Mexico plan.
President Biden Signs $1 Trillion Infrastructure Bill
On November 15, 2021, President Biden Signed the Infrastructure investment and Jobs Act bill package. The passage of this federal infrastructure bill means greater investment into our state to create quality jobs for Californians, modernize our state infrastructure and improve our transportation systems.
California expects to receive:

$25.3 billion for federal-aid highway apportioned programs and $4.2 billion for bridge replacement and repairs over five years
$9.45 billion over five years to improve public transportation options across the state
$384 million over five years to support the expansion of an electric vehicle (EV) charging network in the state and the opportunity to apply for the $2.5 billion in grant funding dedicated to EV charging
A minimum of $100 million to help provide broadband coverage across the state
$84 million over five years to protect against wildfires and $40 million to protect against cyberattacks
$3.5 billion over five years to improve water infrastructure across the state and ensure clean, safe drinking water for California communities
$1.5 billion for infrastructure development for airports over five years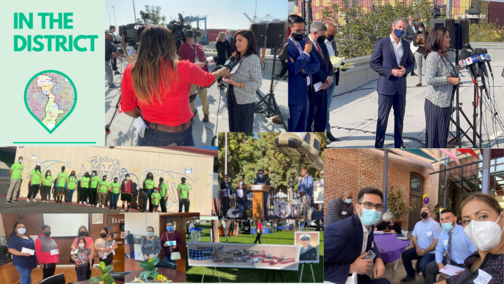 In the District
Uptown Long Beach Veteran's Festival
On November 13, Team Gonzalez participated in the Uptown Long Beach Veteran's Festival. Thank you to all our veterans and active service members for your service to our nation. 
Lynwood Day of Service
On November 13, Team Gonzalez joined Lynwood's Day of Service for a community clean up and had the opportunity to speak with Mayor Marisela Santana about goals for the future of Lynwood. It was a great morning –thank you to all who volunteered!
Early Care and Education Meeting 
On November 17, Team Gonzalez had the opportunity to hear from local community members and SEIU Local 99 about pathways for change in the child care industry and how collaborations can help expand access to care. It was a productive and insightful meeting and I look forward to continued discussions on this topic.
Tour of Ports of Los Angeles and Long Beach with White House Port Envoy John Porcari and Governor Newsom
On November 17, I toured the Ports of Los Angeles and Long Beach with state, federal and local representatives to speak about actions that have been taken to address the supply chain crisis. In addition to infrastrucutre projects and nearly doubling the DMV's capacity to conduct commercial driver license tests, Caltrans will now issue temporary truck weight exemptions on State Highways to keep goods moving efficiently. The state is also working to lease state and privately owned property for container storage space. As a result of actions taken thus far, there has been a 32% drop over two weeks for containers sitting on dock for more than nine days in the Ports of Los Angeles and Long Beach.
Food Vouchers Distributed for Families
Over the last week, my office has distributed over 130 food vouchers for families. It has truly been a great pleasure to see so many residents visit our office and to spread some holiday joy this Thanksgiving.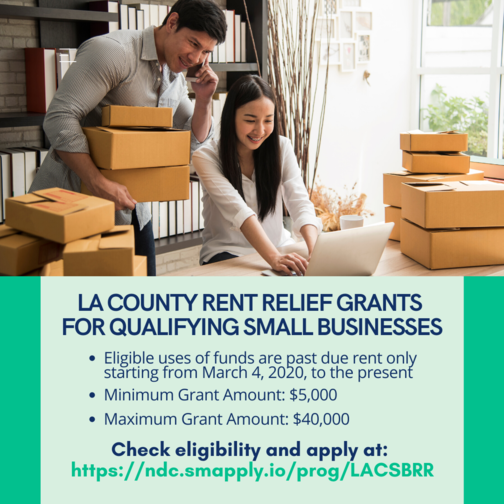 Los Angeles County Rent Relief Grants for Qualifying Small Businesses
In an effort to assist Qualifying Small Business Tenants (QSBT) that have fallen behind on rent, Los Angeles County launched the Small Business Rent Relief Grant Project.
The Small Business Rent Relief Grant Project will provide up to $40,000 to help businesses cover rent that became past due as of March 4, 2020. To be eligible, a QSBT must meet the following criteria:

Have a brick and mortar business located in the unincorporated areas of Los Angeles County;
Have an annual average number of nine or fewer full-time equivalent employees;
Have annual total gross revenues of no more than $1 million; and
Be able to demonstrate a gross revenue loss of at least 25% over a 12-month timeframe falling at least in part within the period of Los Angeles County's COVID-19 Emergency Order that went into effect March 4, 2020.

Applications will be accepted through Wednesday, November 24, 2021, at 5:00 p.m.
For additional project information, please visit https://ndconline.org/lacsbrr/ or call (626) 210-4500. Questions regarding the Small Business Rent Relief Grant Project can be sent to LACountySBRR@ndconline.org.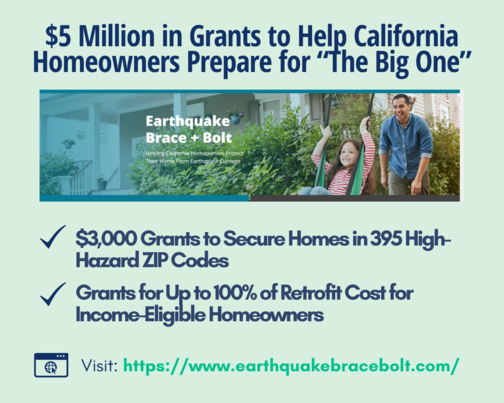 You Could Get Up to $3,000 in Grant Funding to Help Prepare for "The Big One"
Senate District 33 homeowners: Are you ready for "The Big One"? Right now, more than 1.2 million homes in high-seismic-hazard areas of California are particularly vulnerable to earthquake damage because of the way they were constructed.
The Earthquake Brace + Bolt (EBB) program offers eligible homeowners grants up to $3,000 to help offset the cost of seismic retrofits that brace the cripple walls of older homes, when present, and bolt the houses to their foundations. Income-eligible homeowners also may qualify for supplemental grants that may provide up to 100 percent of the retrofit costs.
Homeowners can apply for grants online through December 1, 2021. Learn more and find out if you qualify by visiting EarthquakeBraceBolt.com.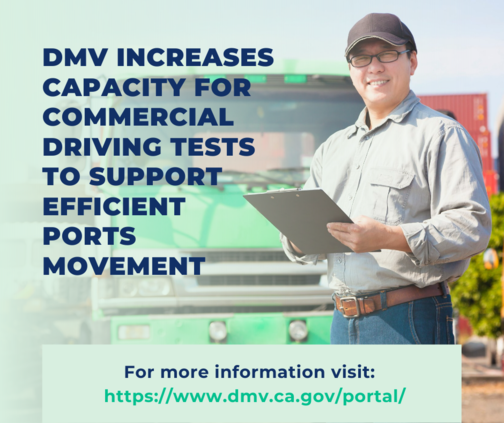 DMV Increases Capacity for Commercial Driving Tests
Building on Governor Gavin Newsom's executive order and federal partnership to address the global supply chain crisis, the California Department of Motor Vehicles is taking immediate action to tackle the commercial truck driver shortage and keep goods moving quickly between California's largest ports and major distribution centers.
The DMV currently administers approximately 5,000 commercial driving tests each month statewide. Once it fully implements the strategic staffing changes, combined with expanded Saturday testing, the DMV expects to add another 4,700 appointments a month.
For information about DMV test sites, hours and to schedule a test, visit https://www.dmv.ca.gov/portal/.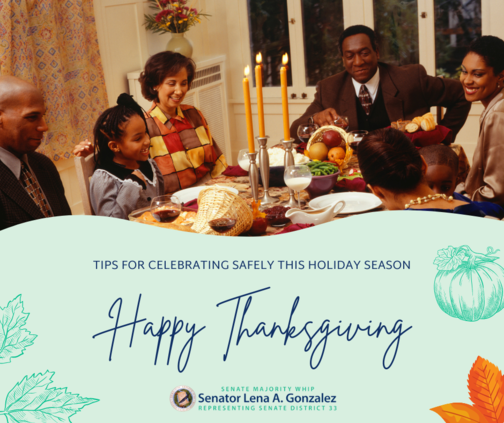 Tips for Celebrating Safely This Holiday Season
COVID-19 is caused by tiny airborne germs that remain in the air when someone breathes, talks, sings, coughs or sneezes. Consider the following measures to protect yourself, your family and your community as you celebrate the holiday season.

Get vaccinated, including a booster shot if you're eligible
Stay home if you're sick
Get tested before and after traveling or gathering for the holidays
Wear a mask
Gather outside or increase airflow in indoor spaces

Learn more tips by visiting the California Department of Public Health website here.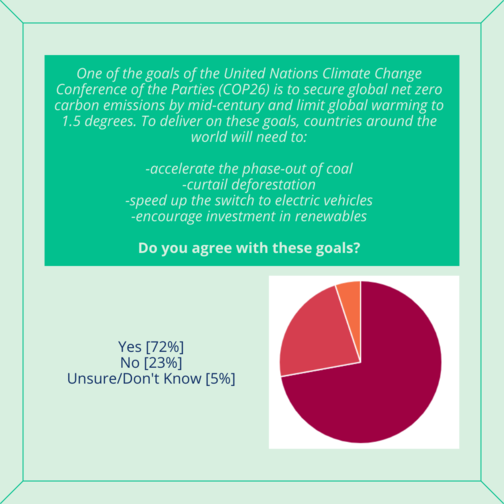 Last Edition's Poll Results
In our previous newsletter, we asked whether you agreed with COP 26 climate goals. These were the results.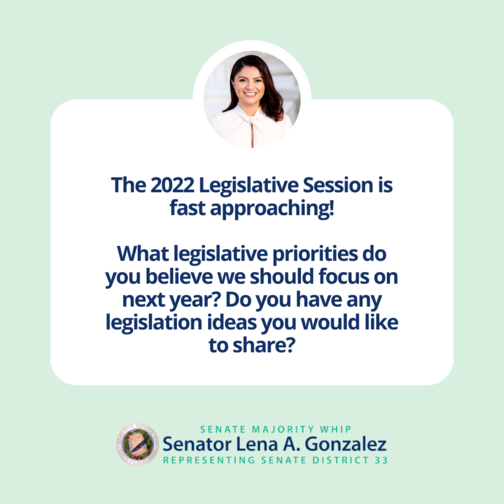 This Edition's Poll Questions
For this edition's poll, I would like to know what legislative priorities you would like us to focus on next year, and I would love to hear any potential legislative ideas you may have. Take our next poll here to share your thoughts and ideas!  
Top Social Media Posts
Check out my top social media posts below! Remember to follow me @SenGonzalez33 on FB and Twitter for legislative updates, resources, events and much more!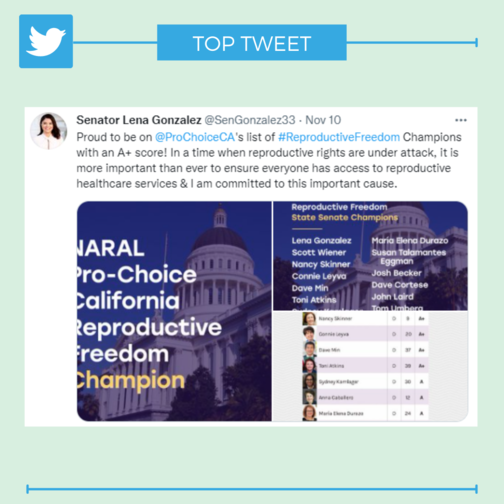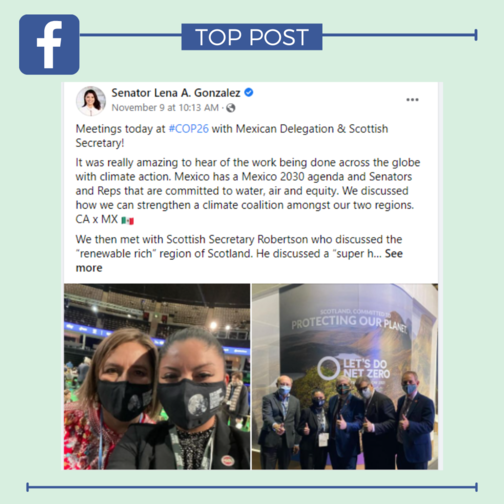 As always, if you need any other information or assistance, please contact my office at (562) 256-7921 or send us a message here. Wishing you and your loved ones a Happy Thanksgiving!
Sincerely,

Lena Gonzalez
33rd State Senate District