Dear Neighbor,
The year is almost over, can you believe it? It is a great time to pause and reflect on what we've accomplished, so I have prepared some highlights of the biggest wins we've had during the 2021 legislative session.
The holiday season is alive and thriving with tree lightings and plenty of fun activities for families across Senate District 33 and we were happy to join many of them throughout the past couple weeks.
I have included information in this newsletter about $3k - $10k Youth Leader Award opportunities, the new COVID-19 variant called Omicron, important tips taxpayers should consider before the tax year ends, the LA County Emergency Housing Voucher program, and the Clean California Local Grant Program to help beautify and improve local streets and roads, public spaces and more.
Lastly, please make sure you take our new poll to share with me your budget priorities for the new fiscal year 2022-23.  
End of Year Recap 2021
Before we say hello to the new year and farewell to the old, I wanted to take some time to reflect on the accomplishments of 2021. Here are those highlights:

This year, Team Gonzalez helped close 524 unemployment insurance cases. I am incredibly proud of our team for doing this great work to help make sure residents have access to their benefits during these challenging times.
We secured $406.7 million in funds for local projects and services in Senate District 33 including investments for parks, health and wellness, workforce development, and for the cleanup of land contaminated by Exide.
Our office hosted and co-hosted 37 events this year, from food drives to COVID-19 vaccines and testing sites, our office was proud to lead these events with great community partners to meet the needs of residents.
I was proud to co-author 28 bills with my colleagues in the Legislature that were signed into law including:
This year, I was very happy to share that eight of the bills in my legislative package were signed into law. Learn more about these eight bills here.
Finally, I personally attended over 300 meetings with groups and constituents to discuss legislative priorities and the needs of all Californians and Senate District 33 residents. 
News from the Capitol
Since the legislative session has ended for 2021, members of the Legislature are back in their districts. That means we are spending time in the district at public events (virtual or in-person), taking tours of local businesses, or participating in important meetings and discussions with constituents in the community. At the same time, we are getting ready for the new legislative session by gathering ideas and conducting research for new potential legislation. So, what does that process look like?

All legislation starts off as an idea. These ideas can come from anybody, including you! The process begins when either an individual or group shares and idea for a change or addition to state law with a member of the Senate or Assembly.
The legislator then works with the Office of Legislative Counsel to draft the actual bill language. The drafted bill is returned to the legislator for his or her review.
Persons or groups that originated the idea for the bill may also review it to ensure that the provisions they suggested are in the bill in the correct form. The bill is then introduced at the Senate Desk; where it is assigned a number and read for the first time. After the bill is formally introduced, it begins a months or years long journey of moving through the legislative review process through both houses of the Legislature with an eventual stop on the Governor's desk.
So, do you have a bill idea you'd like to share with me? If you did not get a chance to complete our last poll, there is still time to share your input! Please reach out to my office at (562) 256-7921 or email us at Senator.Gonzalez@senate.ca.gov.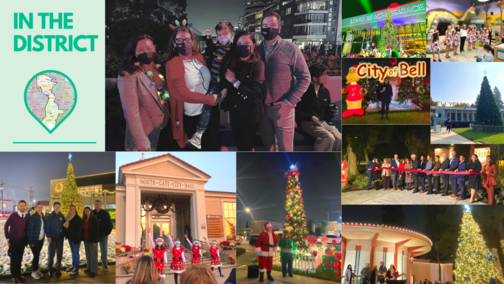 In the District
City of Long Beach 7th Annual Tree Lighting Celebration
On November 30, we joined the City of Long Beach for an amazing tree lighting celebration. I was happy to see so many families make it out to celebrate the holiday season.
City of Signal Hill Tree Lighting Ceremony
On December 1, Team Gonzalez participated in the City of Signal Hill's tree lighting ceremony, where families enjoyed a visit from Santa, festive treats, and music.
World AIDS Day
On December 1, Team Gonzalez was proud to join the unveiling and rededication of The Wall Las Memorias AIDS Monument at Lincoln Park—the only publicly funded AIDS monument in the country. The revealing exhibited new artwork and panels that carry an additional 1,200+ new names of loved ones lost to AIDS.
City of Bell Gardens Tree Lighting Ceremony
On December 2, Team Gonzalez visited Bell Gardens City Hall for an amazing tree lighting ceremony with music, mariachi, crafts, and special guest Santa!
City of South Gate Tree Lighting Ceremony
On December 2, our team visited South Gate City Hall for a great tree lighting ceremony with live performances, mariachi music and a surprise visit from Santa. 
City of Vernon Tree Lighting Ceremony
On December 2, we joined Winter Wonderland in the City of Vernon. There was snow, hot chocolate, arts and crafts and free toys!
City of Lynwood's Snow Day 
On December 4, our office joined Snow Day in the City of Lynwood! Residents of all ages had the opportunity to play and sled in the snow, make holiday crafts, and enjoy amazing food from local vendors.
City of Bell Annual Holiday Village
On December 4, we joined the City of Bell's annual Holiday Village during which families enjoyed fun activities, including rock climbing, bounce houses, pictures with Santa, live music, and a visit from the Grinch!
City of Paramount Photos with Santa
On December 4, our office stopped by the City of Paramount to check out Santa's photo workshops. There was no shortage of smiles and good cheer during this amazing public event.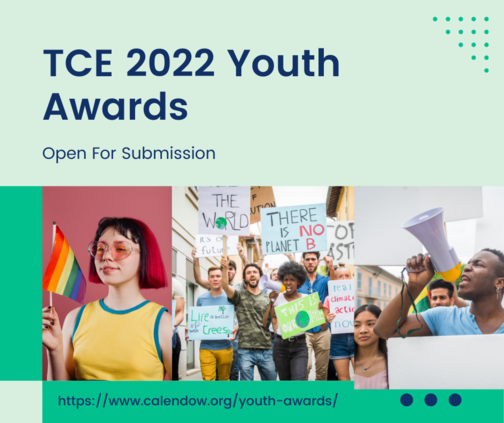 TCE 2022 Youth Awards
The California Endowment has announced a call for nominations for the 2022 Youth Awards. There are three opportunities to nominate a powerful youth leader or a youth serving organization. Nominations are being accepted between December 1, 2021, to January 28, 2022.

Brandon Harrison Youth Visionary award: recognizes an exceptional youth who has overcome challenges and obstacles to battle back from trauma and place themselves and their community on a path toward success. Brandon Harrison was a youth activist from Stockton, California who was a member of TCE's President's Youth Council. In his memory and legacy, this award celebrates young activists who are carrying on the fight for health and racial justice. 1 award, $10,000.
Voices for Change award: celebrates the transformative leadership of youth who are achieving health and racial equity through people power. One youth per region who has done exceptional work in the area of health, justice reform, schools, and inclusive community development will be selected as a recipient. 4 awards, $3,000 each.
Youth Power Partner award: celebrates non-profit organizations who are cultivating pathways for youth power. The organization selected can be a youth-led advocacy organization or an adult ally-led organization supporting youth voice and power. 4 awards, $10,000 each.

To learn more and to submit a nomination visit: https://www.calendow.org/youth-awards/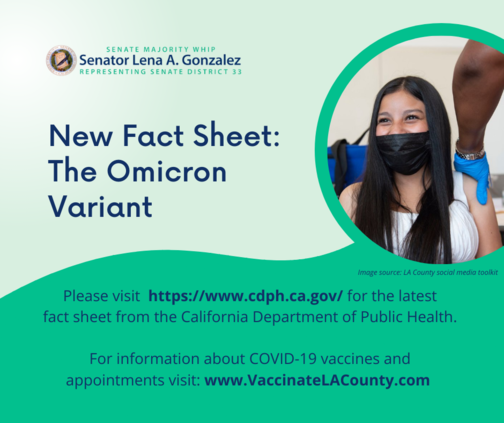 As Omicron is Detected in California, Public Health Urges Everyone to Take Action
With the recent detection of Omicron in California, residents and businesses are concerned about the implications of a more infectious variant on safety and business operations. And while the impact of Omicron is uncertain, it is clear there are immediate steps everyone can take to protect each other and slow transmission.

Vaccines remain the most effective tool and the Los Angeles County Department of Public Health (Public Health) encourages everyone 5 and older not yet vaccinated or boosted to do so with a sense of urgency.
All residents and workers need to be sure to adhere to vaccination verification and masking requirements and wear a mask when indoors or at large outdoor mega events regardless of vaccination status.
Testing is an important tool in early detection of infection to reduce spread and Public Health encourages residents who have traveled for the holidays to get tested if they traveled internationally or to locations in this country with high transmission rates, or they participated at gatherings and events with large numbers of people.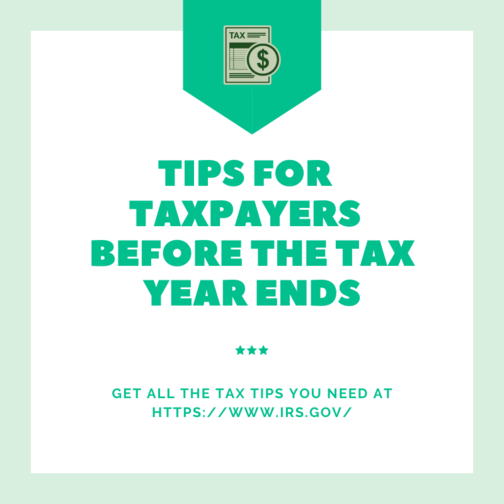 Some important tips taxpayers should consider before the tax year ends
Donate to charity: Taxpayers may be able to deduct donations to tax-exempt organizations on their tax return. As people are deciding where to make their donations, the IRS has a tool that may help. Tax Exempt Organization Search on IRS.gov allows users to search for charities. It provides information about an organization's federal tax status and filings.
Check Individual Taxpayer Identification Number: An ITIN only needs to be renewed if it has expired and is needed on a U.S. federal tax return. If an Individual Taxpayer Identification Number was not included on a U.S. federal tax return at least once for tax years 2018, 2019 and 2020, the ITIN will expire on Dec. 31, 2021.
Get banked and set up direct deposit: Direct deposit gives taxpayers access to their refund faster than a paper check. Those without a bank account can learn how to open an account at an FDIC-Insured bank or through the National Credit Union Locator Tool.
Think about tax refunds: Taxpayers should be careful not to expect getting a refund by a certain date. This is especially true for those who plan to use their refund to make major purchases or pay bills. Just as each tax return is unique to the individual, so is each taxpayer's refund. Taxpayers can take steps now to Get Ready to file their federal tax return in 2022.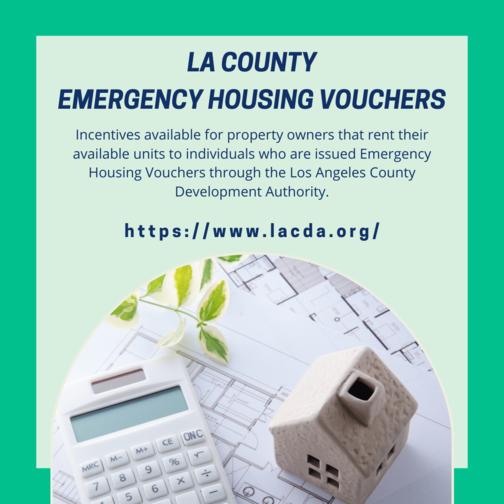 LA County Emergency Housing Voucher Program: Rent Your Available Units
Los Angeles County is calling all property owners who have available units to rent to participate in the Emergency Housing Voucher Program. You may be eligible to receive up to $5,000. Participating landlords are eligible for incentive payouts such as: a one-time signing bonus of $2,500 for each unit leased, up to $5,000 one-time reimbursement for new contract inspection repairs, and free property listing!
On May 12, 2021, the Los Angeles County Development Authority (LACDA) accepted 1,964 Emergency Housing Vouchers (EHVs), as part of an allocation of 70,000 vouchers issued to public housing authorities nationwide, by the U.S. Department of Housing and Urban Development (HUD). The EHVs were allocated as a part of the American Rescue Plan Act, with the intent of assisting individuals and families most in need and for whom providing rental assistance will prevent the family's homelessness or having high risk of housing instability.
Contact the LACDA today to learn more via email at LACDAincentives@lacda.org, or call (626) 586-1585.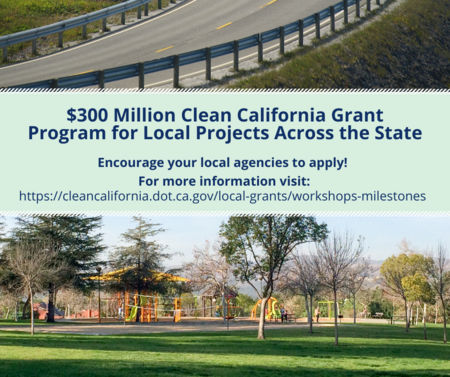 Governor Newsom Announces $300 Million Clean California Grant Program for Local Projects Across the State
On December 1, the Newsom Administration announced the availability of almost $300 million in Clean California grants and called on local communities to submit applications for projects that will clean and beautify local streets, tribal lands, parks and transit centers throughout California. The new grants are part of Governor Gavin Newsom's Clean California initiative, a $1.1 billion multiyear clean-up effort led by Caltrans to remove trash, create thousands of jobs and engage communities to transform public spaces.
The grant application period closes February 1, 2022, and Caltrans will announce the grant recipients on March 1, 2022. Award recipients must complete their project by June 30, 2024.
Applicants must be local or regional public agencies, transit agencies, or tribal governments. Nonprofit organizations may be sub-applicants. Have a project in mind for your neighborhood? Encourage your local agencies to apply for the Clean California local Grant Program, information can be found on: https://cleancalifornia.dot.ca.gov/local-grants/workshops-milestones.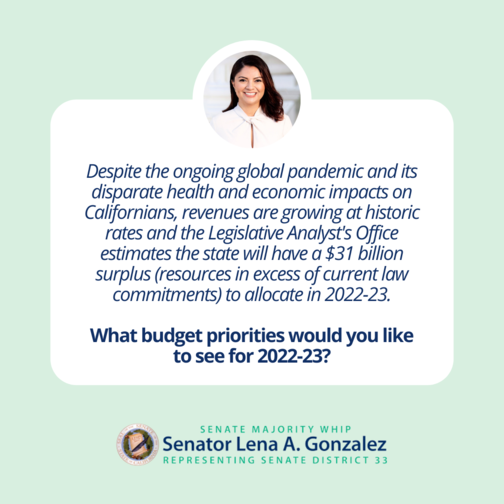 This Edition's Poll Questions
For this edition's poll, I would like to know what budget priorities you'd like to see for 2022-23.Take our next poll here to share your thoughts!  
Top Social Media Posts
Check out my top social media posts below! Remember to follow me @SenGonzalez33 on FB and Twitter for legislative updates, resources, events and much more!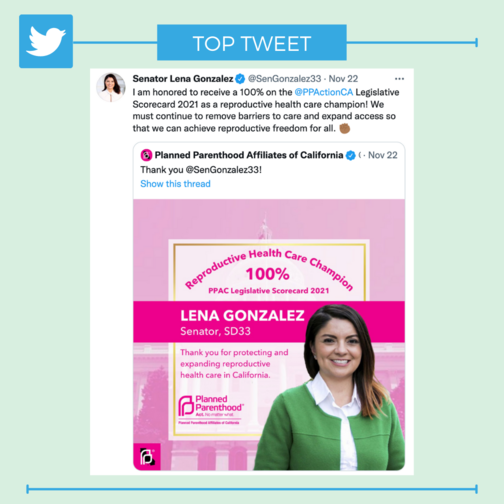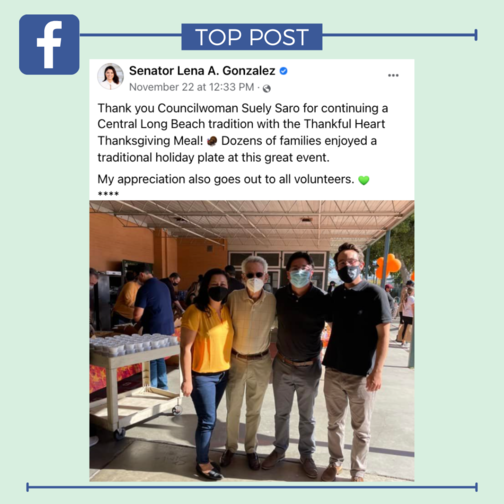 As always, if you need any other information or assistance, please contact my office at (562) 256-7921 or send us a message here.
Sincerely,

Lena Gonzalez
33rd State Senate District