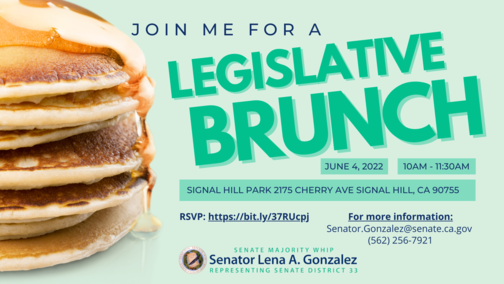 Dear neighbor,
I am very excited to invite you to an in-person brunch event organized especially for you!
Let's gather for some delicious brunch foods and talk about issues that matter to Signal Hill. Do you have questions about state and local affairs? Would you like to know what services are available through my office or what's included in my 2022 legislative package? Do you have new legislation ideas to share with me? Then this is the perfect opportunity for us to talk. Don't miss out and RSVP today!
The event will take place on June 4, 2022 from 10:00 a.m. to 11:30 a.m. at Signal Hill Park.
Location: 2175 Cherry Avenue, Signal Hill, CA 90755
You can submit questions in advance and RSVP here.
If you need assistance registering for the event, please contact my office at (562) 256-7921. I hope you can make it, and I look forward to seeing you!
Sincerely,

Lena Gonzalez
33rd State Senate District