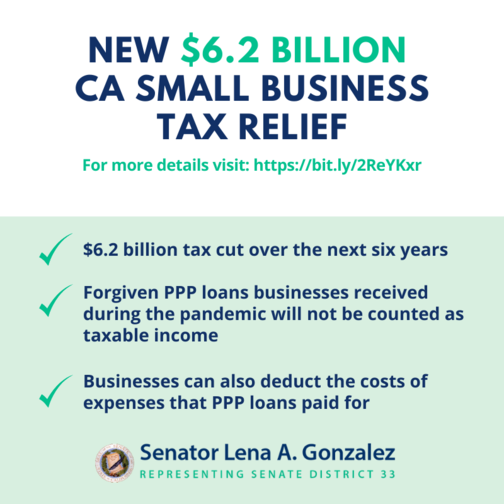 Dear neighbor,
After winning approval for all our 2021 bills from Senate Committees over the past few weeks, they are now moving to the next step in the legislative process, the Senate Appropriations Committee and/or for a vote on the floor. As my office and I work diligently to successfully pass our legislative packet in the Senate, we are also gathering information for you on many great resources, new policies and guidelines advancing on the ground at the local, state and national level. Among these are, a newly announced $6.2 billion California small business tax cut, new masking guidelines for fully vaccinated individuals, new LA County worker protections and much more. Please continue to read below to get all the important updates you need to know!
New $6.2 Billion California Small Business Tax Cut
Real ID Deadline Has Been Extended!
On April 27th, the Department of Homeland Security (DHS) extended the REAL ID full enforcement date by 19 months, from October 1, 2021 to May 3, 2023, due to circumstances resulting from the ongoing COVID-19 pandemic. The pandemic has significantly impacted states' ability to issue REAL ID-compliant driver's licenses and identification cards, with many driver's licensing agencies still operating at limited capacity.
Beginning May 3, 2023, every air traveler, 18 years of age and older, will need a REAL ID-compliant driver's license or identification card, state-issued enhanced driver's license, or another TSA-acceptable form of identification at airport security checkpoints for domestic air travel.
Masking Guidelines for Fully Vaccinated People
These are the new masking guidelines that have been announced by California Department of Public Health for fully vaccinated people. They are based on guidance issued by the Centers for Disease Control and Prevention (CDC). They will be updated over time as we learn more about the impact of vaccination on the spread of COVID-19.
New LA County Worker Protections
Anti-Retaliation Ordinance: On November 24, 2020, the Los Angeles County Board of Supervisors passed an urgency ordinance preventing retaliation for reporting public health violations. As our economy opens gradually, it is important for businesses and workers to know this information. Employers are PROHIBITED from retaliating or discriminating against workers (for example, fire, threaten to fire, cut hours, demote, suspend, or discipline workers) because they complain or provide information to the County of Los Angeles Department of Public Health, or any other County departments or designees, non-County agencies or entities about workplace violations of public health laws, rules, and regulations.
LA County Hero Pay: On Tuesday, February 23, the Los Angeles County Board of Supervisors passed a Hero Pay ordinance for qualified grocery and drug store workers in the unincorporated areas of LA County. This temporary ordinance would require large grocery retail and drug retail stores to pay their employees no less than $5-per-hour hazard pay in addition to the employee's base wage.

If you are a worker or a business owner seeking more information about LA County's new temporary "Hero Pay" Ordinance, contact LA County's Department of Consumer & Business Affairs (DCBA) at (800) 593-8222 or heropay@dcba.lacounty.gov.
More Worker Protections Proposed Under My Bill SB 606
Senate Bill (SB) 606 - Workplace Safety Enforcement has successfully passed the Senate committees on Labor and Judiciary and now is in the Senate committee on Appropriations awaiting the Suspense hearing. This bill will implement stronger enforcement measures for egregious and flagrant violations in order to keep workers safe as California continues to fight the spread of COVID-19. In addition, SB 606 protects workers from retaliation by establishing a rebuttable presumption of retaliation to ensure that workers feel safe to come forward and report unsafe working conditions. Learn more about SB 606 here.
$1 Billion Proposal to Help Customers and Utilities Address Backlogged Water Bills
On April 29th, 2021 the Senate Budget Subcommittee advanced a historic $3 billion drought relief budget plan which includes a $1 billion appropriation of federal American Recovery Act funds to the Department of Community Services and Development (CSD) to help utility customers and utilities address backlogged bills and arrearages associated with COVID-19 economic impacts. The action will also designate the agency and process for disbursement of ratepayer relief funds, to ensure efficiency for environmentally beneficial projects.
Tax Deadline Approaching on May 17th! Check if you Are Eligible for California Earned Income Tax Credit (CalEITC) Resources
We wanted to remind you that the Franchise Tax Board (FTB) and the Internal Revenue Service (IRS) have extended the tax filing and payment deadline for individuals to May 17, 2021. The extended tax deadline means, if you are eligible, you have more time to apply for CalEITC. The CalEITC and the Young Child Tax Credit (YCTC) are cashback tax credits that put money back into the pockets of California workers.
Helping Immigrants Thrive: The U.S. Citizenship Act of 2021 & My Bill SB 452 - Establishing the Office of Immigration and Refugee Affairs
On January 20th, 2021 the President presented The US Citizenship Act of 2021. Among many other things, this bill creates an earned roadmap to citizenship for undocumented individuals. The bill would allow undocumented individuals to apply for temporary legal status, with the ability to apply for green cards after five years if they pass criminal and national security background checks and pay their taxes. The bill would also help keep families together by reforming the family-based immigration system by clearing backlogs, recapturing unused visas, eliminating lengthy wait times, and increasing per-country visa caps. To learn more about the US Citizenship Act of 2021 click here.
In order to better address the needs of California's immigrant and refugee population, I have introduced SB 452 to establish a permanent structure, the California Immigrant and Refugee Affairs Agency. The agency would help streamline immigrant and refugee programs ran by state and local offices that offer services such as educational opportunities, legal services, job training, and placement assistance. With more than 11 million immigrants and refugees comprising nearly one quarter of the state's population and 34% of the labor force, this new agency would be a critical asset in supporting many people who are highly underserved and disproportionately impacted by the COVID-19 pandemic, and who, nonetheless, significantly contribute to economic growth, business, and innovation in California.
Happy National Teacher Appreciation Week!
This week is TEACHER Appreciation Week 2021! Educators in California have helped millions of students and families navigate learning through these very difficult times this past year. Make sure you take some time to thank a teacher for their incredible leadership and relentless dedication. And thank you teachers for everything you do for our families and students in Senate District 33 every day despite the challenges, we are extremely grateful, and we commend you on all your hard work!
The year is almost halfway through, meaning summer is on the way, as well as budget negotiations in the Senate. My office and I will continue to bring to you important updates, but as always, please feel free to reach out to us with questions or comments at (562) 256-7921 or send us a message here.
Sincerely,

Lena Gonzalez
33rd State Senate District