Dear Neighbor,
I know our communities are grieving and coping with high levels of stress and anxiety brought on by the horrific mass shootings that have taken innocent lives and injured so many people. I want to extend my deepest condolences to everyone impacted by these traumatic events—and I want you to know that as your State Senator, I will do everything in my power to prevent these senseless acts of violence from happening again and that my office is here to help connect you to the resources and support you may need during these difficult times.
At the Capitol, we continue our work to build our 2023 legislative package and I have introduced my first bill this year, SB 57. This bill will keep utility services on during extreme weather events, such as during a cold winter or blazing hot day when people need them the most. I also invite you to learn more about the legislative work ahead, by listening to a new podcast episode with Then There's California where I discuss budget, transportation, climate, and other policy priorities for 2023.
In the District, my team and I volunteered for the South Gate and Long Beach homeless count events, celebrated MLK Day of Service and South Gate's 100-year anniversary. I also hosted a robotics and coding workshop in Florence-Firestone where I presented $2 million in funds for a Technology Career Incubator and presented $4 million in funds for the Long Beach Multi-Service Center.  
If you are experiencing financial hardship due to the rising prices of utilities such as natural gas or food items like eggs, make sure to review the information my office has gathered in this newsletter on financial assistance programs available to help you pay for your utility bills or groceries.
Resources for Victims & Survivors, Legislation to Protect Californians from Gun Violence
As our state and country mourn the loss brought on by the recent mass shootings, it is important to stay informed and be there for each other during these difficult times. My office has compiled this list of resources for victims and survivors, and if you or someone you know is in need of more information, please do not hesitate to contact my office. You can also read my joint statement as Vice Chair of the Latino Caucus in response to these tragic events.
As your state Senator, I am committed to legislative action that will help protect Californians from gun violence. Last year, I supported several gun safety bills that have been signed into law, including:
We still have a lot more work to do to keep our communities safe, and I am looking forward to working with my colleagues in the Legislature on policy that can help advance the change we need to end gun violence.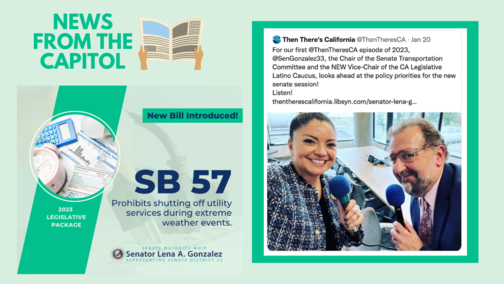 News from the Capitol
Californians are now facing the immediate threats of climate change and its ever-growing impacts on our health, safety, and environment. It is important that we ensure our communities have access to basic services they need for their everyday lives. That is why I have introduced my first bill of 2023, SB 57, to keep utility services on during extreme weather events.
I started off the year with an in-depth conversation about budget, transportation, and climate policy priorities for 2023 with Brian Green at Then There's California. Listen to this podcast episode to get my latest updates and insights as Chair of Senate Transportation and Vice Chair of the Latino Caucus.
As Vice Chair of the Latino Caucus it was my pleasure to rise on the Senate Floor on January 13, to commemorate the life and legacy of Reverend Dr. Martin Luther King Jr. He inspired our Latino civil rights leaders, and his spirit and vision continue to inspire us today. You can watch my full remarks here.
As you know, last year the Supreme Court overturned Roe v. Wade ending 49 years of federal constitutional protections for the right to an abortion. That is why I am proud to be the author of SB 245 which passed last year to reaffirm that California will remain a reproductive freedom state, and to end barriers in access to abortion care in our state. I am also thankful to our state Leadership, who advanced SCA 10 to enshrine the right to abortion and contraception in our state constitution. And although we did not get to celebrate the protections granted under Roe v. Wade on its 50th Anniversary, we celebrated fifty years of brave advocacy that continues to this day to fight for the reproductive rights of all people, and in this spirit, I rose to support Senate Resolution 9 on the right to reproductive freedom earlier this month.
February 17 is the last day for bills to be introduced in the Legislature, and my team is working hard to build a bold legislative package that will help address some of the most important issues that matter to Californians and residents in Senate District 33. Stay tuned as I share more about my new bills in the coming weeks.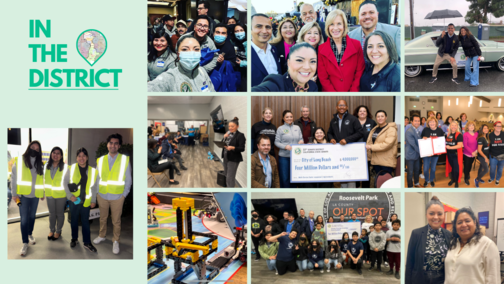 In the District
On January 13, I hosted a robotics and coding workshop for youth at Franklin D. Roosevelt Park in Florence-Firestone. During the event, I presented $2 million in funds for a Technology Career Incubator Site that will help bridge the digital divide for youth in South Central and Southeast Los Angeles. Thank you to Southeast Community Development Corporation, Supervisor Holly J. Mitchell, Juntos Florence-Firestone Together, and all the youth, local partners and community residents who joined us!
On January 14, I was proud to participate in the 35th Annual Martin Luther King, Jr. Parade to honor and celebrate the legacy of Dr. King, a historic trailblazer who dedicated his life to advancing racial equity and justice in our nation. Special thanks to Councilwoman Suely Saro, the City of Long Beach and the many great volunteers for hosting this event!
On January 21, it was my honor to present a resolution to the City of South Gate to celebrate its 100-year anniversary. At the time of its incorporation, South Gate's population was 2,500, now it is home to nearly 100,000 residents! It was great to reminisce on the city's history and celebrate this anniversary with constituents and South Gate city council members and staff.
That same day, my staff also attended the Youth Empowerment Safety Symposium (YESS) in Long Beach. The event was held to educate and empower middle and high school youth with information regarding human trafficking, mental health support, mentorship, and other forms of leadership development. We were proud to offer the youth and organizers a Certificate of Recognition for their commitment to saving lives.
On January 26 my team and I volunteered for the South Gate and Long Beach 2023 Homeless Point-in-Time Counts. I also presented a $4 million award for infrastructure improvements of the Multi-Service Center in Long Beach that will expand its capacity to provide critical services for people experiencing homelessness in the Los Angeles County region.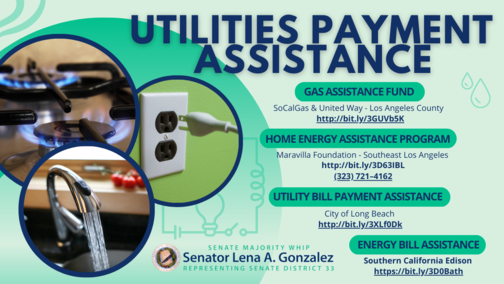 Utilities Payment Assistance
If you are experiencing financial hardship due to rising prices, know that there are many state and local programs available to help alleviate some of the financial burden of utility bills and groceries. Check out the list below:
As always, if you need any other information or assistance, please contact my office at (562) 256-7921 or send us a message here.
Sincerely,
Lena Gonzalez
33rd State Senate District