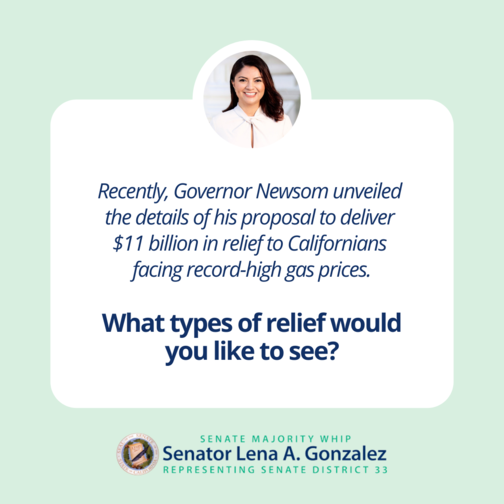 Dear neighbor,
Recently, Governor Gavin Newsom unveiled the details of his proposal to deliver $11 billion in relief to Californians facing record-high gas prices.
The Governor's proposal calls for $9 billion in tax refunds to Californians in the form of $400 direct payments per vehicle, capped at two vehicles. This package also provides $2 billion in broader relief including:
$750 million in incentive grants to transit and rail agencies to provide free transit for Californians for 3 months. As a result, roughly 3 million Californians per day who take the bus, subway, or light rail won't have to pay a fare every time they ride.
Up to $600 million to pause a part of the sales tax rate on diesel for one year.
$523 million to pause the inflationary adjustment to gas and diesel excise tax rates.
The package also calls for $500 million in active transportation for projects that promote biking and walking throughout the state. Additionally, this proposal fast-tracks a $1.75 billion portion of the Governor's historic $10 billion ZEV package to further reduce the state's dependence on oil and save Californians money, including the investments in more ZEV passenger vehicles and building more charging infrastructure throughout the state – especially in low-income communities.
You can read the Governor's full press release here.
As your State Senator, I would like to hear your thoughts. What type of relief would you like to see? Please take some time to complete our survey here.
If you have any questions or concerns regarding this matter, please email us here or call my district office at (562) 256-7921.
Sincerely,

Lena Gonzalez
33rd State Senate District