Dear Neighbor,
This week the state fully reopened, the California Legislature reached an early agreement on its version of the 2021-22 state budget, and Juneteenth and Independence Day are around the corner! Learn what has changed under COVID-19 public health guidelines, what's next in the budget process, and how you can celebrate safely these upcoming holidays by reading below.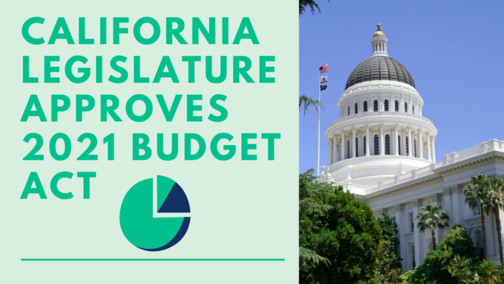 California Legislature Approves 2021 Budget Act
On Monday June 14th, 2021 the California Legislature reached an early budget agreement and now both houses will be working with the Governor to finalize the budget in the coming days. The legislature's version of the 2021-22 budget includes major investments in tax relief for millions of Californians, grants and unemployment mitigation for small business, childcare and education, public health and Medi-Cal, justice reform, homelessness, aging and developmental services, and historic levels of funding to address climate change, wildfires, and drought. As budget discussions continue, more information on specific budget allocations will become available. Click here to read the legislature's joint statement on the approval of the 2021-22 budget.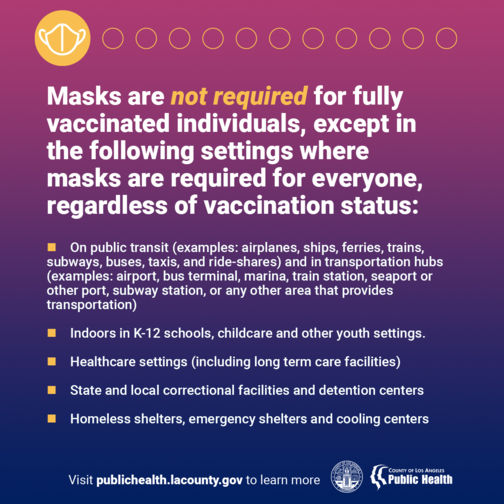 California Reopens
California has moved Beyond the Blueprint to safely and fully reopen the economy. As of June 15, 2021, the Governor terminated the executive orders that put into place the Stay Home Order and the Blueprint for a Safer Economy. He also phased out the vast majority of executive actions put in place since March 2020 as part of the pandemic response.
The new public health order effective June 15, supersedes all prior health orders. The order has limited restrictions, only related to masking and mega-events, as well as settings serving children and youth pending an expected update to the K-12 schools guidance by the Centers for Disease Control and Prevention.
Restrictions that ended on June 15 include physical distancing, capacity limits on businesses, and the county tier system.
All sectors listed in the current Blueprint Activities and Business Tiers Chart may return to usual operations with limited exceptions for Mega Events.
Find details in the California Department of Public Health's Beyond the Blueprint for Industry and Business Sectors and the Questions & Answers webpage.
Find updated guidance for the use of face coverings here.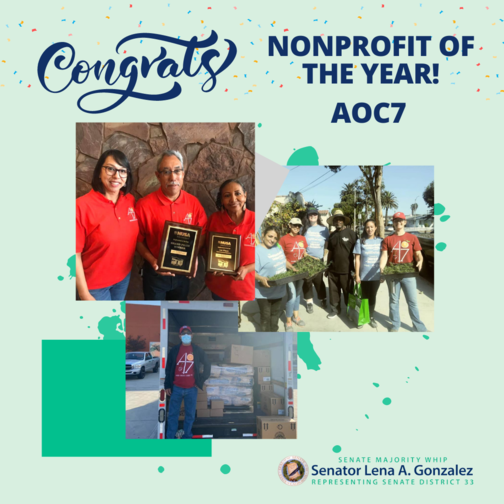 Our Nonprofit of the Year!
Each year, we honor a Nonprofit of the Year to recognize outstanding non-profit organizations who help make a difference in Senate District 33. This year I would like to recognize AOC7. Their name stands for Anaheim, Orange, Cherry & 7th Street - the four streets that border the 2nd, 4th & 6th Council Districts in the City of Long Beach. AOC7 is a neighborhood organization founded to improve the overall quality of life for local families, friends, and neighbors and they are committed to accomplishing this mission by joining residents and businesses to beautify their community and enhance public safety. They have organized numerous community meetings, clean-ups, tree plantings, workshops, and events throughout the pandemic and 2021 earning a reputation amongst residents as a lead organization providing food and COVID-19 resources. Thank you AOC7 for all your hard work and dedication - your efforts are highly commended!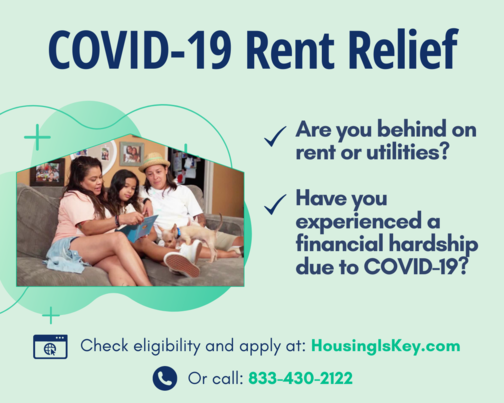 What Renters Need to Know
Applications have been simplified for the CA COVID-19 Rent Relief program to help get you rent and utility assistance more easily. Fewer documents are required, and you can apply regardless of your citizenship status. Visit http://HousingIsKey.com or call 833-430-2122 to apply.
On June 30, 2021, emergency tenant protections are set to expire. That means, unless the protections are extended, renters will have to go back to paying full rent on time each month to avoid eviction. The state is considering an extension past June 30, but it's important for renters and landlords to know their rights and be prepared. Learn what you will need to be protected from eviction for unpaid back rent here.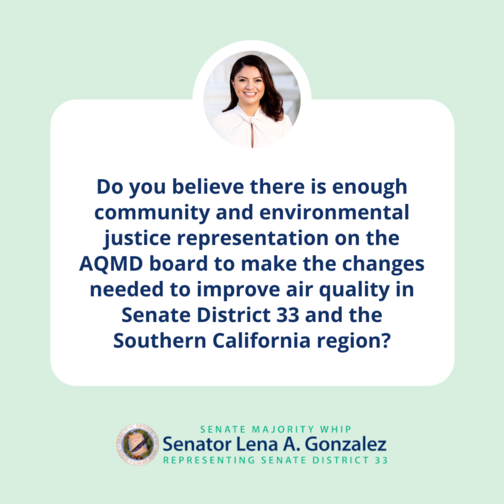 New Feature: Poll Questions
As your state Senator, I am interested in hearing directly from you about your thoughts and opinions on the issues that matter most to you. Starting this week, I will begin to include poll questions in our newsletters on a variety of topics to get feedback from residents in SD33. Please take a moment to answer our first poll question here!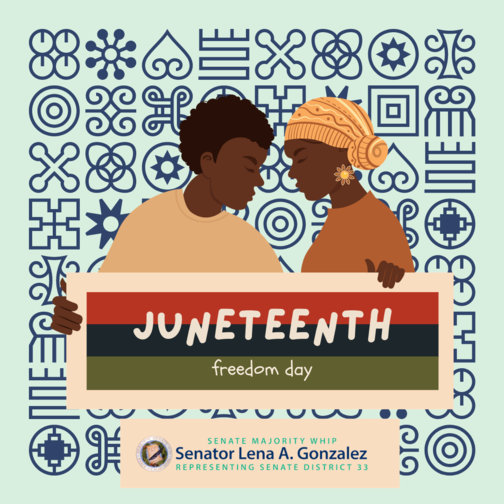 Happy Juneteenth!
Did you know that Congress approved a bill this week that would make Juneteenth a legal public holiday? The bill is now headed to the President's desk and is a great cause for celebration this weekend! On this day we commemorate the end of slavery in the United States and celebrate and uplift the stories of our Black community. I wish you and all your loved ones a Happy Freedom Day and please remember to stay safe and wear a mask if you are unvaccinated. While our economy has fully reopened, COVID-19 has not gone away, and it is best to do what we can to keep our family and loved ones safe!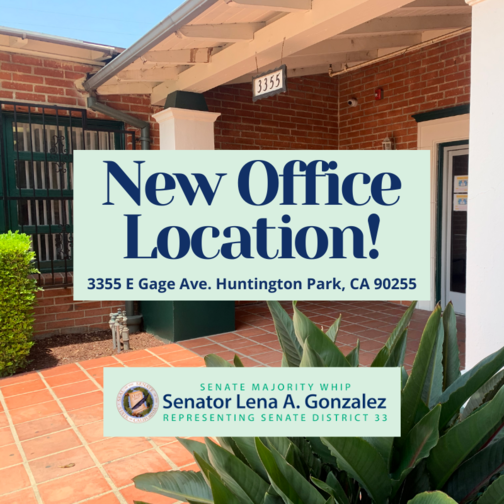 We Have a New Office in Huntington Park!
Did you know we have two office locations? We have one in Long Beach and one in Huntington Park to help make our services more accessible and convenient for you. We have recently moved into a new office for our Huntington Park location and the new address is 3355 E Gage Ave. Huntington Park, CA 9055. Stay tuned for updated information regarding in person visits. In the meantime, you can reach us weekdays from 9:00 a.m. - 5:00 p.m. at (562) 256-7921 or by emailing us at Senator.Gonzalez@senate.ca.gov.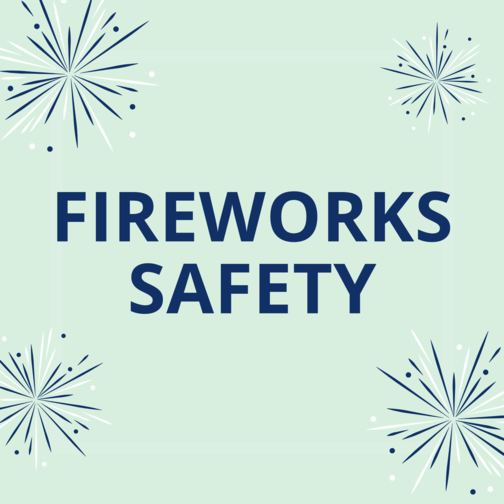 Celebrate Safely This Upcoming 4th of July
Here's a few important things to keep in mind about fireworks and safety as you make plans to celebrate the upcoming Independence Day Holiday:
The sale and use of "Safe and Sane" fireworks in your community may be prohibited by local ordinance (check with your local fire department) or click here for a list of cities in LA County that allow "safe and sane" fireworks.
If they are allowed, "Safe and Sane" fireworks can only be purchased from a State Fire Marshal licensed retail stand from noon on June 27th to noon on July 6th.
You can learn about professional firework shows taking place in your community by visiting LA County's Fireworks Safety webpage on Friday June 25th, 2021 or by calling the FIREWORKS HOTLINE at (888) 654-3473.
Lastly, I want to say I am very happy to see our progress in the fight against COVID-19. Now that the economy has fully reopened, we can go back to enjoying the activities, local shops, and restaurants we love. Please be mindful of those who need to wear masks and the businesses that require them and remember that you can help our community stay healthy and protect yourself from COVID-19 by getting vaccinated. To schedule a COVID-19 vaccine appointment visit https://myturn.ca.gov/. If you have any questions or comments, please reach out to my office at (562) 256-7921 or send us a message here for assistance.
Sincerely,

Lena Gonzalez
33rd State Senate District