Dear Neighbor,
March is Women's History Month and each year my office honors deserving women of distinction and service in our district, I am very excited to share with you about our 2022 Woman of the Year!
At the Capitol I shared with students from across California about the legislative process, met with various elected colleagues and residents from the District, and chaired a Senate Transportation Joint Informational Hearing about the California High Speed Rail Draft 2022 Business Plan.
In the District we celebrated the opening of a new park in Bell, attended Latina Empowerment Day, held a community meeting with Florence Firestone residents and helped restore greenery in Lynwood.
Tax season is in full swing and there are free resources to help you file. Free mental health resources are also available that educators can use to teach critical mental health and coping skills.
Recently, there have been changes to California masking requirements.  
Lastly, the Governor delivered his State of the State address, please take our new poll to share your thoughts on what was discussed, including priorities for the year ahead.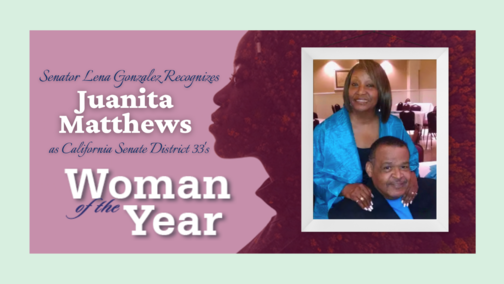 Recognizing Senate District 33's Woman of the Year
This year, I am proud to name Springs of Hope Grief-Care Center Co-Founder and Pastor Juanita Matthews, a Long Beach resident, as the 2022 Woman of the Year for the 33rd Senate District. Juanita is an inspiring and giving leader with great passion and dedication to her community. I commend Juanita for her selfless acts of kindness while offering personal support to friends, neighbors and families experiencing grief and loss and for her advocacy to help build a more just and equitable future. Learn about Juanita here.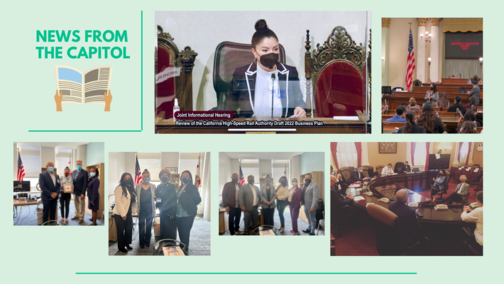 News from the Capitol
On March 1, I had the opportunity to speak at the Sacramento Legislative Seminar during which students from numerous colleges and universities throughout California travel to the state capitol for the opportunity to engage with their state government. I shared about the legislative process, my legislative priorities, and experiences as a Senator.
Over the past week, it was great to see so many of my elected colleagues and residents in Sacramento. We shared ideas and I personally heard of the many great opportunities in each city for a safe, healthy, and successful 2022. We shared priorities and discussed how we can make policies stronger for green space, public safety, housing, and a clean environment. I'm proud of the wonderful elected leaders in my District. Their positivity, hard work and collaboration has made significant impacts in Senate District 33.
On March 8, I chaired a Senate Transportation Committee and Senate Budget Sub-Committee #5 Joint Informational Hearing to review the California High-Speed Rail Authority's Draft 2022 Business Plan and assess the state of the project. You can watch the full hearing here.
On March 9, I met with my counterparts from the Danish Parliament Transport Committee! We discussed green ports, a zero-emission future and how we can best collaborate for a climate-safe globe.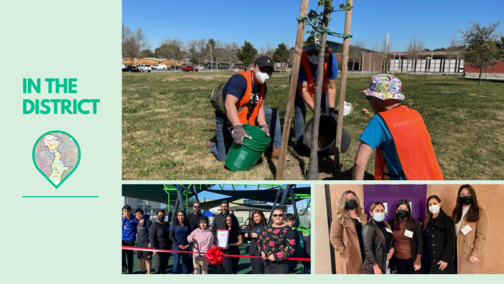 In the District
On March 1, Team Gonzalez volunteered with Treepeople to restore greenery along the streets of Lynwood. We learned more about local efforts to increase tree canopy in urban areas and were happy to be a part of this fun community service event for District 33!
On February 26, we were happy to attend the ribbon cutting event for Ernest Debs Park a great new outdoor fitness gym for residents in the City of Bell.
On February 26, Team Gonzalez participated in Latina Empowerment Day with Hispanas Organized for Political Equality to discuss community issues, financial empowerment and how to harness the Latina narrative. I am proud of our amazing team which includes hard working Latinas, and glad we had this opportunity to meet with great Latina leaders in our community.
On February 28, I met with Florence Firestone residents to discuss the state budget, the need for a local public library, affordable housing concerns and healthcare for all. It was great to connect with local community members on these important topics and I look forward to continuing our conversations and creating progress on these important matters.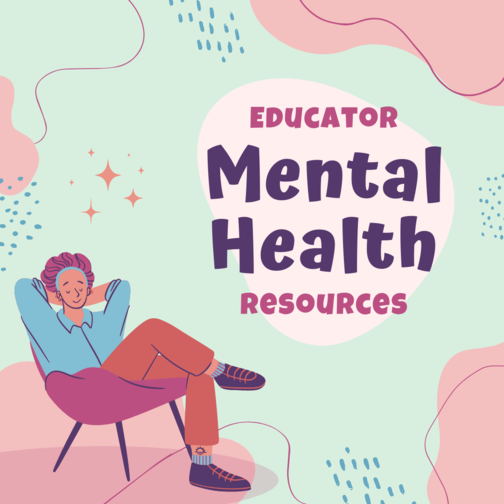 New Video Resources for Educators: California Healthy Minds, Thriving Kids Project
The non-profit Child Mind Institute, in partnership with the state of California, has produced a series of free, evidence-based video and print resources that educators can use to teach critical mental health and coping skills. The program is offering educator incentives (a $100 award) for the first 50,000 California educators who participate in introductory activities and provide feedback. Learn more about the program and download the videos.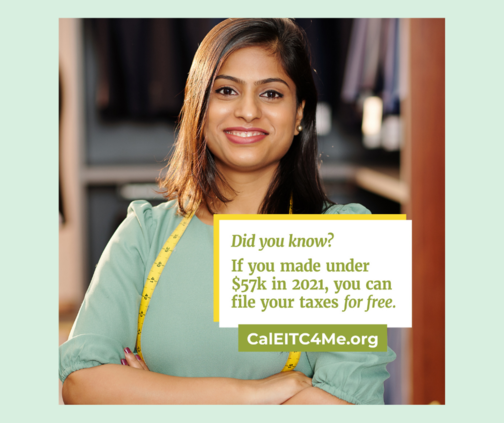 Find Help Filing Your Taxes
Did you know that you can file your taxes online for free if you made under $57,000 in 2021? Also, get extra money for food, diapers and daycare this tax year. Don't pay to file your taxes! It's easy. Visit CalEITC4Me.org to learn more or get connected to IRS trained, free tax help.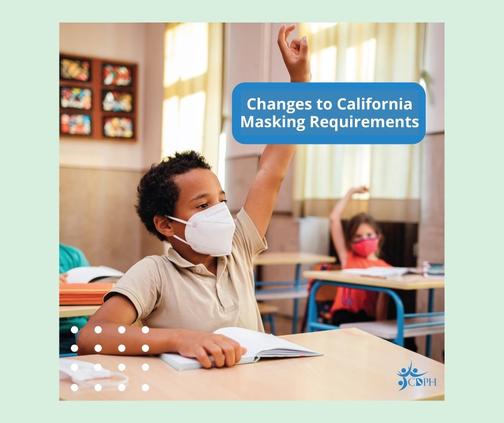 Changes to California Masking Requirements
As of March 1, masks are no longer required for unvaccinated individuals in California, but will be strongly recommended for all individuals in most indoor settings.
As of March 11, in schools and child care facilities, masks are no longer required but strongly recommended. Masks are still required for everyone in high transmission settings like public transit, emergency shelters, health care settings, correctional facilities, homeless shelters and long-term care facilities.
As always, local jurisdictions may have additional requirements beyond the state guidance. More information is available in the updated state guidance for face coverings.
New Poll: State of the State Address
Recently, Governor Newsom delivered his State of the State address. His speech touched on many important topics, from advancing long-term climate policy, creating jobs and economic growth, realizing healthcare for all, our continued response to COVID-19, addressing homelessness and more. Read my statement on the State of the State Address here. As your State Senator I want to know what you think. Please take a few minutes to share your thoughts with me by answering this poll.

Top Social Media Posts
Check out my top social media posts below! Remember to follow me @SenGonzalez33 on Facebook and Twitter for legislative updates, resources, events and much more!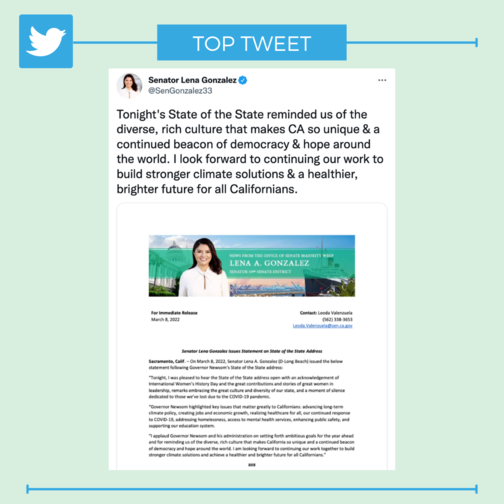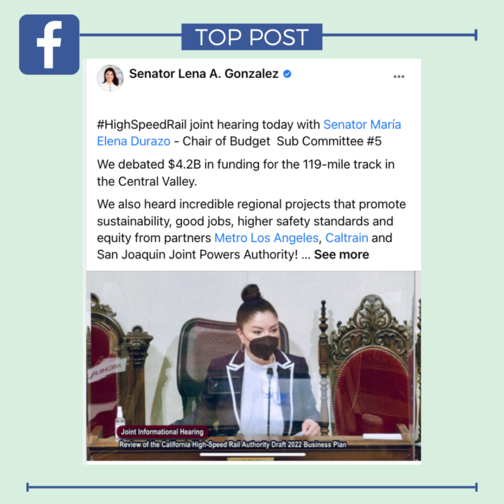 As always, if you need any other information or assistance, please contact my office at (562) 256-7921 or send us a message here. Happy Women's History Month!
Sincerely,

Lena Gonzalez
33rd State Senate District