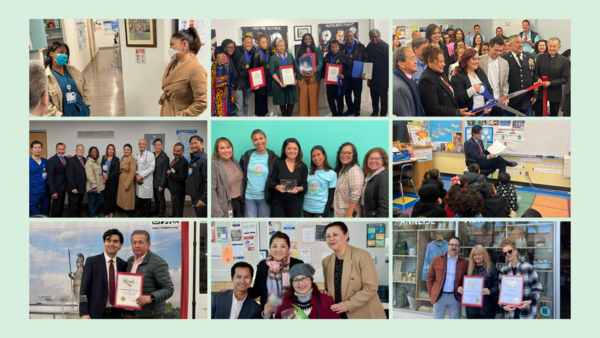 Tuesday, February 21 
My office presented a certificate to Jaime Enrique Michel Velasco, founder of Dulces de la Rosa, a candy company, for his philanthropic endeavors including most recently, donating funds for domestic violence and suicide prevention programs through Lynwood's non-profit Federación de Clubes Jaliscienses. 
Wednesday, February 22
My team had the pleasure of visiting Virgin Orbit, where they learned about the space industry in Long Beach and potential partnerships with local higher education institutions to help students access STEM careers.
Wednesday, February 23
The Los Angeles County Economic Development Corporation hosted the 2023 Economic Forecast, where we heard updates on topics such as small business recovery, and industry shifts and discussed challenges, resources, and the role of government and policy.
On this same day, we attended Paramount's State of the City, to hear the latest updates from the School Superintendent and City Manager on recent achievements and developments.
Thursday, February 24
It was great to celebrate with Bell for its 95th year of incorporation, and the Chamber of Commerce for its 100th anniversary. During the State of the City Address, the Mayor highlighted the city's accomplishments, including ending the fiscal year in a surplus. Congratulations to the City of Bell!
Friday, February 25
As always, we are committed to serving our community and learning more about the incredible work being done in Long Beach and beyond. On this day, we had the opportunity to tour the City of Hope Long Beach campus, a cancer care center focused on using holistic approaches for all patients from pre to post-treatment. It is one of only 53 comprehensive cancer centers in the country, designated by the National Cancer Institute. We are grateful for the opportunity to learn more about their work for their patients.
Thursday, March 2
We joined the City of Signal Hill for their commemorative flag-raising ceremony for Women's History Month and we recognized Mayor Tina Hansen for her service as Mayor.
The City of Long Beach hosted a roundtable to share new initiatives and support services for businesses to help bring safety improvements to the downtown area. We are working closely with the city and law enforcement agencies for a positive outcome. 
Our Senate District 33 businesses are innovative, resilient, and truly inspiring. Anneise, which has been in business for over 12 years and Ash Bay Soap, a newer business, decided to work together under one roof. Creative opportunities like these help boost recovery and encourage economic growth. Let's think outside the box to uplift small businesses in our community! 
My team joined the Sankranta Celebration committee to discuss plans and preparations for one of the largest celebrations in Long Beach. Sankranta is a celebration of the New Year observed in countries including Cambodia, Laos, Myanmar, Sri Lanka, Thailand and more. The event is open to the public to honor and recognize our diverse communities. Sankranta is held Saturday, April 1, 2023 at Long Beach City College. More details coming soon for this event!
Friday, March 3
We were excited to meet the wonderful team over at ICAN (California Abilities Network) nonprofit. We toured their facility in Long Beach and learned about the programs and services. ICAN empowers people with disabilities by providing life skills training, supported employment, and social programming. They work with employers and small businesses to introduce individuals into the workforce. 
Wednesday, March 8
Team Gonzalez joined Derek Nguyen, Director of the Department of Water Resources in the City of Lakewood. The department has three reservoirs and many wells that pump nearly 6 million gallons of "drinkable" water to 60,000 residents per day. They also own one of the oldest "operational" water pumps in the world. It was built in 1937, one year after the water company was formed.
It was my pleasure to honor heroes in our community and their exceptional contributions to the Great City of Long Beach. This year's Celebration of Black Excellence honors six individuals who are making significant impacts in a variety of sectors and interests. We thank them for their contributions to news outlets, cultural centers, philanthropy, education, entertainment, and so much more for our communities. 
We were happy to celebrate a woman-owned business in the wonderful City of Paramount. Annel started her business during the pandemic and is now opening her second location. Her business provides legal services to underserved Latino communities and advocates for migrant communities, helping to bridge the gap for our diverse Latino and Indigenous communities who are historically underserved. 
Saturday, March 11
Bright on this Saturday morning, it was a pleasure to honor former congresswoman Lucille Roybal-Allard as the General Federation of Women's Clubs of Huntington Park 2023 Woman of Distinction. She has been a champion for women and families at the federal level and we were proud to recognize her this Women's History Month!