DMV
The California Department of Motor Vehicles (DMV) recently announced the extension of driver licenses for drivers with soon to expire licenses and have several options available for you to complete other essential services as needed. To help you get started completing your essential DMV tasks my office has compiled information about available online services, how to get your REAL ID and how the DMV is helping with the select service needs that must be done in a DMV field office during the COVID-19 pandemic. If you need to renew your driver's license or need any other DMV service, please read the information provided by clicking the links below.
---
Driver license extensions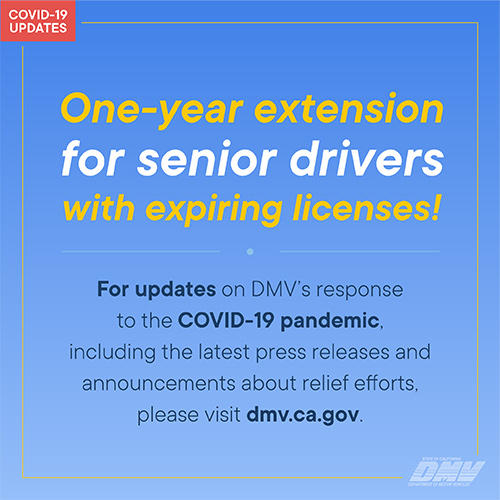 Currently the DMV is providing an automatic one-year extension of noncommercial driver licenses to Californians age 70 and older if their license has an expiration date between March 1 and December 31, 2020. For the automatic extension, you will not receive a new card or paper extension in the mail because no documentation is needed, but you can request a free temporary paper extension online through the DMV's Virtual Field Office here.  Keep in mind that the Transportation Security Administration (TSA) accepts driver licenses for one year after the expiration date.
Other age groups are also receiving extensions or expanded eligibility to renew their driver licenses online. See the chart below for a quick breakdown of the different extensions being issued.
   Expiration month                         Status
Age 70 & older (noncommercial)

March-December 2020

Extended one year from original expiration date
 

Age 69 & younger (noncommercial)

March-July 2020

Extended to July 31, 2020
Expanded eligibility to renew online or by mail
 

Commercial (all ages)

March-September 2020

Extended to 
September 30, 2020
 

Learner's permits

March-August 2020

Extended six months or to a date 24 months from the date of application
---
Online services
The DMV offers many services that can be completed fully online from start to finish, they call these "self-serve" and other services are "assisted"or in other words you will get help from a DMV representative. For a complete list of all available self-serve and assisted services visit https://www.dmv.ca.gov/portal/dmv-online/.
---
Field office services
The DMV has reopened its field offices to assist customers that have existing appointments and transactions that can only be completed in a DMV field office. No new appointments are available at this time; however, the DMV has already begun rescheduling appointments that were canceled during the temporary closure and notifying customers of their new dates. Once the DMV has accommodated those customers, they will begin offering a limited number of new appointments. If you visit a field office, the DMV may offer same-day appointments for a qualifying critical service, however you will only be served if the office can maintain physical distancing and public health guidelines. If offices become too crowded, you might be asked to try visiting at another time. Customers are encouraged to complete their transaction online, if possible. The limited critical transactions that require an in-person visit to a field office include:
Paying registration for a vehicle impounded because of registration-related issues
Reinstating a suspended or revoked driver license
Applying for a reduced-fee or no-fee identification card
Processing commercial driver license transactions
Applying for a disabled person parking placards (this can also be done by mail)
Adding an ambulance certificate or firefighter endorsement to a driver license
Verifying a transit training document to drive a transit bus
Processing DMV Express customers for REAL ID transactions, if time and space allow
Vehicle verifications
To stay up to date about the field office re-openings and frequently asked questions click here.
---
REAL ID
In response to COVID-19 the federal government extended the REAL ID enforcement date to October 1, 2021, meaning you still have time to apply! You will need to apply online and gather all your necessary documents before you can visit a DMV office to finalize your transaction. As a reminder, REAL ID transactions will be possible only if space and time allow to ensure offices can maintain physical distancing and public health guidelines. For a step-by-step guide visit the DMV online portal.
If you have any other questions regarding DMV transactions, please reach out to my office at (562) 256-7921.

All my best,
Lena
State Senator, District 33