Latest E-Newsletter
Dear Neighbor,
Over the past few days we have seen demonstrations unfold across our nation as a result of the unjust and tragic death of George Floyd. I am deeply saddened and outraged that systemic racism, implicit bias and discriminatory practices continue to allow the needless loss of innocent Black American lives year after year. This is not the first time we hear the vehement outcry of our entire country collectively mourning and denouncing this horrible injustice. Change is long overdue. We must take strong actions to stop history from repeating itself.  
To each and every person calling for the change we need, you have my support. If you are calling for an end to the inequities that permeate our societal structures—an end to housing discrimination, gentrification, lack of healthcare access, and lack of job access—you have my support. We must continue to work alongside each other toward a future of greater opportunity for all. I invite everyone to learn together from the events that have transpired and to work meaningfully toward the advancements that will provide equitable access to all Californians regardless of race, color or ethnicity.
Thousands of activists have gathered peacefully over the last few days to take a powerful stance against injustice, and that is how we can make a difference, in unity, without causing harm to our fellow citizens. My sincerest appreciation goes out to those who have gathered in the aftermath of the demonstrations to help clean up our cities and local businesses.
I know we are a strong and resilient people and that in unity we will walk together toward the future we want to see. With this said, I encourage you to reach out to my office with any ideas or comments on the changes you want to see for your community and how we can achieve those goals. If you or someone you know needs help during these difficult times, please give us a call, and see the resource information below.
Information and Resources:
In community,
Lena Gonzalez
33rd Senate District
---
Tips for staying safe during protests and civil unrest 
Make sure you have all the supplies you need to be prepared for a long day if you plan to be out a long time. You may consider the following list: plenty of water; face mask; sun protection; snacks; hand sanitizer; good walking shoes; a copy of emergency phone numbers and a card with necessary medical information that someone may need to know if you have a medical emergency.
Stay up to date with the news. Check the news frequently if possible so you can stay aware of your surroundings.
If you are concerned about the safety of the protest, make your way out calmly to go home. Look at traffic activity and search for alternate routes before you start driving to get home.
---
What can I do if I was a victim of police brutality at a protest?
You must first make a report to the sheriff, police department or district attorney.
Next, if you need to escalate the matter you can file a complaint with the Attorney General's office using the form at this link.
What information will I need?

Your contact information
The law enforcement agency or employee information
Specific description of the incident
Other remedies sought and copies of agency responses (for Attorney General complaint)
---
What can I do if I was victim of a crime during and at the location of a protest?
Contact the California Victim Compensation Board. The California Victim Compensation Board (CalVCB) can help pay bills and expenses that result from violent crime. Victims of crime who have been injured or have been threatened with injury may be eligible for help. CalVCB Helpline: 1-800-777-9229 (Phone) | 1-866-902-8669 (Fax). For victim assistance in your area, find your local Victim Witness Assistance Center here.  Additional local resources for victims in Los Angeles County can also be found here.
---
What will happen if my child was arrested during the protests?
If your child is arrested, a few different scenarios may take place. The police can:
Make a record of the arrest and let your child go home.
Send your child to an agency that will shelter, care for, or counsel your child.
Make your child come back to the police station. This is called being "cited back."
Give you and your child a Notice to Appear. Read the notice and do what it says.
Put your child in juvenile hall (this is called "detention"). Your child can make at least 2 phone calls within 1 hour of being arrested. One call must be to a parent, guardian, relative, or boss. The other call must be to a lawyer.
If the police want to talk to your child about what happened, the police must tell your child about his or her legal rights (called "Miranda rights"), which are:
Your child has the right to remain silent.
Anything your child says will be used against him or her in court.
Your child has the right to a lawyer. If you or your child cannot pay for one, the court will appoint one.
Children who are 15-years-old or younger must be allowed to talk to a lawyer before they talk to the police or give up their Miranda rights.
Your child has the right to a lawyer who is effective and prepared. If you cannot pay for a lawyer, the court will get a lawyer for your child. If your child does not have a lawyer, talk to the public defender or another lawyer for advice.
To find the public defender in your county or find a lawyer, please visit the California Courts and Judicial Branch Website.  
---
What can I do if my business property was damaged?
To help California business owners understand some of the key insurance issues relating to civil unrest, the Insurance Commissioner's office created a factsheet that is intended to present a general overview of relevant insurance coverages and some important tips to consider. Although the information serves as an overview, policyholders are strongly encouraged to read the terms of the policy purchased, as terms and definitions can vary from one policy to another.
---
FAQs on curfews
Is anyone exempt from the curfew? Yes. The countywide curfew does not apply to the following: voters and poll workers; peace officers; firefighters; National Guard or other military personnel deployed to the area; emergency medical services personnel; individuals traveling to and from work; individuals working on a public work of improvement construction project; credentialed media representatives involved in news gathering; people experiencing homelessness and without access to a viable shelter; and individuals seeking medical treatment.
Are sweeping services or other city services affected by this curfew? It depends on what city you live in. Please check with your local government authority to learn about city services and hours during this time.
---
Emergency crisis help amidst protests
There is a PD advisory to only call if there is a life-threatening emergency in an effort to avoid burdening 911 phone lines. Here are other resources we can share to help in different emergency situations.
211 LA County:
211 LA County: Dial 2-1-1 within Los Angeles County 211 LA County is the hub for all types of health, human and social services in Los Angeles County, providing callers with information and referrals to the services that best meet their needs.
Mental health crisis:
FOR 24/7 HELP, PLEASE CALL LA County HELP LINE AT (800) 854-7771
The Department of Mental Health Help Line serves as the primary entry point for mental health services with the Los Angeles County Department of Mental Health. Services provided by include: Mental health screening and assessment, referral to a service provider, crisis counseling, mobilizing field response teams, linkages to other resources.
The Long Beach Department of Health and Human Services (Health Department) website also has mental health resources.
Crisis Text Line: Text LA to 741741
Connect with a trained crisis counselor to receive free crisis support via text message.
National Suicide Prevention Lifeline: (800) 273-8255
The National Suicide Prevention Lifeline connects you with a crisis center closest to your location. Your call will be answered confidentially by a trained crisis worker who will listen empathetically, work to ensure that you feel safe, and help identify options and information about mental health services in your area.

Disaster Distress Helpline: (800) 985-5990
The Substance Abuse and Mental Health Services Administration's (SAMHSA) Disaster Distress Helpline provides crisis counseling and support to people experiencing emotional distress related to natural or human-caused disasters.
Trevor Project Lifeline: (800) 788-7386
The TrevorLifeline provides support to LGBTQ youths and allies in crisis or in need of a safe and judgment-free place to talk.
Substance Abuse Service Helpline: (844) 804-7500
Operated by the Los Angeles County Department of Public Health, this hotline provides screening, resources and service referrals regarding substance use disorders.
As the Senator representing the 33rd Senate District, I am proud to share with you our latest e-newsletter that highlights the legislative updates and community engagement in early 2020. I invite you to stay engaged with our newsletters, as they offer an effective way to keep you informed about the work we do in Sacramento and upcoming issues affecting all our cities: Bell, Bell Gardens, Cudahy, Huntington Park, Lakewood, Long Beach, Los Angeles, Lynwood, Maywood, Paramount, Signal Hill, South Gate, and Vernon.
Last week, I was thrilled to introduce my first bill, the Equal Insurance HIV Act (SB 961). The bill, co-sponsored by Insurance Commissioner Ricardo Lara and Equality California, will help end discrimination against HIV-positive Californians who are denied life and disability income insurance coverage based solely on their HIV status.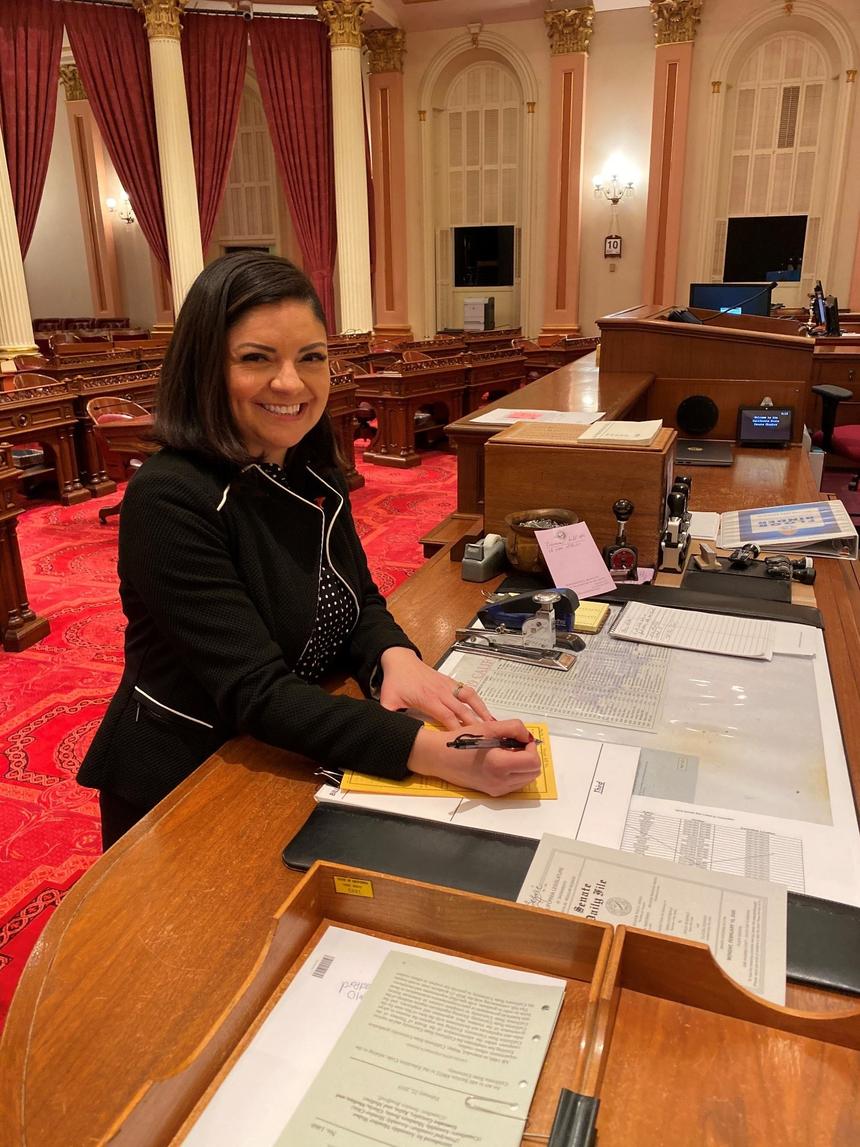 Senator Gonzalez formally submitting her first bill, the Equal Insurance HIV Act (SB 961)
Senate District 33 faces high rates of HIV, and the bill aims to help the 135,000 residents statewide who live with HIV but are unable to receive insurance coverage. Thanks to advances in modern medicine, a person who is HIV positive and undergoing treatment can live a long, healthy life. The Equal Insurance HIV Act will require insurance companies to consider HIV as they would any other treatable chronic condition.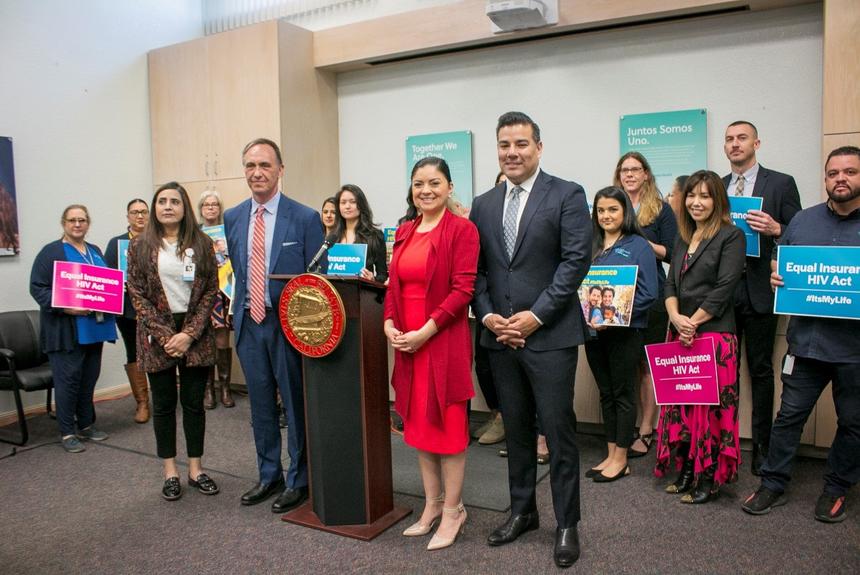 Senator Gonzalez with (left to right) Dr. Tasnim Khan, Chief Medical Officer of One Community Health; Equality California Executive Director Rick Zbur; and Insurance Commissioner Ricardo Lara at the press conference for the Equal Insurance HIV Act
I was also elected to serve on the board of directors for the Equality California Institute, the nation's largest statewide LGBTQ+ civil rights organization. As part of a larger package of health-related legislation to support LGBTQ+ community members, I co-authored SB 932 with my colleague Senator Scott Wiener (D-San Francisco) to provide easier access to rapid STI testing, which will increase the number of people getting tests and prevent the transmission of STIs statewide.
Additionally, we revived the Senate Select Committee on Ports & Goods Movement. Trade and transportation are crucial to Senate District 33, which includes numerous Gateway Cities along the I-710 corridor and the Port of Long Beach, the second-busiest port in the country. As Chair of the Select Committee, I will ensure that the Senate works closely with our communities to address environmental sustainability, infrastructure needs, and the future of work in this vital industry.
Stay tuned as we finalize my entire legislative package for this year. We will keep you updated and continue to engage with stakeholders and constituents about the top priorities for our district.
This year, my district team and I have participated in a number of community events and have provided legislative updates throughout Senate District 33. We have also toured incredible facilities in the district like our local healthcare centers, small businesses, and innovative aerospace companies.
My team has been working with local, state, and federal leadership to ensure residents affected by the unfortunate Delta Airlines fuel release incident get access to the healthcare services they need. The Federal Aviation Administration will deliver their investigation in the coming weeks, and we will provide information to stakeholders as soon as it becomes available. Please share your experiences with us, so that my office can help facilitate services or provide answers to your questions.

Senator Gonzalez addressing constituents impacted by the Delta jet fuel release at a community town hall in Cudahy
This month, I had the pleasure of serving as keynote speaker at several women empowerment events, including a conversation with students at USC's Sol Price School of Public Policy about what it means to be a female leader. I also joined Speaker Anthony Rendon for the inaugural Young Women's Conference, where I spoke with aspiring young female professionals, and I participated in a women's forum with Hispanas Organized for Political Equality in Long Beach. I was thrilled to hear from the future generation of community leaders, policymakers, and visionaries!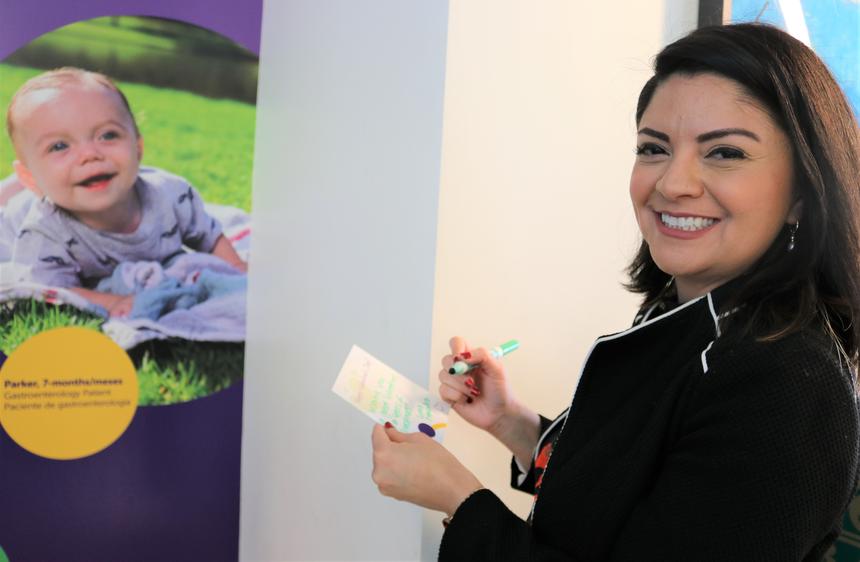 Senator Gonzalez visiting Memorial Care Miller Children's & Women's Hospital in Long Beach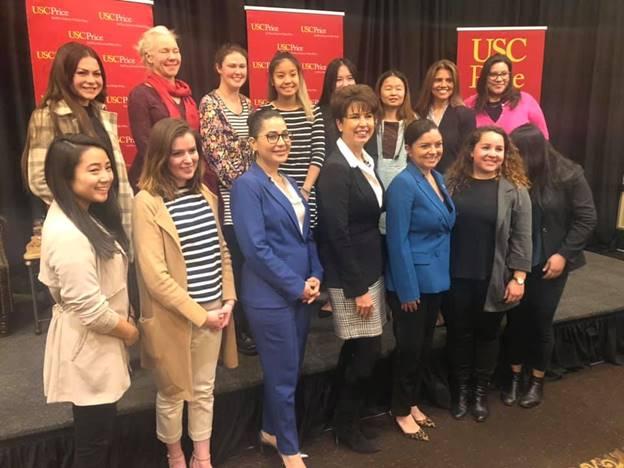 Senator Gonzalez with Senator Connie Leyva and future female policymakers with the USC Sol Price School of Public Policy.
The 2020 Census is just around the corner, and we have been actively engaged in community outreach and planning efforts with our local partners. The Census determines the number of Congressional members we have, and it directs federal funding to our communities for vital social services, infrastructure, and public safety. We will continue to participate in regional Census efforts, to ensure we get a complete count in Senate District 33 and the state. For more information about the Census, check out the California Census website.
Senator Gonzalez office will be participating in the Bixby Knolls Business Improvement District First Friday's each quarter starting March 6, 2020. Please stop by and enjoy entertainment from local DJs and learn more about how our office can assist you.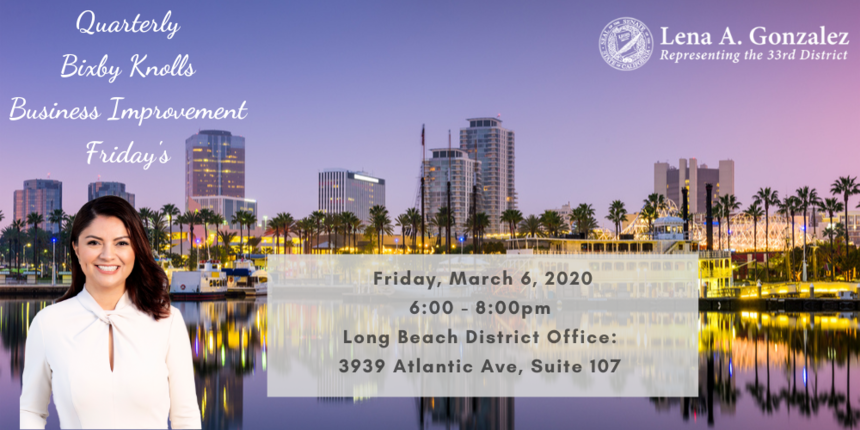 To stay up to date on the latest news and information regarding our community outreach and legislation, please visit my website and social media accounts. Thank you!
As the Senator representing the 33rd district, I am proud to share with you our latest e-newsletter that highlights the hard work accomplished in my first 6 months of office. I invite you to stay engaged in our quarterly newsletters as they will offer an effective way to keep you informed about the work we do in Sacramento and upcoming issues affecting all our cities—Bell, Bell Gardens, Cudahy, Huntington Park, Lakewood, Long Beach, Los Angeles, Lynwood, Maywood, Paramount, Signal Hill, South Gate, and Vernon.
Last June, I was sworn-in to represent the 33rd Senate District in the California State Senate. I am honored to work on your behalf to support families, fight for our environment, and ensure everyone in the district has economic opportunities to thrive.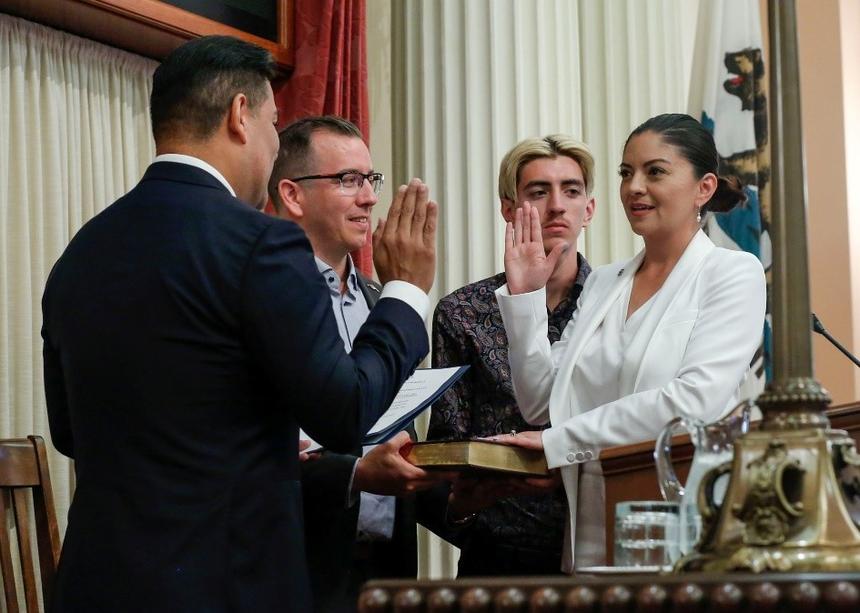 Senator Gonzalez being sworn into office by Insurance Commissioner Ricardo Lara, with her husband Adam and son Zorion.
In my first six months in office, my team and I have worked tirelessly to address constituent concerns and advance community priorities in the district, and I voted on key legislation that will have a positive impact on our residents. I am excited to introduce new legislation and organize community events in the coming year.
One of my first acts as Senator was to join my colleagues in voting on the State Budget, bringing critical resources to the state and district. We secured $2.4 billion for housing & homeless services, $1 billion for emergency preparedness, a $600 million expansion of the Earned Income Tax Credit for working families, and almost a half-billion dollars toward early childhood education—all while retaining nearly $20 billion in reserves for the future.
Additionally, as a member of three important Committees—Judiciary, Health, and Joint Legislative Audit—I was proud to support monumental pieces of Legislation that will expand access to free community college throughout the state, provide more Medi-Cal coverage for our residents who need it most, and protect families and small business owners from predatory loans.
While we have been busy with legislation in the Capitol, we have been equally active throughout the district resolving constituent issues, meeting with local groups, and helping organize events to assist constituents in every community districtwide.
Here are a few highlights from the district events and programs that my office has proudly hosted and attended this year:
We hosted the 6th Annual Dia de los Muertos celebration in the city of Long Beach, an event I started while Councilwoman for Long Beach's 1st District. Hundreds of community members came out to enjoy the altars, entertainment, and vendors.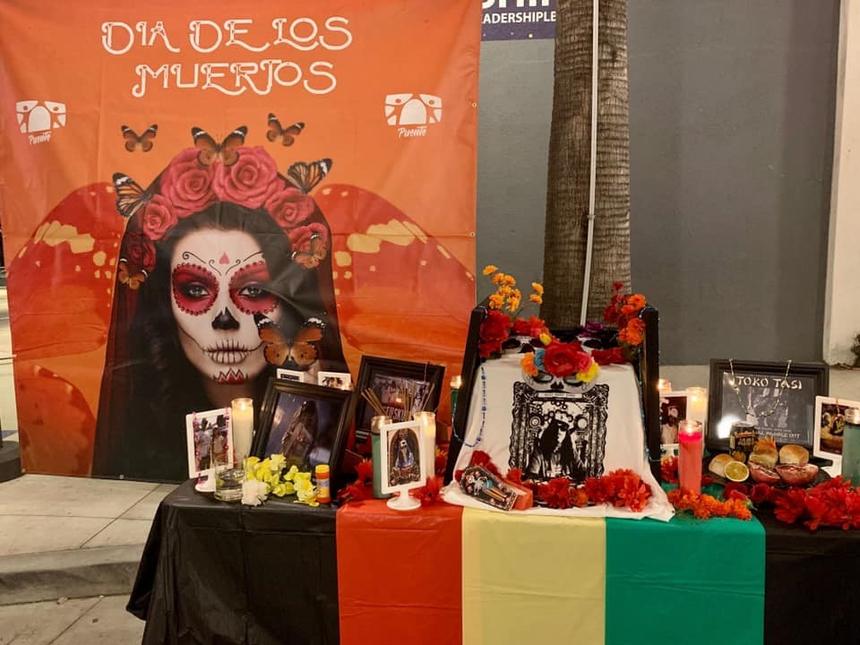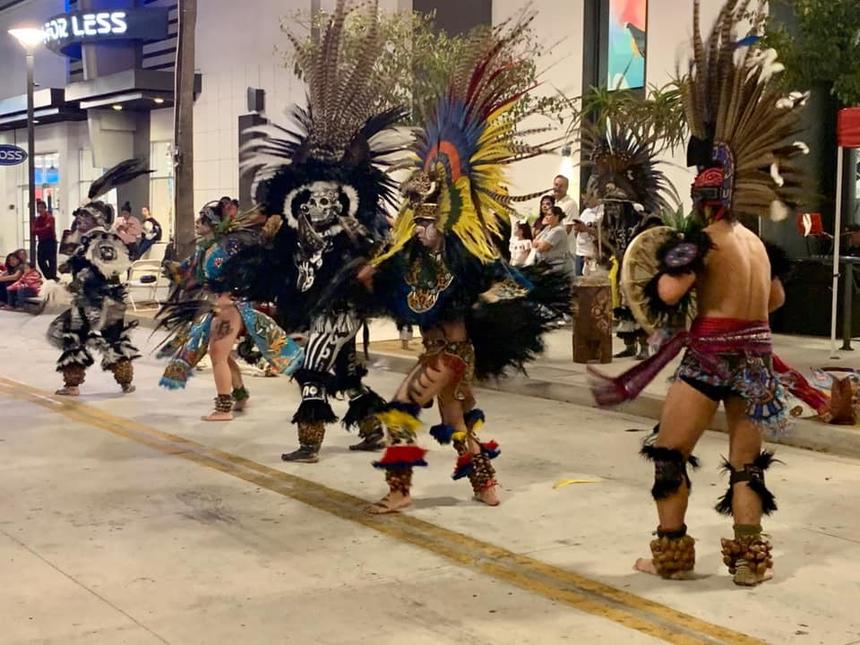 As a mom of three boys, one of my top legislative priorities is to advocate for women and children. I partnered with ReadyNation, First 5 LA, and the Long Beach Chamber of Commerce on an event connecting business leaders with early childhood education providers, and I will continue to support educational and childcare resources for our community members.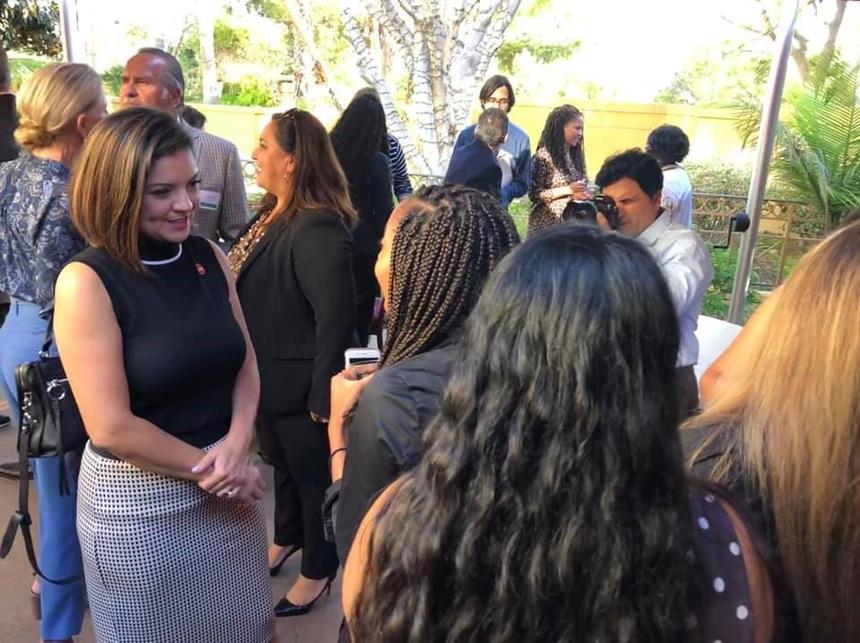 Senator Gonzalez meeting with early childhood education providers.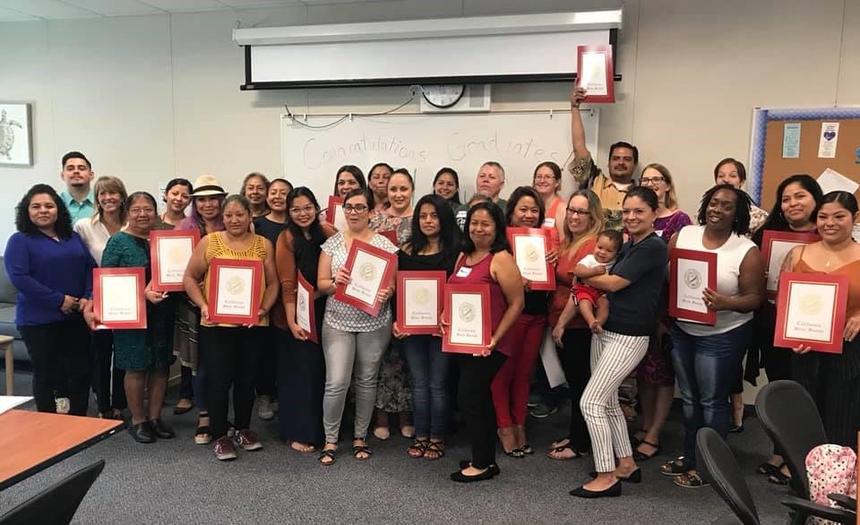 Senator Gonzalez presenting certificates to graduates from the Parent Leadership Academy.
Additionally, through partnerships with the State Treasurer, local Chambers of Commerce, and City leaders, I have had the opportunity to meet with dozens of small business owners, to hear firsthand how we can support their efforts and grow our local and regional economies.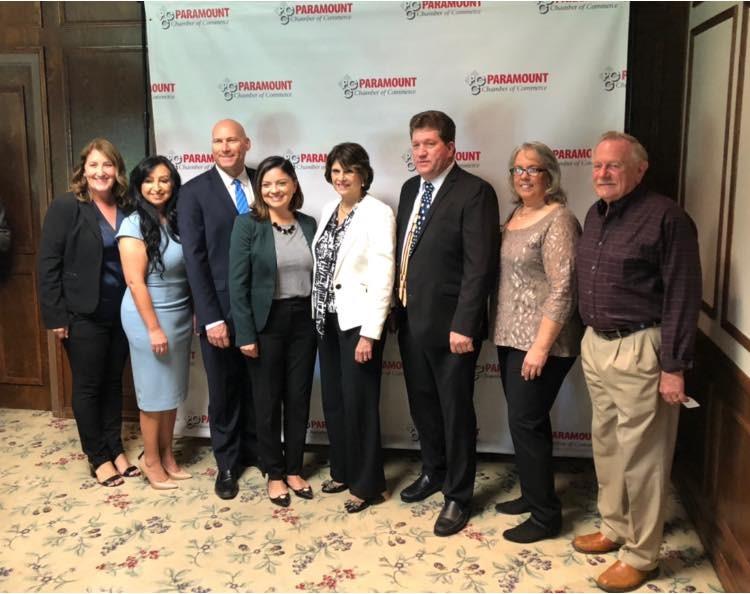 Senator Gonzalez with Congresswoman Roybal-Allard, Paramount Mayor Tom Hansen, Paramount Councilwoman Brenda Olmos, and leaders from the Paramount Chamber of Commerce.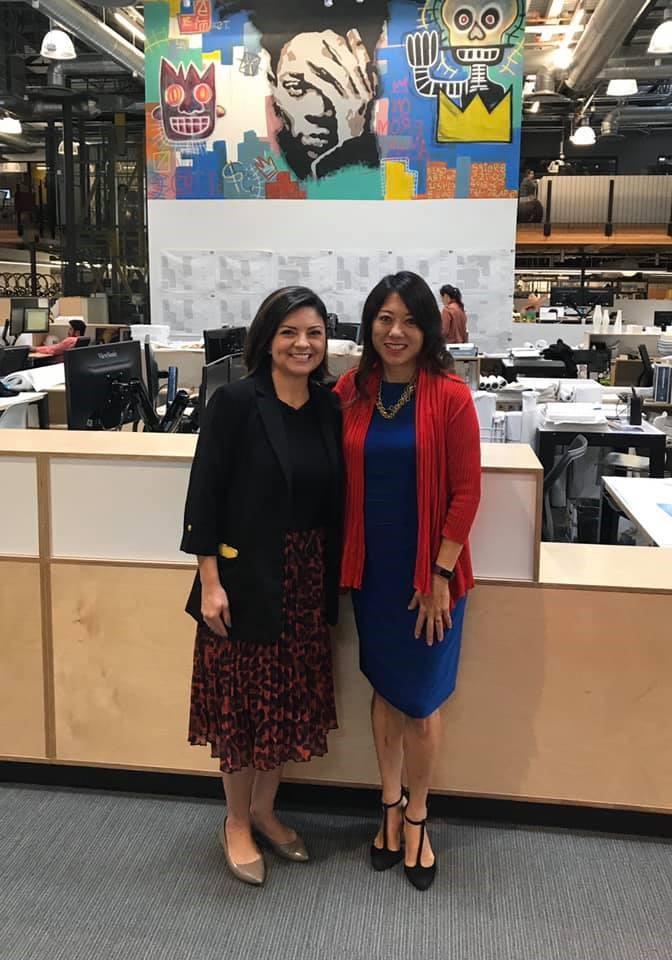 Senator Gonzalez with State Treasurer Fiona Ma.
Over the past six months in office, we have toured amazing health centers throughout the district; celebrated the groundbreaking of many public art projects, parks, libraries, and school facilities; and met with countless community leaders and organizations. Every meeting, event, and tour fills me with pride to represent the great 33rd Senate District, and we will continue to plan signature events to strengthen community ties in the 33rd Senate District.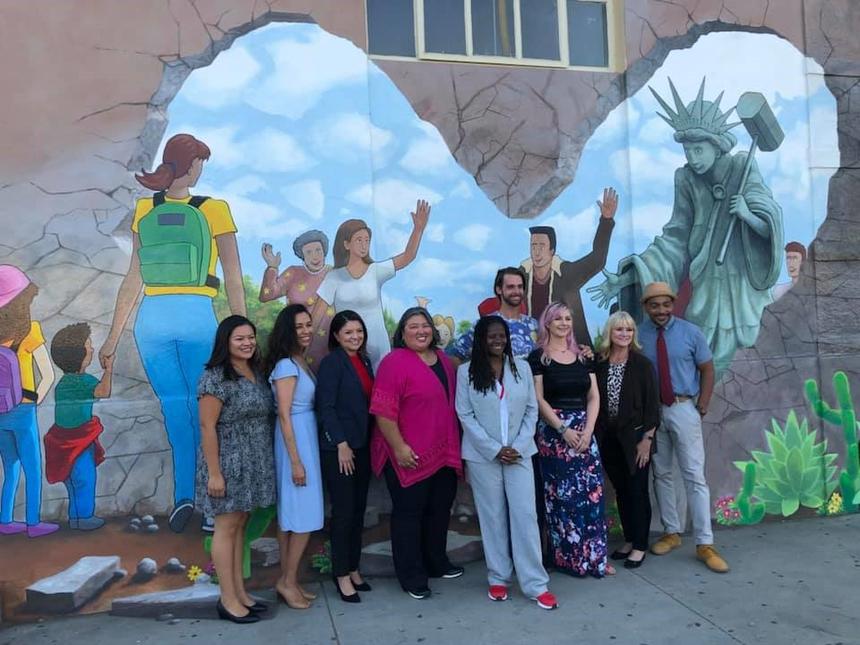 Senator Gonzalez with local artists and education leaders for the unveiling of a new mural at Washington Middle School.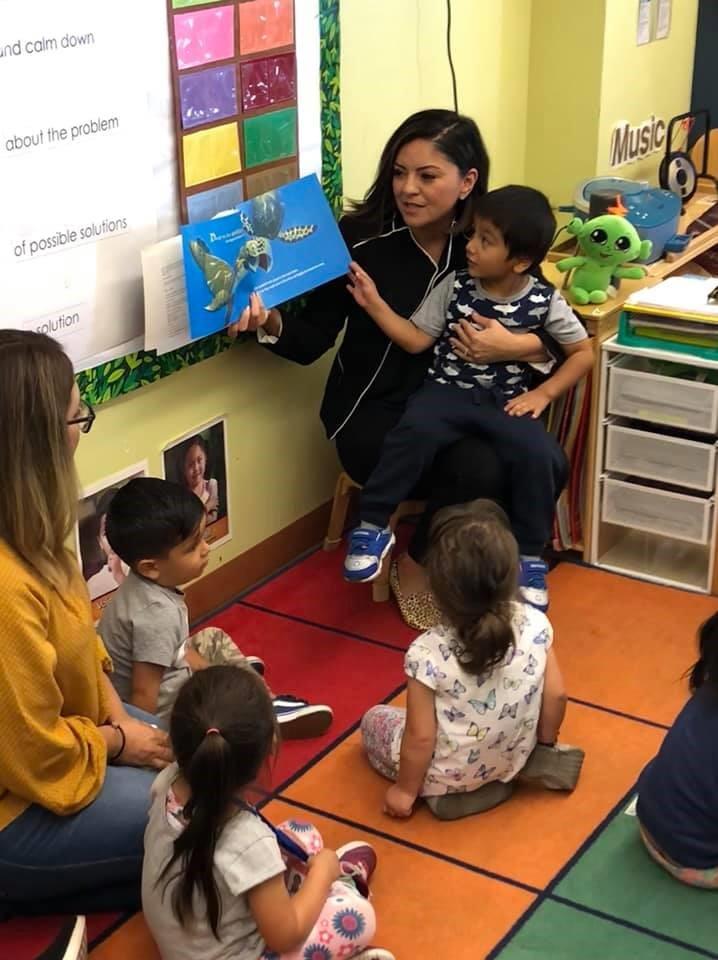 Senator Gonzalez reading to a student at the Escalante Early Education Center in Cudahy.
In addition to our community outreach, I have had the privilege of meeting with our local leaders and organizations to discuss the legislative needs and priorities of the district. I convened a meeting with our City Managers where we talked in depth about the need for strong leadership on the issues of housing and homelessness, and we have been working closely with our organizational partners in the area to lead on the issues of trade & transportation, sustainability, early childhood development, and public health.
As we look to the next Legislative year, please join my District team at the following community meetings to get more information about my legislation and policy priorities:
Tuesday, January 7: Coffee with the Lynwood Mayor Aide Castro
Wednesday, January 8: Bixby Knolls Neighborhood Association Meeting
Wednesday, January 15: Willmore Neighborhood Association Meeting
Stay tuned for our District Office Open House early next year…
I am very excited about what Team Gonzalez is planning for 2020, and I look forward to continuing to work on your behalf in the California State Senate. Please check my website and social media accounts to stay up-to-date on what we are planning for the coming Legislative year!
Thank you, and have a great holiday season!