Dear Neighbor,
The list is complete! My legislative package has a total of 8 bills signed into law for 2021! I am grateful to all the amazing community members, partner organizations and my staff that helped make this legislative session a huge success.
Team Gonzalez had the honor of celebrating Latinx Heritage Month with incredible Latino-owned businesses that contribute to Senate District 33. I had the pleasure of joining community meetings where we discussed what SB 4 Broadband for All means for Californians now that it is signed into law, and transportation matters such as the West Santa Ana Branch light rail project. I was also part of a press conference with Governor Newsom announcing a proposal to ban oil drilling near neighborhoods.
There are upcoming events that I'd like to invite you to, including our Domestic Violence Awareness Month live chat, and a Joint Assembly and Senate hearing I will be Co-chairing about how we can ease congestion at our ports ahead of the holiday season.
Finally, please take a moment to submit your nominations for Veteran's Day recognitions and check out the new California Venues Grant Program!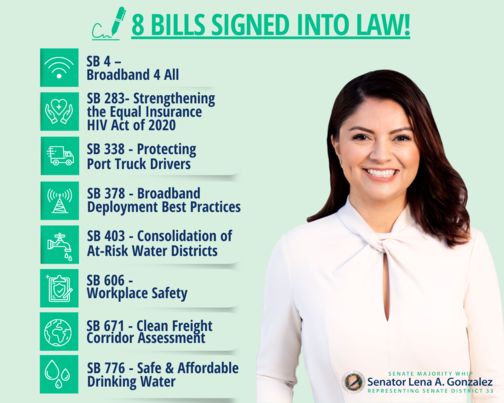 News from the Capitol
Bills Signed Into Law!
It's a wrap, everyone! Governor Newsom signed all eight bills in my legislative package into law.
Below is the list of bills that were signed into law at the time of our previous newsletter:  
And now I am excited to share two more: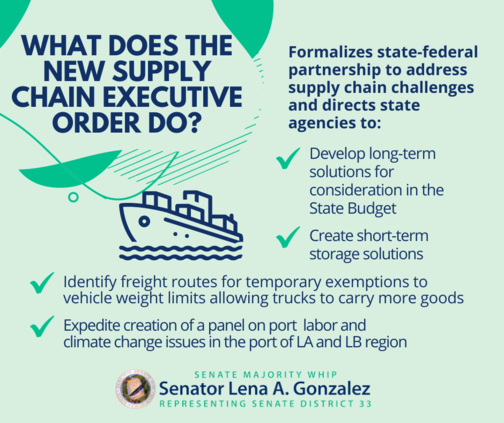 California Ports Congestion Update
Together, our two California ports (Long Beach and Los Angeles) handle about 40% of the container traffic that enters the United States. Due to the COVID-19 pandemic, a record demand for goods, labor shortages and other factors have created ongoing congestion at our ports and caused a backlog impacting California consumers as we head into the holiday season.  
On October 13, President Biden addressed ongoing supply chain challenges impacting California. The President announced efforts from large goods carriers to increase capacity as well as a commitment from the port of Los Angeles to transition to 24/7 operations.
On October 20, Governor Newsom signed an executive order to help tackle supply chain issues. The order formalizes a state-federal partnership to address supply chain challenges and directs state agencies to:

Develop long-term solutions for consideration in the State Budget
Create short-term storage solutions
Identify freight routes for temporary exemptions to vehicle weight limits allowing trucks to carry more goods
Expedite creation of a panel on labor and climate change issues in the port of LA and LB.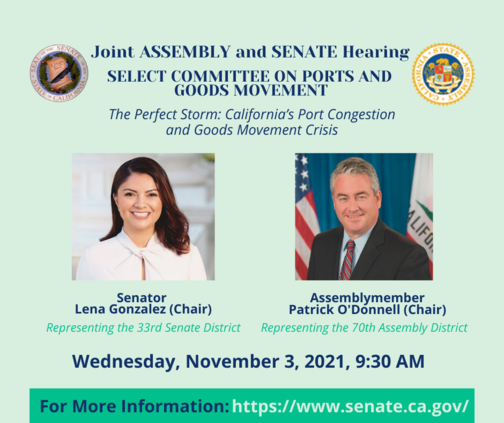 I am closely monitoring the situation at our ports, and I am regularly meeting with all relevant state agencies and stakeholders to help bring efficient, collaborative solutions to our community. I invite you to provide your input, ideas, or questions on this matter through the poll you will find at the end of this newsletter.
In addition, I would like to invite you to join me on November 3, 2021 for a Joint Senate and Assembly Hearing of the Select Committee on Ports and Goods Movement that I will co-chairing to discuss more solutions for this important matter. You can watch the hearing live here, submit written comments to Senator.Gonzalez@senate.ca.gov or call in your comments during the hearing; call-in information will be posted here a few days before the hearing.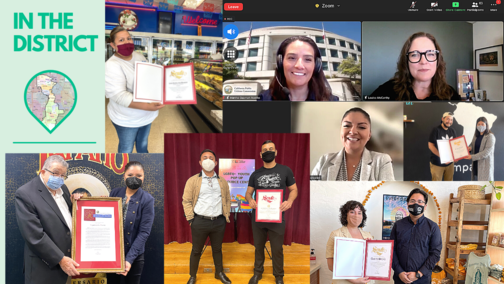 In the District
Celebrating National Coming Out Day
On October 11, Team Gonzalez celebrated National Coming Out Day and the Grand Opening of the SELA LGBTQ+ Youth pop-up resource center in Bell Gardens!
Eco-Rapid Transit Board Meeting
On October 13, I joined the Eco-Rapid Transit Board Meeting to provide a legislative update and discuss the West Santa Ana Branch light rail project. Thanks to all our city officials and representatives for having me!
Celebrating Latinx Heritage Month
This month, Team Gonzalez recognized some of the diverse businesses that contribute to our community and provide outstanding and invaluable services in honor of Latinx Heritage Month. Shout out to all the inspiring entrepeneurs that contribute so much to Senate District 33 every day!
Closing the Gap Digital Equity Policy Cafe
On October 15, I was part of a timely discussion with Public Utilities Commissioner Martha Guzman Aceves and President & CEO Louise McCarthy from the Community Clinic Association of Los Angeles County exploring how we can overcome the digital divide and ensure no one is left behind. I talked about the state's recent $6 billion broadband infrastructure investment and my legislation SB 4 Broadband for All now signed into law. Thanks to all who joined!
Middle Mile Advisory Committee Meeting
On October 20, I was happy to join this monthly meeting where I sat down with our state directors at the California Department of Transportation (Caltrans), the California Public Utilities Commission (CPUC), the California Department of Technology (CDT) and many Broadband For All stakeholders - including community members to discuss the roll out and implementation of SB156 (the $6 Billion infrastructure investment) for Middle Mile, Last Mile & an Open Access framework for Broadband! I am proud to be a part of the process that prioritizes digital equity.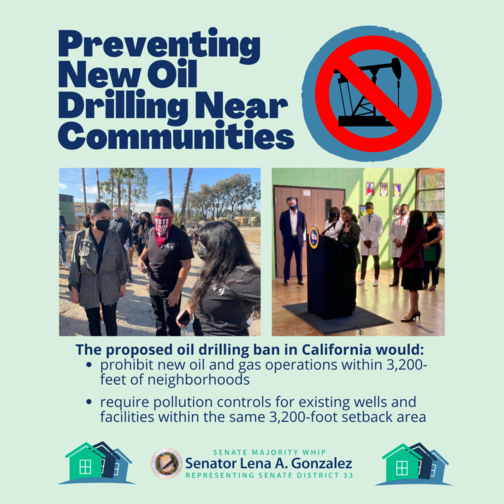 California Moves to Prevent New Oil Drilling Near Communities
On October 21, Governor Gavin Newsom joined us in Wilmington to announce that the Department of Conservation's Geologic Energy Management Division (CalGEM) has released a proposed regulation that would prohibit new wells and facilities within a 3,200-foot exclusion area – or setback – from homes, schools, hospitals, nursing homes and other sensitive locations. It would also require pollution controls for existing wells and facilities within the same 3,200-foot setback area.
California has made progress on ambitious climate goals, with more than 485,000 clean energy jobs in the state and oil production on the decline, dropping 65.2 percent since its peak in 1985. Nevertheless, we must do more, especially for Black, Latinx and low-income communities that are most impacted by pollution from oil production in their neighborhoods.
Not only is oil production connected to higher rates of chronic diseases like asthma and heart disease, but recent studies have also shown that long-term exposure to a single microgram of toxic particulate matter from oil production increases the risk of death from COVID-19 by 11 percent.
I am thankful to Governor Newsom for his leadership to help us achieve a cleaner, healthier more vibrant California for all and as your State Senator, I am committed to advocating for stronger environmental protections for Senate District 33 and California.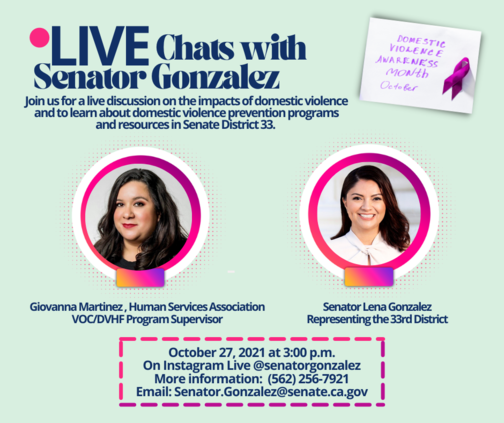 Domestic Violence Awareness Month Virtual Event
October is Domestic Violence Awareness Month. Domestic violence takes many different forms and it is important to know there are ways to get help safely. Join me and our special guest Giovanna Martinez from the Human Services Association to talk about the impacts of domestic violence and resources available in Senate District 33.
The event will take place on October 27, 2021 at 3:00 p.m. This will be a live-streamed virtual event, and you can tune in on my Instagram page @senatorgonzalez.
To submit questions in advance you may call (562) 256-7921 or email us at Senator.Gonzalez@senate.ca.gov.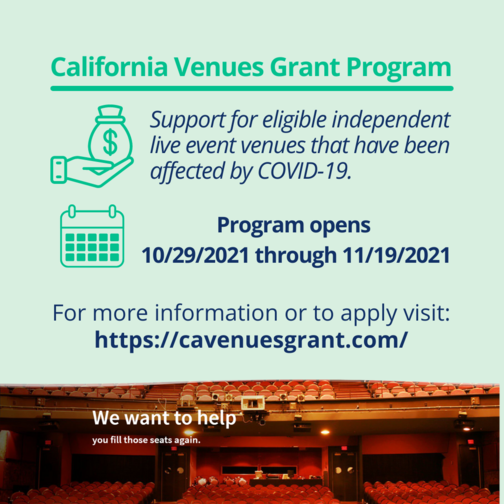 California Venues Grant Program
The California Venues Grant Program will support eligible independent live event venues that have been affected by COVID-19 in order to support their continued operation. Eligible independent live event venues must have a physical address and operate in California, which will be validated through submitted business tax returns.
Grants awarded under this Program shall be in an amount equal to the lesser $250,000 or 20 percent of the applicant's gross earned revenue in California for the 2019 taxable year.
Additional information can be found at cavenuesgrant.com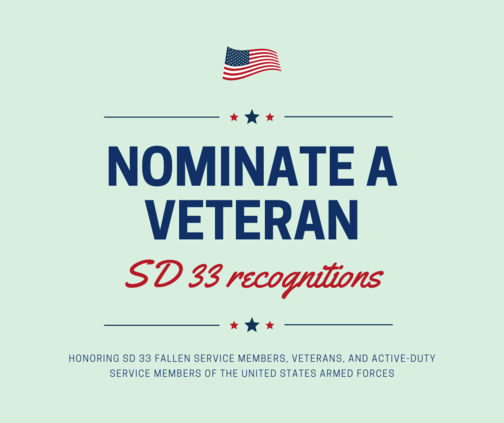 Nominate a Veteran
Would you like to honor a U.S. Armed Forces member from your community? My office is taking nominations for Senate District 33 Veteran recognitions! Submit your nomination here today.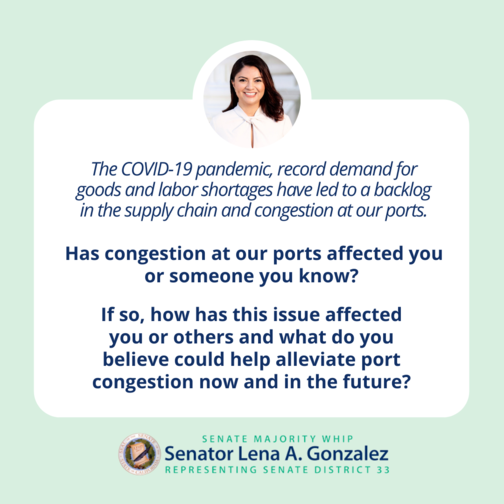 This Edition's Poll Questions
For this edition's poll, I would like to know if recent port congestions issues have affected you or someone you now, and your thoughts on how we can best resolve this issue. Take our next poll here to share your comments, questions, and ideas.
Top social media posts
Check out my top social media posts below! Remember to follow me @SenGonzalez33 on FB and Twitter for legislative updates, resources, events and much more!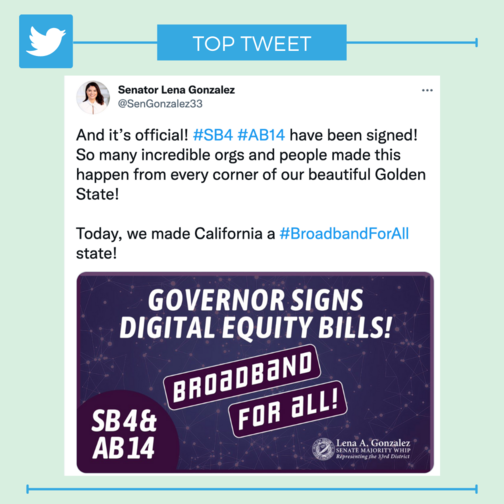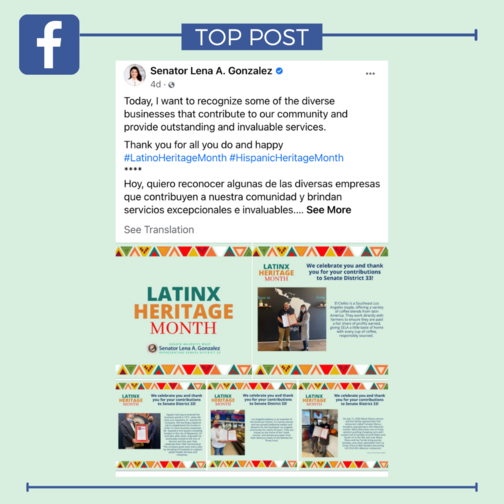 As always, if you need any other information or assistance, please contact my office at (562) 256-7921 or send us a message here. Wishing you a Happy Halloween and stay safe!
Sincerely,

Lena Gonzalez
33rd State Senate District