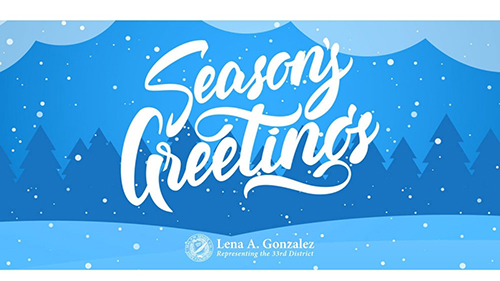 Dear neighbor,
The winter holidays we love and cherish are here! As you wrap up your celebration plans, there's a few updates and resources I'd like to share with you:
2020 End of Year Update: In a year of unprecedented challenge, my office has been hard at work to serve the needs of Senate District 33, advocating for you at the capitol and connecting you to important local and state resources. Here is some of the work we accomplished:


At the legislature, we passed an on-time, balanced budget and brought an end to the legislative session with over 400 bills sent to the Governor's desk. You can find detailed information about the bill proposals I introduced here.

I am also proud to report, my first bill, SB 1255 was signed into law on September 26, 2020 which prohibits life and disability income insurance companies from denying coverage to HIV-positive individuals solely based on their HIV status.

My office provided help to over 370 constituents with EDD claims and assisted over 600 constituents overall with other issues including DMV questions, small business support, food assistance, rent relief resources and more.

We conducted 430+ meetings and events including constituent meetings, meetings with city representatives, speaking engagements, virtual town halls, informational webinars, panels, conferences, food and PPE distributions, COVID-19 response hearings and more.


Looking Forward - The New Legislative Session: On December 7th, 2020, the very first day of our new legislative session 2020-2021, I introduced Senate Bill 4, The Broadband for All Act to help close the digital divide. You can search and track Senate Bill 4 and the newest 2020-2021 proposed bills here.

Celebrate Safely: While you celebrate this year, please make sure you follow public health guidelines for the holidays to help keep your friends and family safe and healthy.

Mental Health Resources: The holidays can be a rough time, as we try our best to limit in person gatherings which keep us from seeing our family and friends. Some of us are also mourning the loss of loved ones we lost to COVID-19, if you or someone you know need someone to talk to, please take advantage of available LA County resources.

Food, Health, Financial and Other Resources: If you have questions, need any assistance, would like to speak to someone, or need help finding medical care, call the Los Angeles County Information line 2-1-1, which is available 24/7 or visit their COVID-19 resources page.

Vaccine Update: California's first doses of the COVID-19 vaccine have started to arrive, and a safe and effective distribution plan is already underway. My office will keep you informed as much as possible on any new developments as soon as we receive them. Learn more about the COVID-19 Vaccine and find common questions and answers by visiting the links below:
COVID-19 Federal Relief Update: As you may already be aware, Congress has reached an agreement on a COVID-19 Relief package, pending the President's signature to become law. My office will keep you updated on further developments. For now, here are some highlights on what the package includes:

$600 Direct Payments for qualifying individuals
$300 weekly unemployment benefit enhancement through mid-March.
$25 billion for rental assistance
$325 billion for small businesses

And here is an article with more details.


Last but not least, with the year coming to a close, I want to wish you the best of times rejoicing, reflecting and recommitting to your future endeavors for the new year. As always, I remain dedicated to serving you and our community during these unprecedented times and the years ahead. Please do not hesitate to contact my office should you need any information or assistance. You can reach us at (562) 256-7921 or send us a message here.
Happy Holidays!


Lena Gonzalez
33rd State Senate District