Dear Neighbor,
What an exciting new year! The California Legislature has reconvened, and I was back at the Capitol last week for our first regular session of 2022. I also chaired the first Senate Transportation Committee hearing of the year and attended other important policy committee hearings.
Back in the district, we are getting ready for a day of service in honor of Dr. Martin Luther King Jr. and opening nominations for Black History Month leadership and service recognitions next month. Also, with the Governor's Budget Proposal for 2022-23 just released, my office is putting together a Budget Teach-In, where you can get all your questions answered about how the state budget process works, what's in the Governor's Budget Proposal and how you can make your voice heard along the process. Finally, the City of Long Beach is seeking volunteers for the 2022 Long Beach Homeless Count, Metro is collecting feedback for their Fiscal Year 2023 budget and we have all the information you need to get involved in these opportunities.
I know that recently the Omicron variant has led to new challenges, and that there is a high need for COVID-19 testing. If you are having difficulty getting tested, please see the information we have included on COVID-19 testing sites near you. Also, new financial assistance is available for homeowners who have fallen behind on their mortgage payments due to the pandemic, make sure to take advantage of this opportunity or share it with others who may benefit. And, don't forget to take this edition's new poll, I am interested in hearing about the types of events you'd like to see in our District in 2022.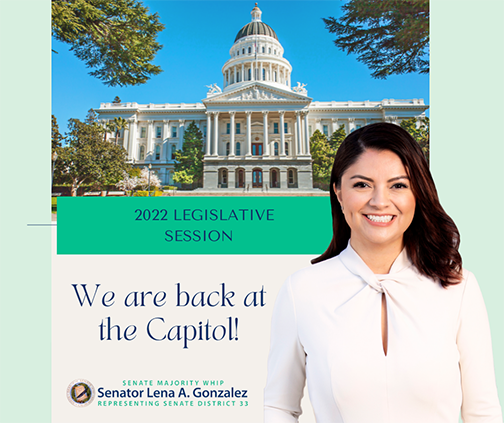 Beginning of Session and 2022-23 Governor's Budget Proposal
The second year of a 2-year legislative session has officially begun and we hit the ground running on first week of session! The Legislature is now considering 2-year bills in policy committees that were introduced in 2021 and the deadline for these bills to pass their house of origin is January 31, 2022.
On January 10, the Governor released a proposed State budget for 2022-23. As Chair of the Senate Transportation Committee and Chair of the Senate Select Committee of Ports and Goods Movement, I am encouraged to see funds in the Governor's proposed budget directed toward improving infrastructure at our ports and throughout California in ways that align with our climate goals. I see much needed resources going into clean energy, climate resiliency, workforce training, and zero-emission technology that will positively impact the way we transport goods, commute and travel in our State and enable us to reduce emissions and protect our environment. These investments include but are not limited to:

$22.5 billion for combating the climate crisis including:

$10 billion for zero emission vehicle acceleration
$2 billion to support California's clean energy transition (to accelerate industrial decarbonization, advance green hydrogen production, create an offshore wind energy program and more)

$9.1 billion in the transportation system and related zero-emission vehicle (ZEV) efforts such as:

$1.2 billion for port-related high-priority projects that increase goods movement capacity including zero-emission modernization projects
$875 million for zero-emission port equipment
$400 million for state and local climate adaptation projects

$465 million for climate jobs and opportunities
You can read the Governor's 2022-23 Budget Proposal here, and my full statement here. Also, make sure to check out our upcoming virtual State Budget Teach-In event below to learn more!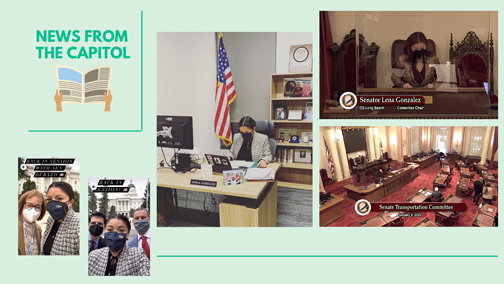 News from the Capitol
Last week, I met with environmental justice groups and my colleagues to discuss goals and objectives for bold climate action in 2022. Environmental legislation is a top priority for me, and Senate District 33 and we are still in time to discuss new legislation ideas for 2022. If there is anything you'd like to share or discuss on this topic please reach out to my office at (562) 256-7921 or email us at Senator.Gonzalez@senate.ca.gov.
On January 4, I chaired the first Senate Transportation Committee hearing of the year. To watch the full Senate Transportation Committee hearing, visit the California Senate Media Archive here. 
Another important topic to keep in mind is Broadband oversight. Last year, a $6 billion dollar broadband investment was made possible via legislation I helped champion, including SB 156 and AB 14 and legislation I authored SB 4. Now that these bills have been signed into law, we have to make sure those funds reach California residents. Look out for updates as we continue our work at the Capitol and in Senate District 33 to help close the digital divide.
In the District
There are great upcoming opportunities and events in Senate District 33, check them out, RSVP or let us know if you have any questions on how to participate!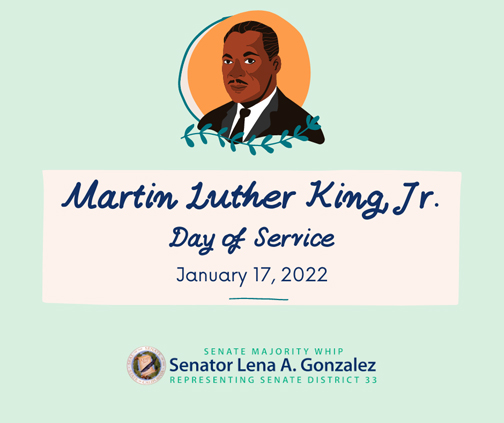 Martin Luther King Jr. Day of Service
On January 17, join Leadership Long Beach in celebrating the legacy of Dr. Martin Luther King on National Day of Service by participating in a remote volunteering opportunity such as sending a letter to a local senior! To sign up click here.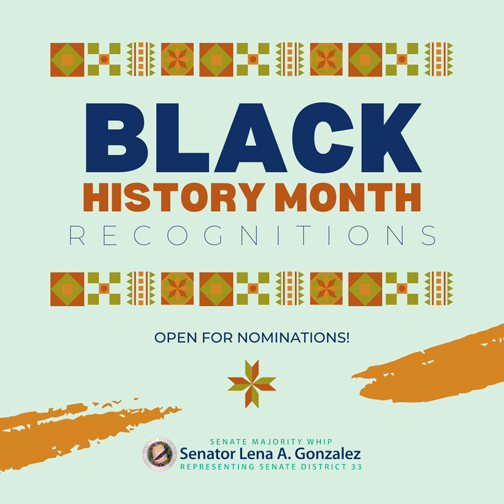 Now Accepting Black History Month Leadership & Service Recognition Nominations
In celebration of Black History Month, my office is currently accepting nominations for Leadership & Service recognitions to celebrate and uplift the work of Black leaders and volunteers. Is there someone you know that you would like to see recognized for their significant contributions in our community? Submit a nomination here!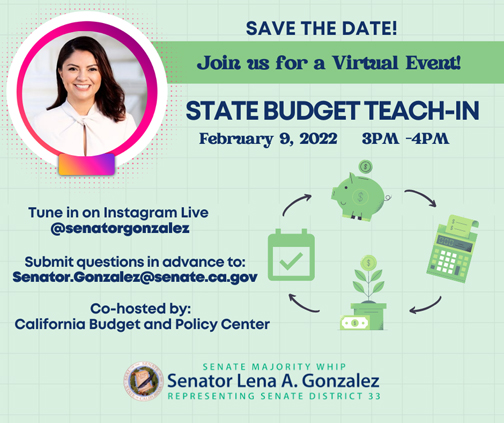 State Budget Teach-In Virtual Event
The Governor just released his 2022-23 budget proposal. Are you interested in learning how the state budget process works? Do you want to learn about this year's budget priorities and how you can make your voice heard along this process? If that's you, join me and the California Budget Policy Center for an informative Budget Teach-In, where you will have the opportunity to ask me and our guests any questions you may have. Click here to RSVP and submit your questions in advance!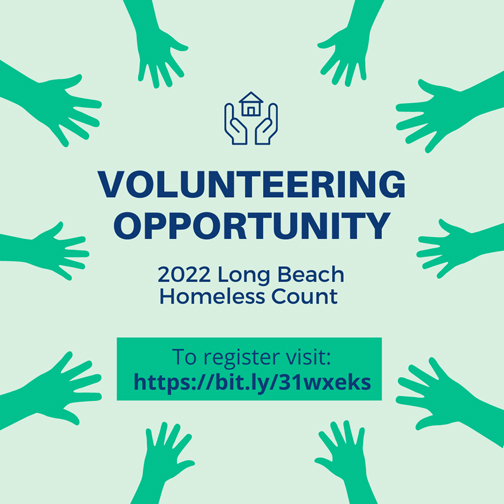 Volunteering Opportunity: 2022 Long Beach Homeless Count
The Homeless Count is an annual comprehensive count of people experiencing homelessness in Long Beach. The Count remains one of the most valuable tools that allows the U.S. Department of Housing and Urban Development (HUD) and local communities the ability to assess homelessness at national and local levels.
The Count is a communitywide effort that provides an opportunity for residents and local businesses to actively contribute and learn about people who are experiencing homelessness and gain an understanding of the resources available to address homelessness in Long Beach. Learn more about the Homeless Count here
The Homeless Count will take place at the end of February 2022. To sign up, visit the volunteer registration form here.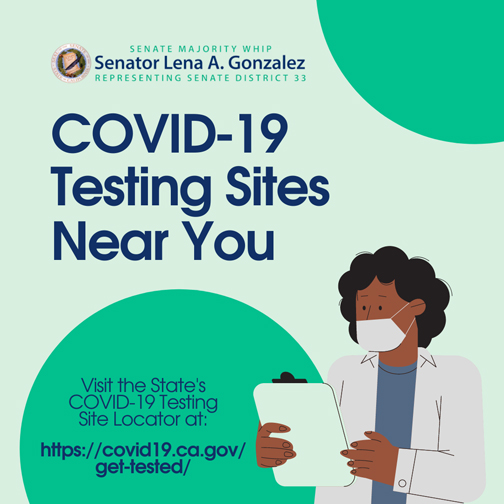 COVID-19 Testing Sites in Senate District 33
To help you find a COVID-19 testing site near you, my office has compiled the information below on COVID-19 testing sites and resources across our District. Please see the list below and if you have any questions, or need further assistance, please do not hesitate to contact us at (562) 256-7921.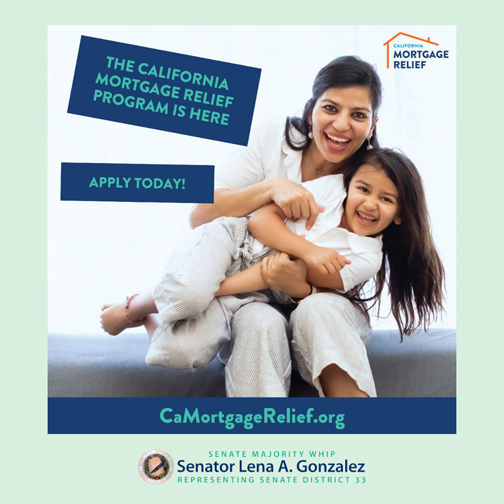 New California Mortgage Relief Program
On January 5, California officially launched the California Mortgage Relief Program using $1 billion in federal funds from the American Rescue Plan Act of 2021's Homeowners Assistance Fund.
The program will help homeowners who had a financial hardship during the COVID-19 pandemic by covering missed housing payments.
Homeowners who missed at least two home payments before Dec. 27, 2021, may be eligible.
Relief funds from the program do not have to be paid back.
Keep in mind, the California Mortgage Relief Program is separate from the CA COVID-19 Rent Relief program, which is still open to renters and landlords who may need assistance with unpaid rent.
For more information and to apply, please visit: https://camortgagerelief.org/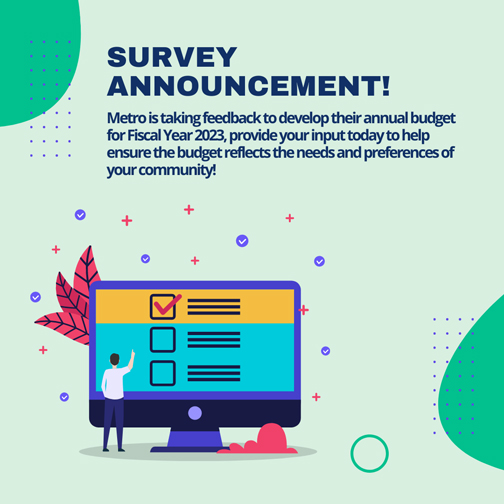 Metro Fiscal Year 2023 Budget Priorities Survey Opportunity
Metro is requesting feedback as they develop their annual budget for Fiscal Year 2023. As our community continues to recover from the COVID-19 pandemic, it is extremely important this budget reflects the needs and preferences of local residents. Please take some time to complete this 10-minute survey here.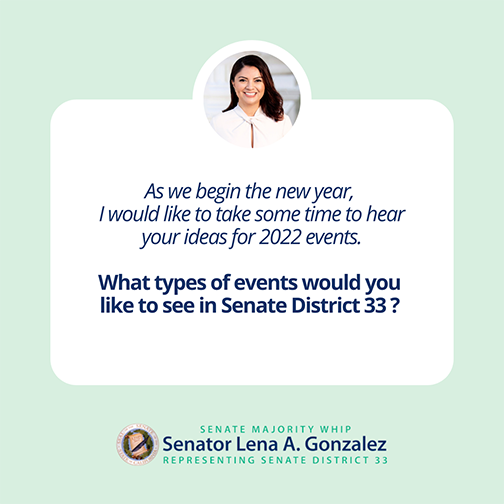 This Edition's Poll Questions
For this edition's poll, I would like to know what events you would like to see in Senate District 33 for 2022. Take the poll here!
 
Top Social Media Posts
Check out my top social media posts below! Remember to follow me @SenGonzalez33 on FB and Twitter for legislative updates, resources, events and much more!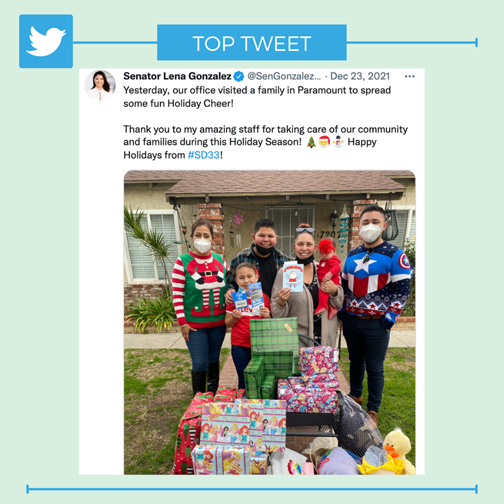 As always, if you need any other information or assistance, please contact my office at (562) 256-7921 or send us a message here.
Sincerely,

Lena Gonzalez
33rd State Senate District