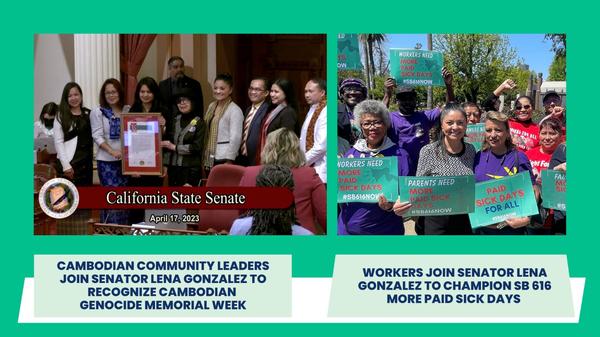 Watch Our SB 616 More Paid Sick Days Press Conference, Listen to the Presentation of SR 23 Recognizing Cambodian Genocide Memorial Week, and Get My Latest Bill Updates
Championing SB 616 Paid Sick Days: We talk a lot about California being the fourth largest economy, but that is solely because of our hardworking California workforce that has been showing up every single day. California is a leader in a lot of ways, but paid sick leave is one where we're actually trailing behind many other states. It's time to raise the bar on paid sick leave in our state via SB 616. Watch the SB 616 Paid Sick Days press conference online to learn more about the bill and to hear from workers, public health experts, and the community about the importance of having more paid sick days. You can also read this recent SB 616 news article covering the event.
Cambodian Genocide Memorial Week: On April 17 I had the honor of presenting Senate Resolution 23 alongside Cambodian community leaders from Long Beach. The resolution recognizes the week of April 17-23 as Cambodian Genocide Memorial Week. Between April 17th, 1975 and January 1979 the Khmer Rouge of Democratic Kampuchea committed acts of genocide and crimes against the Cambodian people resulting in the deaths of more than 1.7 million Cambodians. Today, California is home to the largest population of Cambodian Americans, and the City of Long Beach, in my district, is home to the largest community of Cambodians outside of Southeast Asia. SR 23 honors those lives lost during the Cambodian Genocide and marks this week as the memorial week for the Cambodian Community. Watch the video to learn about our Cambodian community leaders and to hear my remarks on SR 23, here.
What's Going On in the Legislative Process Right Now? During this month, many of my bills have been heard and passed out of policy committees. This means they get to move to the next step in the legislative process, the Appropriations Committee (if they have a fiscal impact), and then to the Senate Floor for a vote. If the bills pass the Senate then they will be headed to the Assembly.
Bills In My Legislative Package Headed to Appropriations: Here is a brief report on some of the bills that were heard in the last few weeks that are now headed to the Senate Appropriations Committee. As you can see, there are many bills advancing, so wish us luck at the Capitol in the next couple of weeks to get these bills past Appropriations and to the Senate Floor. If any particular bill is of interest to you, and you would like to show support or share your opinion, please send me a message here!
What it Does: Revitalizes and extends the existing Clean Transportation Program to prioritize equity and align with current state environmental goals.
Latest Vote: Passed 5-2 in the Senate Environmental Quality Committee on April 26.
What it Does: Prohibits two of the largest public pension funds in the nation and our state from investing in fossil fuel companies.
Latest Vote: Passed Senate Judiciary Committee on April 18 with an 8-2 vote.
What it Does: Protects students from climate-related threats like extreme heat and flooding and prepares schools to utilize federal infrastructure dollars to modernize schools in ways that are environmentally friendly and sustainable.   
Latest Vote: Passed Senate Education Committee on April 26 with a 7-0 vote.
What it Does: Promotes stronger enforcement and greater compliance with existing laws that prohibit the sale of alcohol to a person under the age of 21.
Latest Vote: Passed Senate Governmental Organization Committee with bipartisan support and a 14-0 vote.
What It Does: Expands electric vehicle access for low-income Californians by creating a grant program for electric vehicle car-sharing at 100 public and low-income housing facilities.
Latest Vote: Passed Senate Transportation Committee on April 25 with a 14-0 vote.
What it Does: Holds oil companies accountable for health harms in individuals who live in a neighborhood where oil drilling is happening within 3,200 feet. The health harms would include cancer, respiratory illness in children or seniors, and pre-term or high-risk pregnancies in pregnant individuals. 
Latest Vote: Passed Senate Judiciary Committee on April 25th with an 8-2 vote.
What It Does: Increases the amount paid sick leave days an employer is required to provide an employee from three days to seven.
Latest Vote: Passed Senate Labor Committee on April 19 with a 4-1 vote.