Dear Neighbor,
Happy Asian American and Native Hawaiian/Pacific Islander (AANHPI) Heritage Month! Join me in celebrating the achievements, history, and contributions of the AANHPI community. This month we recognize remarkable AANHPI leaders who are driving positive change, you can read all about our honorees in our Senate District 33 community spotlights!   
I enjoyed seeing many of you at our events, helping us beautify local roads and beaches, and celebrating Earth Day. I felt the excitement and motivation among us for a better future and a cleaner planet, but we acknowledged there is still much more work to do. The good news is I have many bills this year to help us get closer to that goal! I share with you all about them in our Earth Month Recap.
At the Capitol, we championed my Paid Sick Days bill that would extend the amount of paid sick days an employer is required to provide an employee from three to seven. California is poised to become the fourth-largest economy in the world, and I believe that is in no small part, thanks to our workers. Many employers already provide more paid sick leave than required by law because they know a strong, healthy labor force can help overcome great challenges for our communities and economy. My hope is that we continue to raise the bar on paid sick leave by passing SB 616.
In the District, my team collaborated on events with local leaders to celebrate Sankranta, Cambodian Genocide Memorial Week, and Khmer New Year. We also hosted our annual Senate District 33 Día del Niño (Children's Day) Resource Fair and attended meetings to hear from community members on the local transition away from oil production, ideas on re-investment plans for communities surrounding the I-710 corridor, and much more.
In our resource corner, find information on student scholarships and a grant opportunity. This includes the California Latino Legislative Caucus Foundation Scholarship, the Minerva Scholarship, the 2023 Frederick M. Roberts College Scholarship, and the Los Angeles County Economic Opportunity Grant for microbusinesses, small businesses, and nonprofits.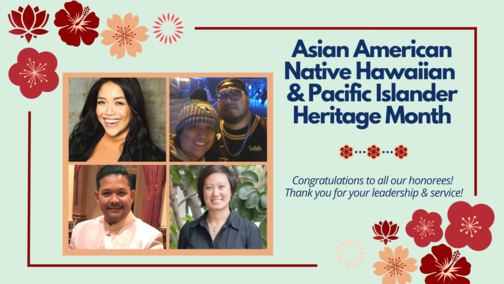 Celebrating AANHPI Heritage Month!
 
Read About Our Senate District 33 AANHPI Honorees!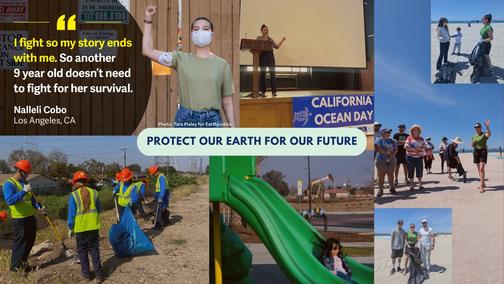 Earth Month Recap
 
Learn About My 2023 Environmental Bills and Check Out the
Latest Buzz Around Senate Bill 556 to Hold Oil Companies Accountable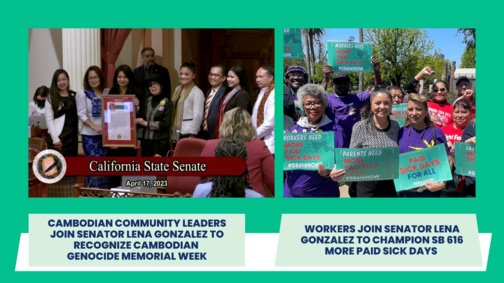 News from the Capitol
 
Watch Our SB 616 More Paid Sick Days Press Conference,
Listen to the Presentation of SR 23 Recognizing Cambodian
Genocide Memorial Week, and Get My Latest Bill Updates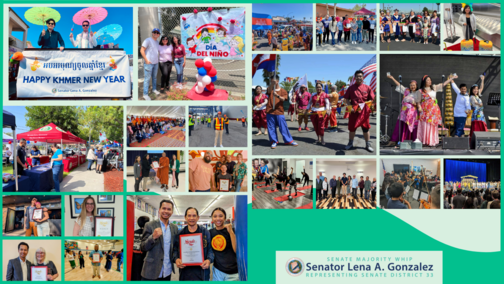 In the District
 
Read About Team Gonzalez on the Field, Meetings in the
Community, and Local Small Businesses, Nonprofits, and Community Heroes
 
The Resource Corner
 
Take Advantage of These Great Opportunities! Apply for a Student
Scholarship or a Grant for Your Small Business or Nonprofit.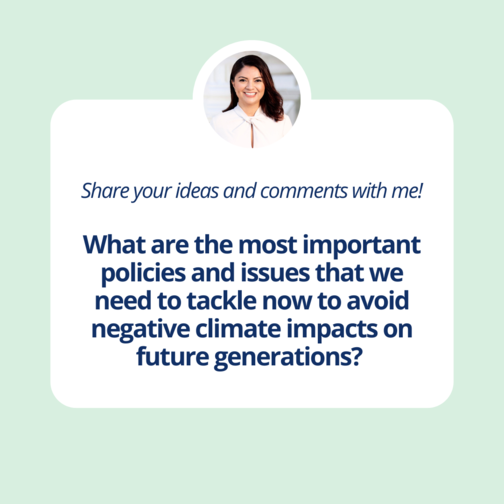 Community Survey
 
As always, if you need any other information or assistance, please contact my office at (562) 256-7921 or send us a message here. Happy Asian American and Native Hawaiian/Pacific Islander (AANHPI) Heritage Month!
Sincerely,
Lena Gonzalez
33rd State Senate District