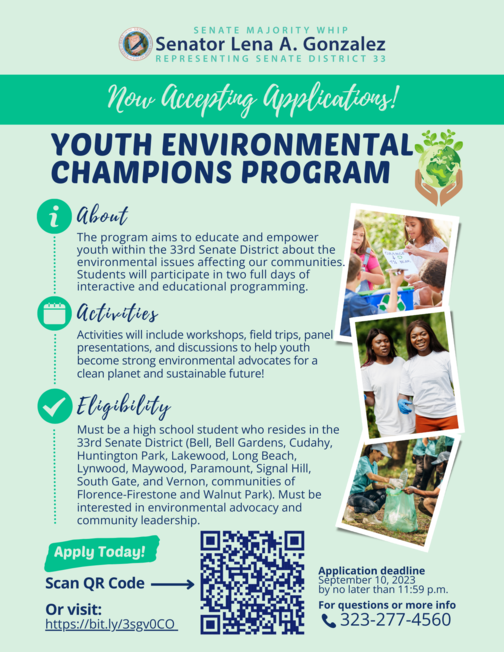 Dear neighbor,
I am excited to announce the launch of our first-ever, Youth Environmental Champions Program cohort!
The Youth Environmental Champions Program is a comprehensive program aimed at educating and empowering youth within the 33rd Senate District about the environmental issues affecting our communities.
As a Youth Environmental Champion, youth will participate in two full days of interactive and educational programming. Activities will include workshops, field trips, panel presentations, and discussions to help youth become strong environmental advocates for a clean planet and sustainable future! Topics will include how to save our oceans, ending oil and gas pollution, the history behind pollution-burdened communities, lowering emissions from transportation, and much more!
The program is completely FREE for youth!
To learn about eligibility, the programming schedule, and how to apply visit the Youth Environmental Champions Program website, here.
If you have any questions or need help completing the application, please email Vanessa Bautista at Vanessa.Bautista@sen.ca.gov or call my office at (323) 277-4560.
Sincerely,
Lena Gonzalez
33rd State Senate District
Sponsored By: 
BYD Transportation
Communities for a Better Environment
Tours X Long Beach
Newstart Housing Corporation
Port of Long Beach
Long Beach Transit