Dear Neighbor,
Earth Day is around the corner and Team Gonzalez is taking action all month at local events to help beautify Senate District 33, celebrate the planet's natural resources and create awareness about the urgent need for climate solutions.
At the Capitol, two of my bills SB 1087 Catalytic Converter Theft Prevention and SB 1173 Fossil Fuel Divestment passed key committees and are moving forward in the legislative process.
In the District, my office attended Career Day and other community gatherings to meet with students, residents, and small businesses to share about the legislative process and discuss local issues including public safety, park revitalization, food security, and more!
New grant awards up to $5,000 are available via the Vaccinate All 58 Neighborhood Partnership Program for neighborhood and grassroots organizations, the CA Latino Legislative Caucus Foundation Scholarship Program is now accepting applications for student scholarships of $5,000, and the California Energy Commission is accepting nominations for the 2022 Clean Energy Hall of Fame Awards. Also, second booster doses are available for eligible people.
Lastly, please take some time to complete our new poll on the California Air Resources Board's (CARB) newly proposed regulations to advance clean cars in California.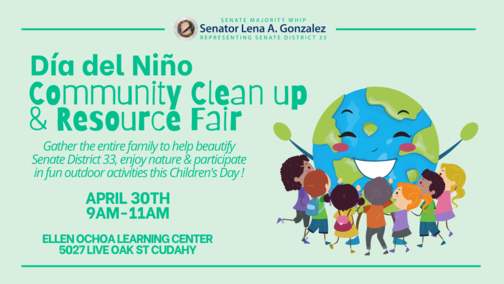 Celebrating Earth Month 2022!
This year, in the weeks leading up to Earth Day on April 22nd, my office is partnering with various groups and cities across Senate District 33 on events that encourage environmental stewardship and focus on the urgent need for climate solutions. For information about upcoming Earth Day events, click here.  
I am also hosting an end-of-month Children's Day Clean Up and Resource Fair for the entire family to enjoy time outside in nature while learning about constituent services available at my office, and resources that can help make a difference to protect our planet! The event will take place on April 30th from 9:00 a.m. to 11:00 a.m. at 5027 Live Oak Street in Cudahy.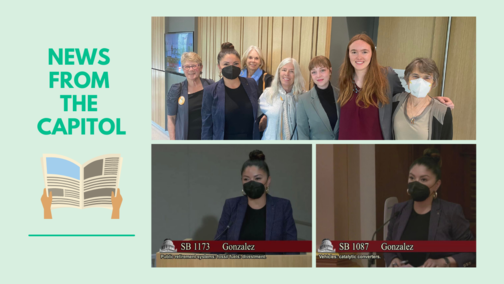 News from the Capitol
On April 4, I presented SB 1087 - Catalytic Converter Theft Prevention in the Senate Standing Committee on Business, Professions and Economic Development. The bill will limit who can legally purchase a detached catalytic converter, and who can sell a catalytic converter to a core recycler (scrap metal recyclers). We know that catalytic converters have been a large public safety issue in our communities. More than 8,000 Californians reported having their catalytic converter stolen in the first five months of 2021, and this number has only increased since then. The bill passed with a 14-0 vote and is now headed to the Senate Standing Committee on Public Safety.
That same day in the afternoon, SB 1173 the Fossil Fuel Divestment Act passed the Standing Committee on Labor, Public Employment and Retirement after a couple of hours of testimony and debate. There were many California Public Employees' Retirement System (CalPERS) and California State Teachers' Retirement System (CalSTRS) participants both current workers and retirees who came out and spoke in support of the bill. They demanded that our California pensions divest away from fossil fuels and begin moving into new green "climate-safe" investments with long-term financial stability and better rates of return for hard-working Californians. Listen to my remarks during the Senate Labor Committee hearing here. Later, on April 19 the bill also passed Senate Judiciary Committee and is now headed to Senate Appropriations. To learn more about SB 1173, check out my recent op-ed published in the Sacramento Bee here.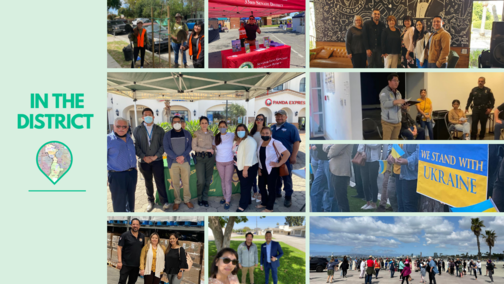 In the District
On April 6, Team Gonzalez visited Horchateria Rio Luna to connect with Paramount Chamber of Commerce members, participated in Birney Elementary School's Career Day, attended the Florence-Firestone/Walnut Park Chamber of Commerce Coffee with the Sheriff, and AOC7 Neighborhood Organization's meeting in Central Long Beach. We shared about the legislative process and discussed local issues with small businesses, students and residents.
On April 11, my office met with two incredible nonprofit founders, Juan San Juan from Chefs Supporting Chefs SELA Food Drive which delivers hot meals to seniors and veterans in Senate District 33 and Sheila Lopez from Helping Hands Society of Los Angeles that serves nonprofit organizations with perishable and non-perishable food items. We talked about how we can all work collaboratively to serve our communities and fight hunger.
On April 14, we participated in the City of Lynwood's Farmer's Market to share about constituent services, 2022 environmental legislation and more! It is great to see local efforts to encourage more sustainable shopping to help protect the environment, minimize the amount of waste and pollution created in goods transport and reduce the amount of chemicals that can pollute soil and water.
On April 15, we gathered at Bay Shore Church in Long Beach for a peace vigil for Ukraine. We listened to local Ukrainian residents share their messages of peace and their perspective on the current situation abroad and its impacts at home. Many thanks to organizer Justin Rudd and his nonprofit Community Action Team, for putting this vigil together.
On April 16, Team Gonzalez participated in Earth Month events, helping plant trees along neighborhood parkways in the City of Lynwood and cleaning up Rosie's Dog Beach in Long Beach. My appreciation goes out to Tree People, and the Community Action Team for organizing these fun activities to encourage environmental stewardship and create awareness about the urgent need for climate solutions in our community.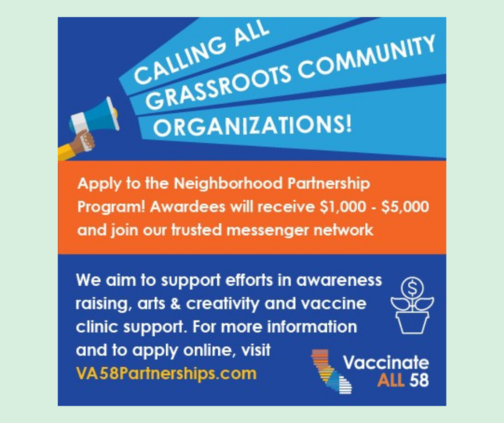 Neighborhood Partnership Program Awards Up to $5k
The Vaccinate All 58 Neighborhood Partnership Program awards up to $5,000 to neighborhood and grassroots groups. Awards will support groups in educating their communities on safe COVID-19 prevention practices, including the importance of COVID-19 vaccinations. To apply and learn more, visit https://VA58partnerships.com.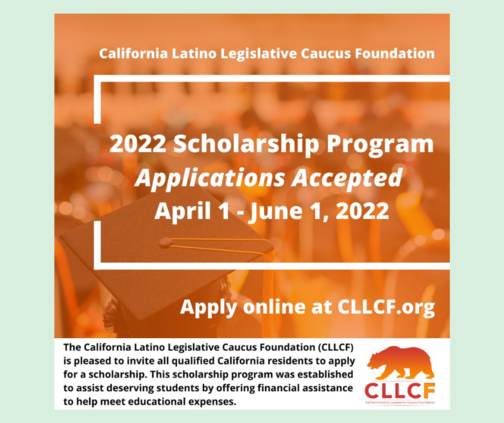 California Latino Legislative Caucus Foundation Scholarship
The CA Latino Legislative Caucus Foundation Scholarship Program is now accepting applications from eligible students. The program was established to assist deserving students by offering financial assistance to meet educational expenses. Fifty $5,000 scholarships will be awarded this year. The deadline for submitting the online application and all supporting documentation is June 1, 2022. Complete scholarship requirements and details are now available at the Foundation's website: www.CLLCF.org and answers to frequently asked questions can be found at: https://www.cllcf.org/faq.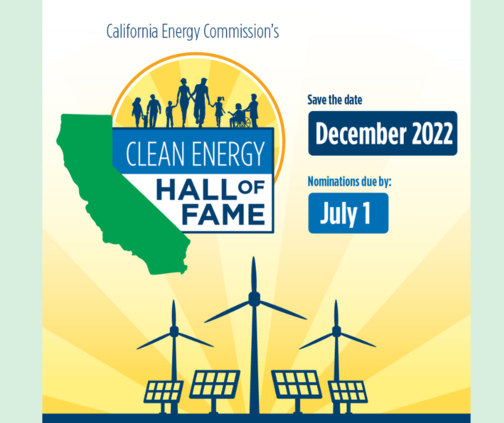 2022 Clean Energy Hall of Fame Awards
Do you know an avid energy advocate? Consider nominating them for the California Energy Commission's 2022 Clean Energy Hall of Fame Awards. Nominations are due by July 1, 2022. Launched in 2020, the Clean Energy Hall of Fame Awards is an annual event recognizing leaders advancing California's clean energy goals. The awards honor individuals and entities making exceptional contributions to help California achieve a 100 percent clean energy future for all. Learn more at: https://bit.ly/3ww7SAh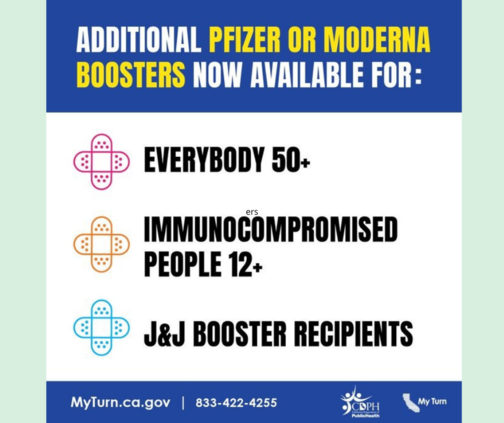 Expanded Eligibility for Second Booster Dose
A second Pfizer and Moderna booster dose is now available for people from certain groups who received their first booster dose at least four months ago. Learn more about boosters here.
 
New Poll: CARB Proposed Clean-Car Regulations
The California Air Resources Board (CARB) recently proposed new regulations to help advance California's transition to electric or other zero-emission cars and phase out the sale of new gasoline or diesel cars. If enacted, the proposed regulations would increase sales of electric or other zero-emission cars to 35% in 2026 and end sales of new gasoline or diesel cars by 2035. What are your thoughts on this proposal? Please share your thoughts here.
Top Social Media Posts
Check out my top social media posts below! Remember to follow me @SenGonzalez33 on FB and Twitter for legislative updates, resources, events and much more!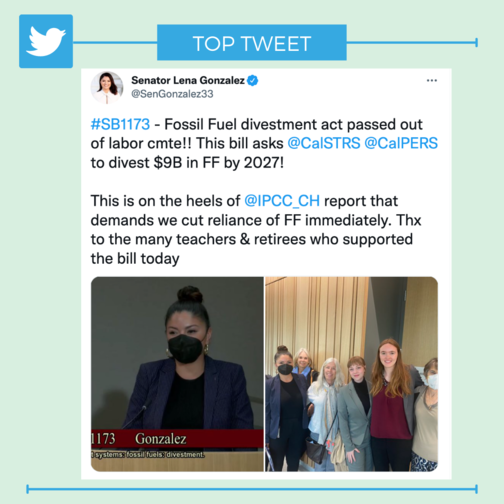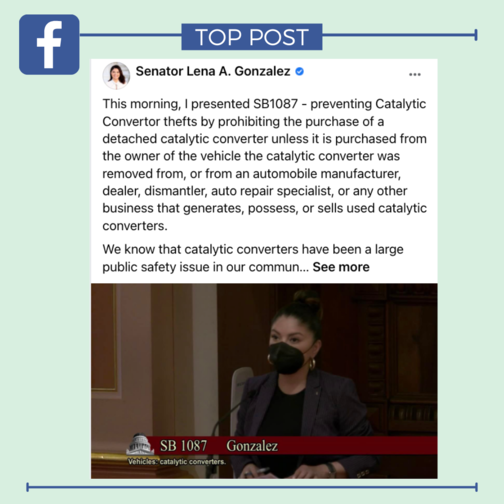 As always, if you need any other information or assistance, please contact my office at (562) 256-7921 or send us a message here. Happy Earth Month!
Sincerely,

Lena Gonzalez
33rd State Senate District