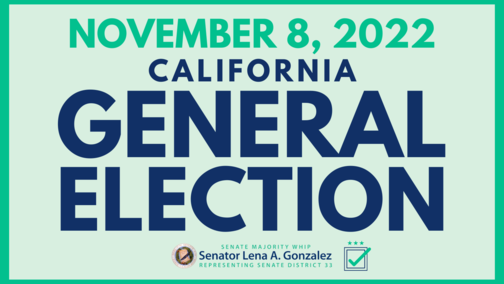 Dear Neighbor,
Election Day for our statewide General Election is TOMORROW Tuesday, November 8! Have you cast your vote yet?
During this year's General Election you get to vote for candidates running for state and congressional offices and statewide measures. We are counting on you to vote for what matters to you, your family, and your community!
You don't have to wait until tomorrow to vote or worry about whether you can get to your polling place because California now has the Voter Choice Act.
With the Voter's Choice Act, every registered voter is mailed a ballot to the address you listed when you registered. If you are registered to vote, you should have already received your ballot for the November Election.
How to Return Your Vote by Mail Ballot:
If your ballot is postmarked by Election Day and received within 7 days (EC, § 3020(b).) by LA County's Registrar-Recorder/County Clerk Department, your ballot will be processed, verified, and counted.
If you didn't get your ballot or forgot to register, no problem. You can register in person through Election Day, Nov. 8, at any early voting center, or at an Election Day polling place. This is called Same Day Voter Registration, also known as Conditional Voter Registration and it is a safety net for Californians who miss the deadline to register to vote or update their voter registration information for an election. You can also check your registration status here.
You can find a Los Angeles County voting center near you on or before Election Day. Early in-person voting in Los Angeles County began on Oct. 29 and continues through November 8.
Track Your Ballot
Receive personalized text messages, emails, and/or automated voice messages on your Vote by Mail ballot by subscribing to Where's My Ballot. This is a free service available to all registered voters that gives you updated information on where your ballot is. Sign up at WheresMyBallot.sos.ca.gov.
Check if Your Ballot was Received and Counted
Voters can confirm that their ballot was received and tallied through the Vote by Mail Status Tool.
Access Voting Information in Other Languages
The Secretary of State offers voter information and assistance in English, Spanish, Khmer and nine more languages. For voter assistance in your language, you can also call one of the toll-free Voter Hotlines.
Requesting Paid Time Off to Vote
Employees are eligible for paid time off for the purpose of voting only if they do not have sufficient time outside of working hours to vote. The intent of the law is to provide an opportunity to vote to workers who would not be able to do so because of their jobs. Employees can be given as much time as they need in order to vote, but only a maximum of two hours is paid. Employers may require employees to give advance notice that they will need additional time off for voting and require time off to be taken only at the beginning or end of the employee's shift.
I hope you find this information useful. As always, if you need any other information or assistance, please contact my office at (562) 256-7921 or send us a message here. Happy voting!
Sincerely,

Lena Gonzalez
33rd State Senate District