Dear neighbor,
Hurricane Hilary has accelerated its course north and the accompanying widespread rain and wind is expected earlier in the day tomorrow. Initial impacts will be felt throughout the San Diego region and inland desert communities and will continue in a south to north trajectory throughout the day on Sunday and into Monday.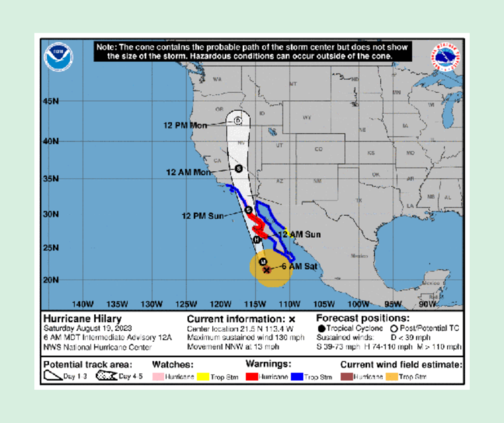 Tropical Storm Warnings have been issued for much of Southern California. Peak wind forecasts in Southern California are forecast to reach sustained levels of 25-35 mph. Due to a shift in the forecast to the east, the wind forecast has decreased over the last 24 hours for coastal areas of Southern California. However, the winds will still be strong and rainfall forecasts are still expected to reach record levels. Further east in desert areas, winds are expected to be greater exceeding 50 mph.
Here are the top 5 things you can do to stay safer during the storm: 
Stay connected. Californians are reminded to dial 3-1-1 to get help or ask questions. If you have a critical emergency, call 911. Stay informed by signing up for emergency alerts including warnings and evacuation notices. Go to CalAlerts.org to sign up to receive alerts from your county officials. Check in with loved ones and neighbors.
 
Prepare for high winds and ocean surges.
Before a high wind event occurs: remove any dead trees or overhanging branches near structures, remove loose roofing material, bring in unsecured objects from patios and balconies, secure outdoor objects that could blow away, shutter windows securely and brace outside doors. 

During a high wind event: take cover next to a building or under shelter, stay away from windows, stay clear of roadways and train tracks, avoid elevated areas such as roofs, watch for flying debris.

Avoid the ocean: The National Weather Service has issued a high surf advisory and is urging beachgoers to stay out of the ocean as Hurricane Hilary will create strong breaking waves, shore breaks and strong longshore and rip currents, making the ocean extremely dangerous.
 
Travel safely. Avoid non-essential travel during the peak of the storm expected Sunday and Monday. If you must drive, download the QuickMap app or visit QuickMap (ca.gov)  to learn up-to-the-minute information on road conditions, traffic, closures, and more. Do not walk, swim or drive through flood waters. Turn Around, Don't Drown! Remember, just six inches of moving water can knock you down, and one foot of moving water can sweep your vehicle away.
 
Be ready in case of power outages. Take inventory of the items you need that rely on electricity. Keep your devices charged. Plan for batteries and other alternative power sources to meet your needs if the power goes out such as a portable charger or power bank. Have flashlights for every household member. Also, plan accordingly for the potential of water outages.
 
Listen to local authorities. Always follow the guidance of your local authorities, including evacuation orders, road closures and other official notices.
 
My office will continue to monitor the situation and provide updates and information as it becomes available. If you have any questions, or need assistance, please feel free to reach out to my office by emailing me at Senator.Gonzalez@senate.ca.gov. In the meantime, check out ways to stay informed below.
Follow:
Stay up to date: 
Sincerely,

Lena Gonzalez
33rd State Senate District
---
Estimado vecino (a),
El huracán Hilary ha acelerado su curso hacia el norte y se esperan lluvias y vientos que lo acompañen más temprano en el día de mañana. Los impactos iniciales se sentirán en toda la región de San Diego y las comunidades del desierto del interior y continuarán en una trayectoria de sur a norte durante todo el día del domingo y hasta el lunes.
Se han emitido advertencias de tormenta tropical para gran parte del sur de California. Se pronostica que los vientos máximos en el sur de California alcanzarán niveles sostenidos de 25 a 35 millas por hora. Debido a un cambio en el pronóstico hacia el este, el pronóstico de viento para las áreas costeras del sur de California se ha disminuido en las últimas 24 horas. Sin embargo, los vientos seguirán siendo fuertes y aún se esperan niveles récord de lluvia. Más al este, en áreas desérticas, se espera que los vientos superen las 50 millas por hora.
Estas son las 5 cosas principales que puede hacer para mantenerse seguro(a) durante la tormenta:
Manténgase conectado. Se recuerda a los californianos que marquen el 3-1-1 para obtener ayuda o hacer preguntas. Si tiene una emergencia crítica, llame al 911. Manténgase informado registrándose para recibir alertas de emergencia, incluidas advertencias y avisos de evacuación. Vaya a CalAlerts.org para registrarse y recibir alertas de los funcionarios de su condado. Consulte con sus seres queridos y vecinos.
 
Prepárese para vientos fuertes y marejadas oceánicas.

Antes de que ocurra un evento de viento fuerte: retire los árboles muertos o las ramas que sobresalgan cerca de las estructuras, retire el material del techo suelto, traiga adentro objetos no asegurados de los patios y balcones, asegure los objetos del exterior que podrían salir volando, cierre las ventanas de forma segura y asegure las puertas exteriores.

Durante un evento de viento fuerte: cúbrase junto a un edificio o bajo un refugio, manténgase alejado de las ventanas, manténgase alejado de las carreteras y las vías del tren, evite las áreas elevadas como los techos, esté atento a los escombros que vuelan.

Evite el océano: El Servicio Meteorológico Nacional ha emitido un aviso de olas altas e insta a las personas a mantenerse alejadas del océano, ya que el huracán Hilary creará fuertes olas rompientes en la costa y fuertes corrientes costeras lo que hará que el océano sea extremadamente peligroso.
 
Viaje con seguridad. Evite los viajes no esenciales durante el pico de la tormenta que se espera para el domingo y el lunes. Si debe conducir, descargue la aplicación QuickMap o visite QuickMap (ca.gov) para obtener información actualizada sobre las condiciones de las carreteras, el tráfico, los cierres y más. No camine, nade o conduzca a través de aguas de inundación. ¡Dese la vuelta, no se ahogue! Recuerde, solo seis pulgadas de agua en movimiento pueden derribar a una persona, y un pie de agua en movimiento puede arrastrar su vehículo.
 
Esté preparado en caso de cortes de energía. Haga un inventario de los artículos que necesita que dependen de la electricidad. Mantenga sus dispositivos cargados. Planifique baterías y otras fuentes de energía alternativas para satisfacer sus necesidades si se corta la energía, como un cargador portátil o un banco de energía. Tenga linternas para cada miembro del hogar. Planifique también para el potencial de cortes de agua.
 
Escuche a las autoridades locales. Siga siempre las indicaciones de las autoridades locales, incluidas las órdenes de evacuación, los cierres de carreteras y otros avisos oficiales.
 
Mi oficina continuará monitoreando la situación y brindará actualizaciones e información a medida que esté disponible. Si tiene alguna pregunta o necesita ayuda, no dude en comunicarse con mi oficina enviándome un correo electrónico a Senator.Gonzalez@senate.ca.gov. Mientras tanto, consulte las formas de mantenerse informado(a) a continuación.
Siga:
Manténgase al día: 
Atentamente,

Lena Gonzalez
33rd State Senate District