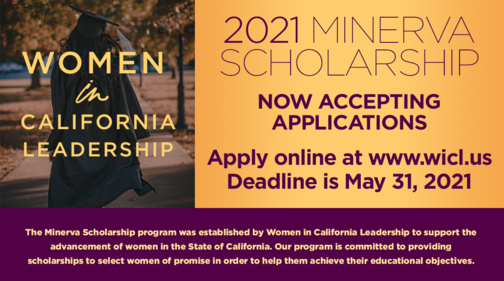 Dear neighbor,
The past couple weeks have been full of action at the Capitol with many of our bills winning approval from Senate Committees to move to the next step in the legislative process, including my bill SB 4, The Broadband for All Act. Recently, California made some big announcements, including a greater expansion of COVID-19 vaccine eligibility and a goal date to fully re-open the economy. There are also financial resources available for students, tenants, families and for those who have lost a loved one and need COVID-19 funeral assistance. Please read below to find out more.
Minerva Scholarship 2021
Looking for help with college? The Women in CA Leadership Foundation's Minerva Scholarship program begins accepting applications from eligible students on May 1, 2021! The deadline for applications is May 31, 2021 at 11:59 pm! The Minerva Scholarship program was established to assist deserving students by offering financial assistance to meet educational expenses. This year they will be selecting 81 deserving female students that will be receiving a $2,500 scholarship.
Scholarship requirements and details on how to apply are now available at: http://wicl.us/scholarship-program/.
COVID-19 Vaccine Eligibility Expands to All Individuals 16+
California Small Business COVID-19 Relief Grant Program
On February 23, Governor Newsom signed into law a comprehensive package providing urgent relief for the small businesses and nonprofits of California. The package provides funding for grants of up to $25,000 for small businesses and nonprofits impacted by the pandemic. A new round opens Wednesday, April 28th at 9:00a.m. through Tuesday, May 4th at 5:00p.m. For eligibility requirements and to apply visit careliefgrant.com.
Bill Providing Tax Relief to Small Businesses Passes in CA Senate
As principal co-author of AB 80, I am happy to report that this much needed legislation that will provide millions of dollars in tax relief to small businesses in California, was unanimously approved by the California Senate on April 19th, 2021. The bill will allow for certain loans under the Paycheck Protection Program (PPP) , the Consolidated Appropriations Act of 2021, and the Economic Injury Disaster Loan (EIDL) to be excluded from income for California taxpayers. It will also allow eligible businesses to deduct business expenses that were paid for using PPP or EIDL funds among other tax relief programs. The bill is now on its way to the Assembly for a concurrence vote and then, will head to the Governor's desk for signature. To learn more about AB 80 click here.
California Aims to Fully Re-Open on June 15
Rent Relief Still Available
California COVID-19 Rent Relief helps income-eligible households pay rent and utilities, both for past due and future payments. The federal Consolidated Appropriations Act of 2021 provides funding to support the program and tenant (renter) protection laws signed by Governor Newsom.
Eligible renters can apply for landlords to be reimbursed for 80% of each eligible renter's unpaid rent between April 1, 2020, and March 31, 2021. The landlord must agree to waive the remaining 20% of unpaid rent for that specific time period. Eligible renters whose landlords choose not to participate in the program may receive 25% of unpaid rent between April 1, 2020, and March 31, 2021.
For eligibility requirements and to apply visit Housing Is Key.
COVID-19 Funeral Assistance
Financial assistance is available now for those who have lost loved ones to COVID-19. Individuals may apply for retroactive reimbursements for burial costs and may receive up to $9,000 per burial. 
To apply you must call the COVID-19 Funeral Assistance Line Number at (844) 684-6333. Hours of Operation are Monday - Friday 6 a.m. to 6 p.m. Pacific Time.
For more information visit the FEMA COVID-19 Funeral Assistance website. 
LA County Travel Advisory
The Centers for Disease Control and Prevention continues to recommend that individuals avoid out-of-state non-essential travel because travel increases your chance of getting and spreading COVID-19.
Because fully vaccinated travelers are less likely to get and spread COVID-19, persons who are fully vaccinated can now travel provided they take precautions and follow safety recommendations.
To learn more, visit LA County's Public Health Travel Advisory and Guidance here.
Extended Tax Deadline and California Earned Income Tax Credit (CalEITC) Resources
We wanted to remind you that the Franchise Tax Board (FTB) and the Internal Revenue Service (IRS) have extended the tax filing and payment deadline for individuals to May 17, 2021. The extended tax deadlines mean, if you are eligible, you have more time to apply for CalEITC. The CalEITC and the Young Child Tax Credit (YCTC) are cashback tax credits that put money back into the pockets of California workers.
My Bill SB 4 The Broadband for All Act Passes out of Senate Committee
This past Thursday, SB 4 The Broadband for All Act passed out of the Energy, Utilities & Communications Committee. The Broadband for All Act will secure continuous funding for the California Advanced Services Fund, a state-administered program that provides grants for the deployment of broadband infrastructure. The bill will implement critical reforms within the program to promote 21st century future proof infrastructure that can support high internet speeds, while ensuring that low-income, rural, and urban communities of color who are most impacted by the digital divide are prioritized to receive grants. Read our full press release here.
American Jobs Plan Outlines Historic $100 Billion Investment Proposal for Broadband
I continue to work arduously to make much needed changes and to advocate for the needs of all residents of Senate District 33 and California through this new legislative cycle. Please always know, if you have any questions regarding our legislative work or about resources available to you, you can reach us at (562) 256-7921 or send us a message here. We are here to serve you.
Sincerely,

Lena Gonzalez
33rd State Senate District