Long Beach Pride photos: Thousands turn out for 40th annual parade
By Cheantay Jensen
The sweltering August heat didn't deter the thousands of jubilant parade-goers that blanketed Ocean Boulevard for the 40th annual Long Beach Pride Parade in Downtown on Sunday.
Clad in rainbows, glitter, and tulle skirts while waving rainbow flags and fans, members of the crowd cheered and waved at the procession of floats, marching bands, color guards, council members and community groups.
For Tom Hayley and his partner Richard Moreno, experiencing the 40th annual parade was an exercise in reflection. The couple has been attending Long Beach Pride for 35 years, they said, and while they've always felt more comfortable being themselves in Long Beach, early on in their relationship, there was trepidation.
"I think it's just incredible," Hayley, 62, said. "I mean, when we started going all those years ago, we were still afraid, but now we're confident and comfortable."
A lot has changed since the couple began attending Pride. Same-sex marriage has been legalized, gay individuals can serve openly in the U.S. military and LGBTQ+ people have achieved greater acceptance among society at large.
But in the last few years, queer and transgender communities are facing renewed national backlash against their identities as conservative lawmakers try to restrict gender-affirming care and ban drag shows. In June, the Human Rights Campaign declared a state of emergency for LGBTQ+ people following an unprecedented spike in legislation targeting them.
Michelle Whitlock, who cheered loudly from the sidelines and waved a small rainbow flag, said she's recently been fearful for the safety of her family, which includes a transgender and gay son. But celebrations like these, she said, give her hope and support.
"Right now, in this world, there's so much hate going on. It's scary. So, when we can come together like this and love on each other and realize that we have a lot of support no matter what, this is our magic," the 53-year-old said.
Many individuals experienced the magic of Pride for the first time. Kimberly Presta and Anthony Taylor, both 23, recently moved from their small town in Burns, Oregon where, they said, celebrations like Pride don't happen.
"It's surprising out here, the amount of support," Taylor said. "I've lived in Oregon my whole life, we live in a super small town. When it comes to Pride, it's not very OK supporting it."
Presta agreed, grateful for the opportunity to talk and mingle with people who identify with the experience of being nonbinary or gender fluid.
"I'm still exploring the gender spectrum, … so coming out here and talking with all these people with different sexualities, different genders, different walks of life—it's comforting," Presta said.
Though Long Beach Pride was celebrated a little later this year (traditionally the celebration takes place in May), the parade started as it has for many years at the intersection of Ocean Boulevard and Lindero Avenue and then traveled west to Alamitos Avenue. Many recognizable figures, attractions and floats returned, including Mayor Rex Richardson and District 1 Councilmember Mary Zendejas, who were honored as grand marshals this year.
Many agencies and corporations participated in the parade again this year, with floats from the Long Beach Fire Department, the Long Beach Police Department, Walmart and more. Dozens of people were also seen holding the massive rainbow Pride flag—a staple of the celebration.
Read the article on the LB Post website here. 
....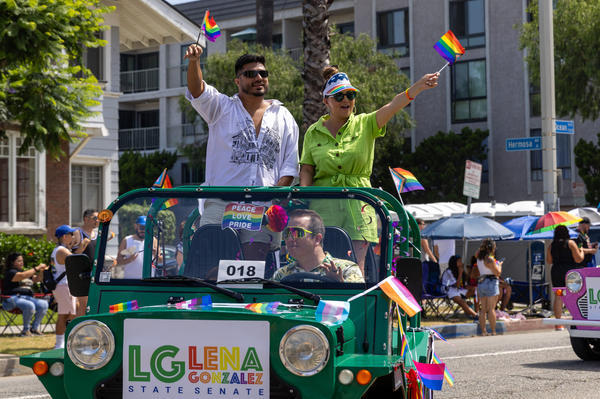 Senator Lena Gonzalez waves at parade-goers during the 2023 Long Beach Pride Parade, Sunday, Aug. 6, 2023. Photo by Sarahi Apaez.